Rustic Train-Themed Birthday Party with a Chocolate Cupcake Train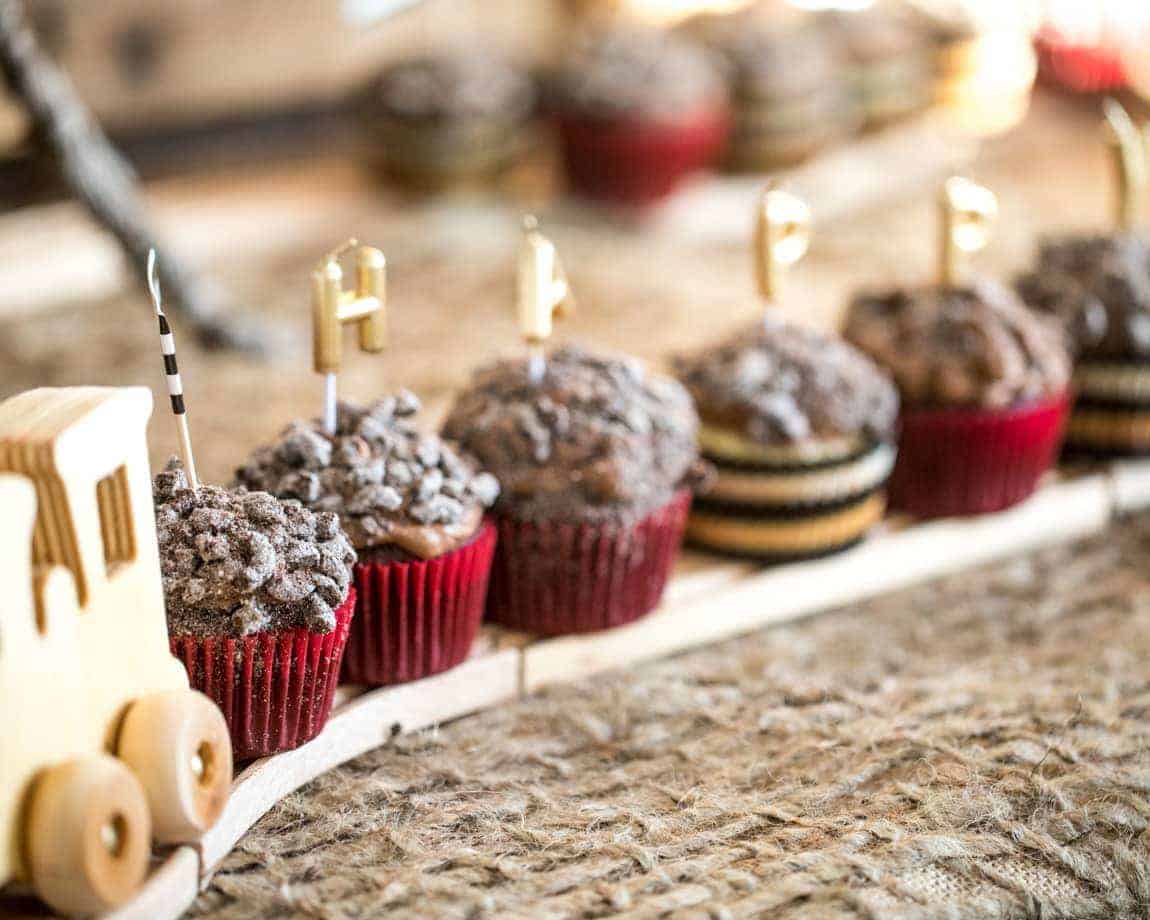 As a mom of two young boys, a working photographer, and a part-time many-other-things, I rarely have time to sit down and get crafty. (Something I love to do). So birthdays become an excuse to put together something truly spectacular. Get ready for DIY décor, favors, and yummy chocolate cupcake treats to enjoy! Scroll through this post and find the link to this party and more images on Martha Stewart.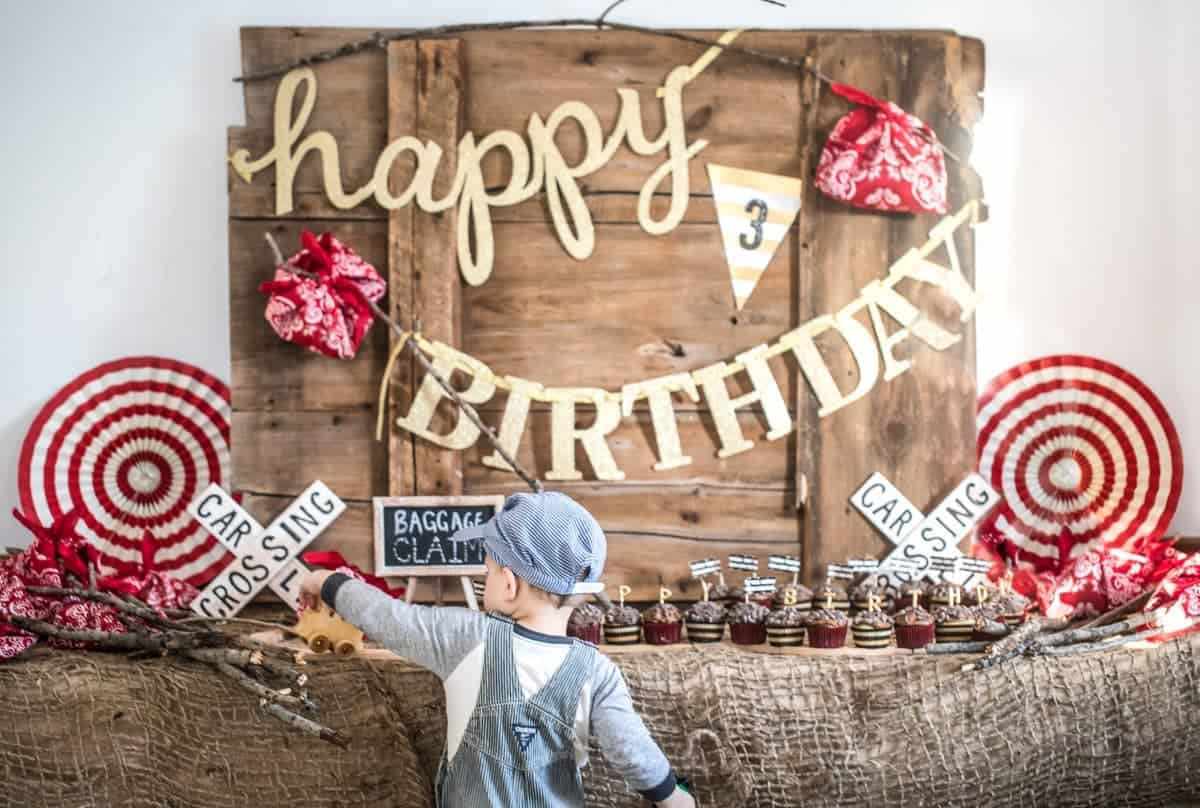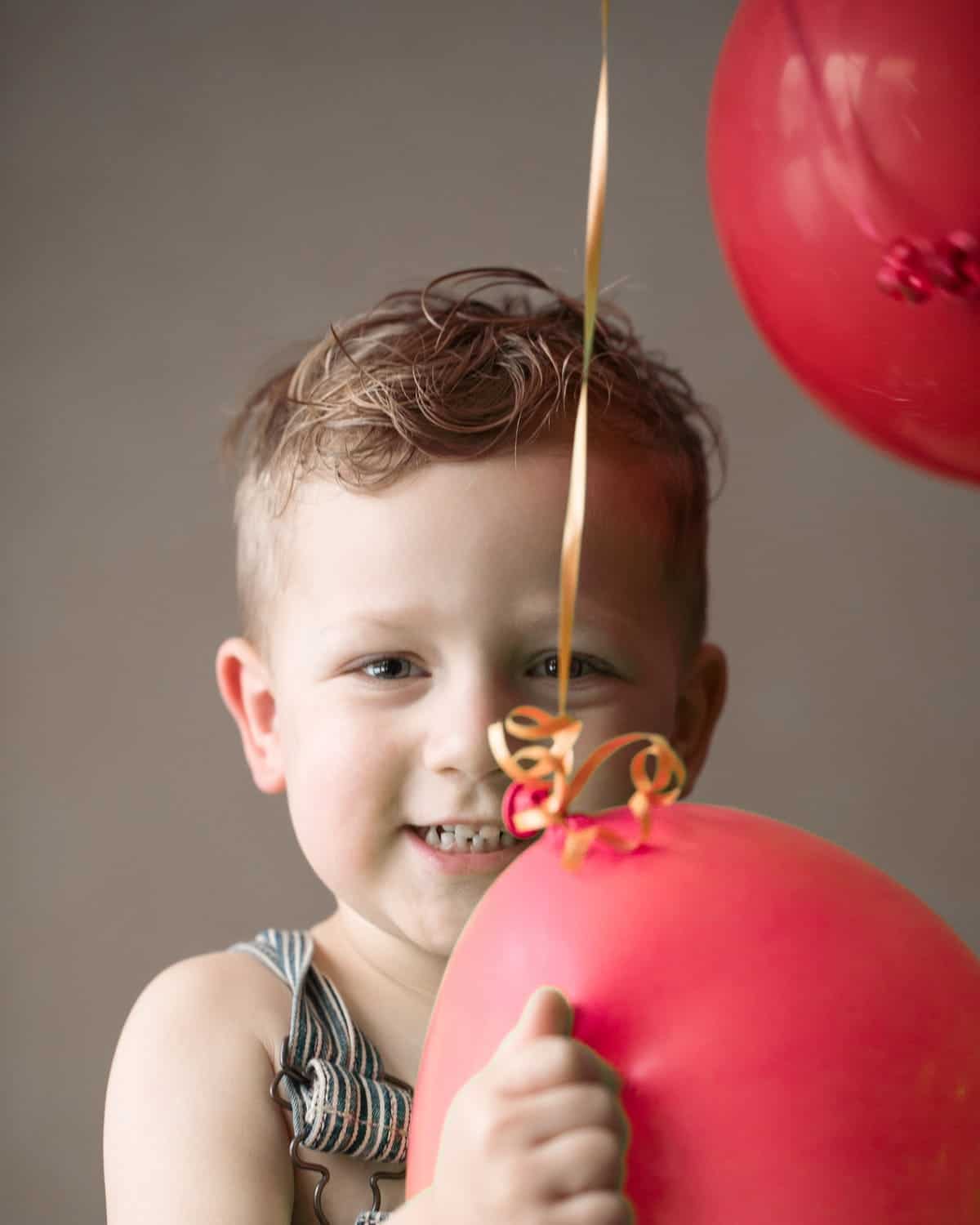 All Aboard!
Austin and Eli are growing up before my eyes! It's amazing to witness the individuals they are becoming as they learn and grow and explore. I have thrown my boys special parties each year (check out links to other party blogs at the end of this post) but this year I could choose a theme that Austin could actively engage and participate in. Like many 3-year-old boys, Austin has a real fascination with trains. I knew this year we had to go full steam ahead on a train-themed party.
For his invitation, I created a steam train with boxes, buckets, and other found items. Austin was happy to dress up and smile for the camera. I added fun details digitally, including a tagline courtesy of my friend, Jennifer Milner: Engine to caboose, 3-year-old on the loose!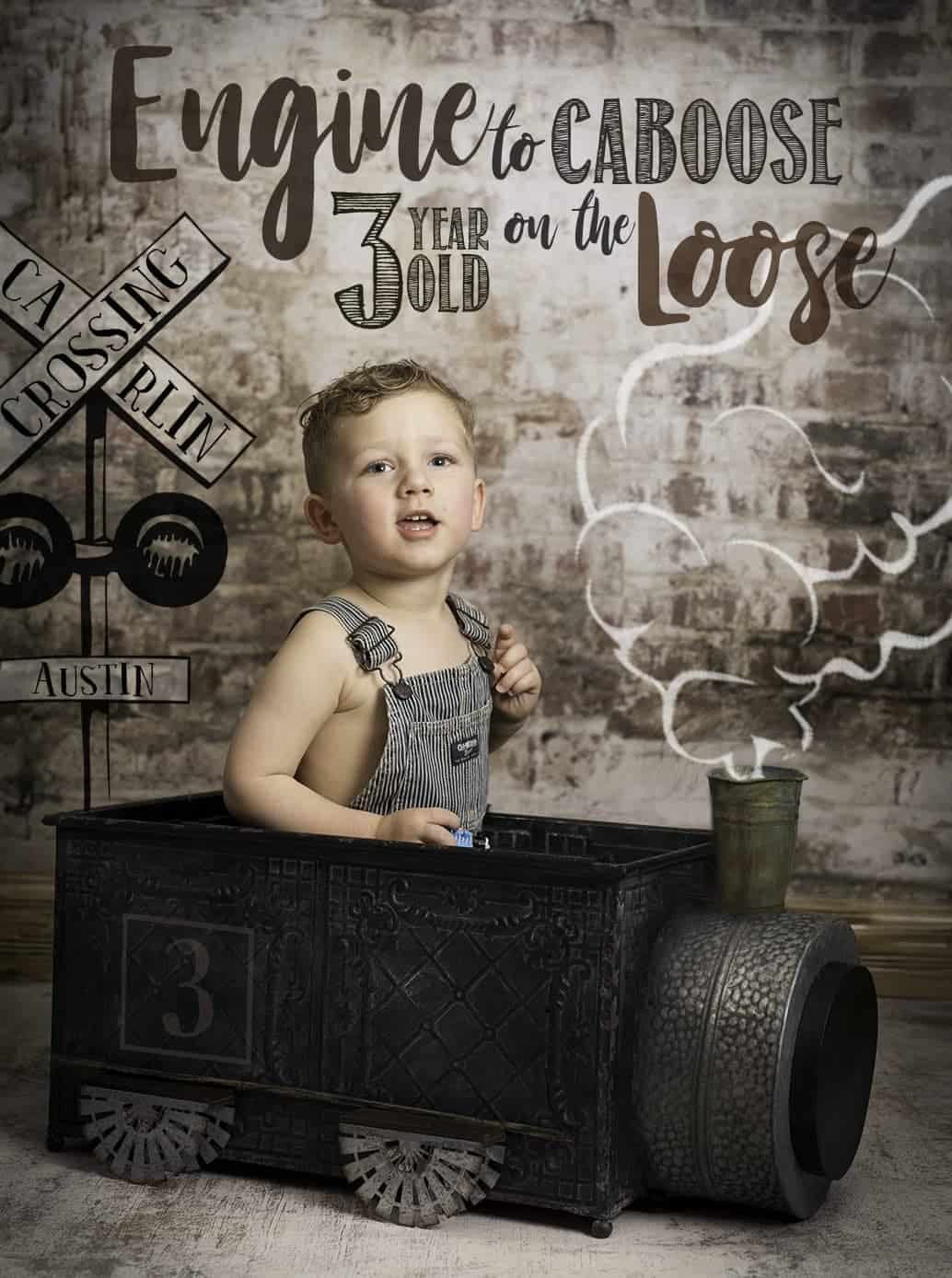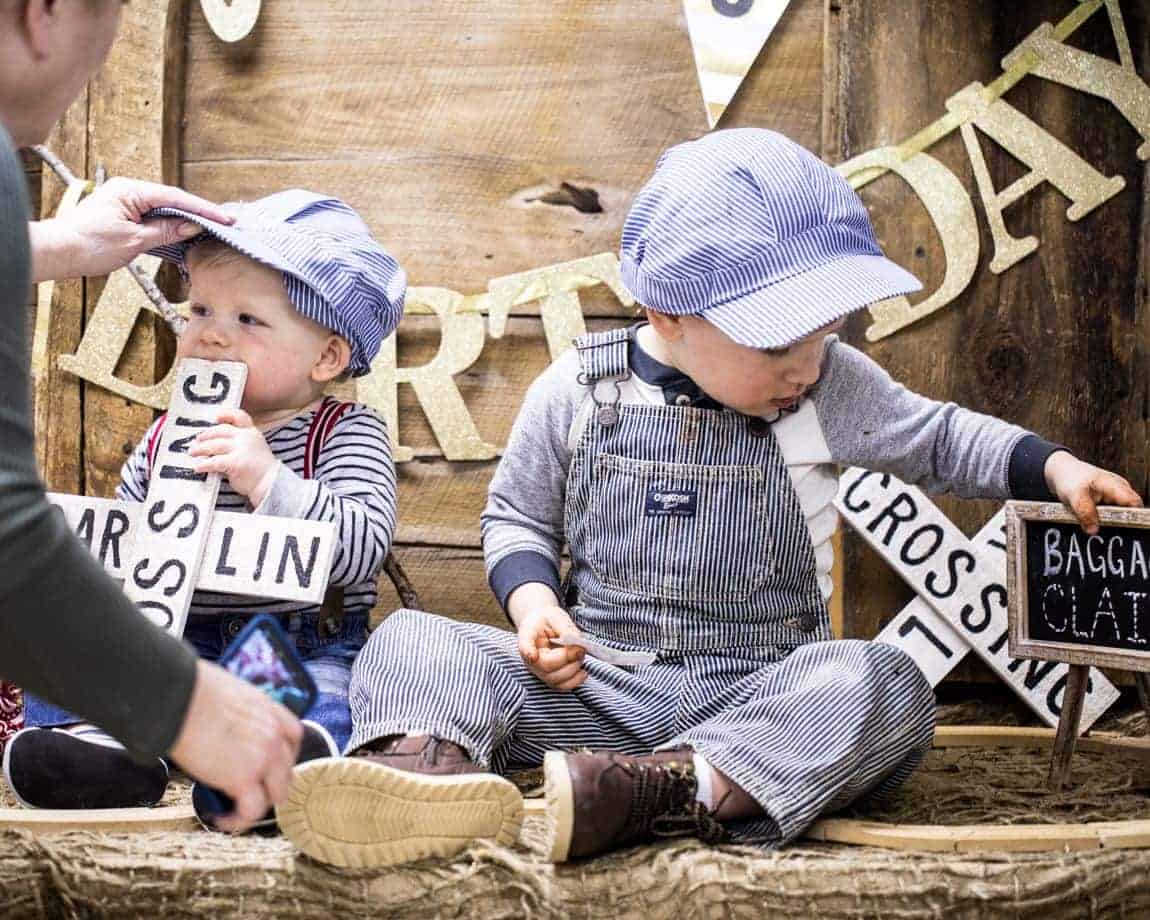 Riding the Rails
Austin loved being the conductor for a day with his little brother as his engineer. Their striped overalls were right on theme and also allowed them the freedom and mobility to play and have fun with little worry of them ruining their outfits. I love that I can capture these moments of Austin and Eli together.
Baggage Claim
Each attendee received party favors to help them play along. Oriental Trading helped me assemble adorable bindles with a conductor's cap and train whistle wrapped up in a classic red bandanna. Daddy loved digging out and gathering snow-covered sticks our of our woods to tie the bandannas to! Pick up your party favor at the baggage claim!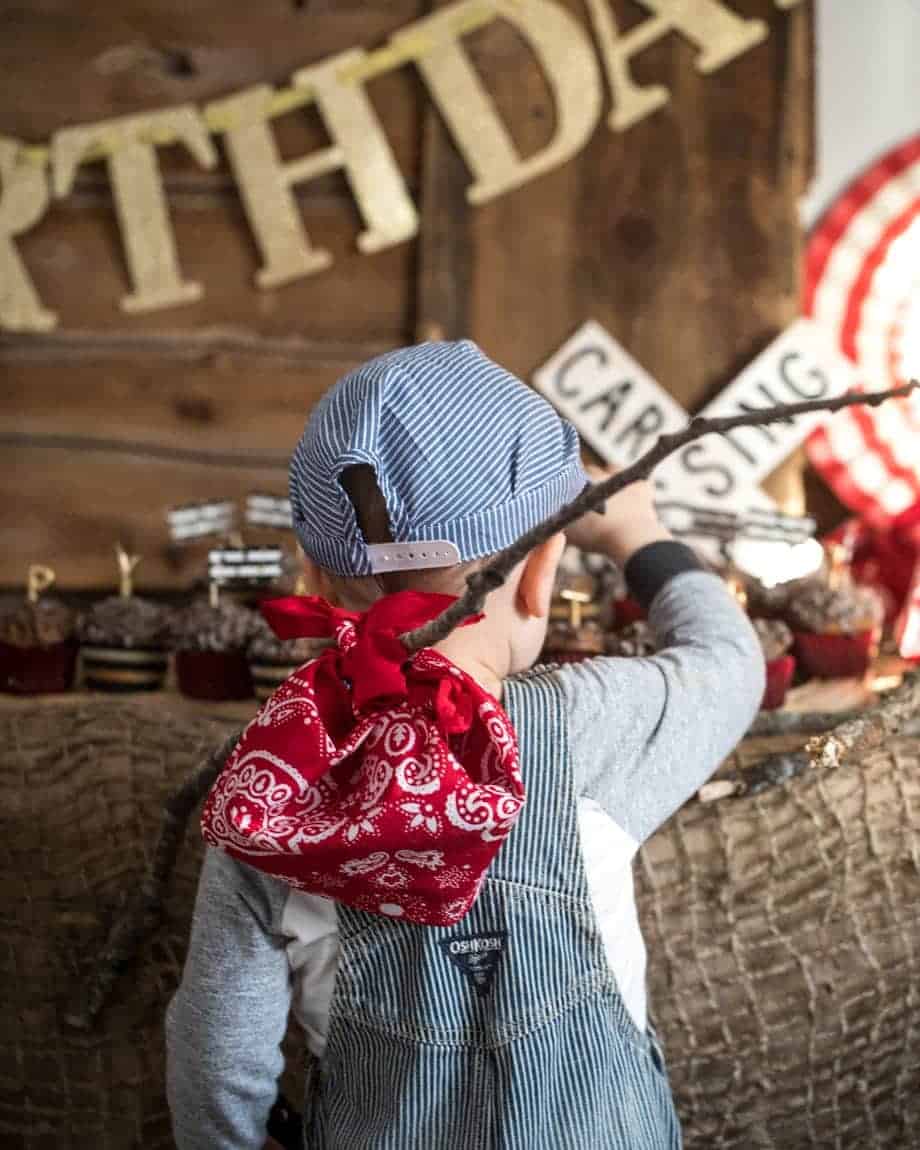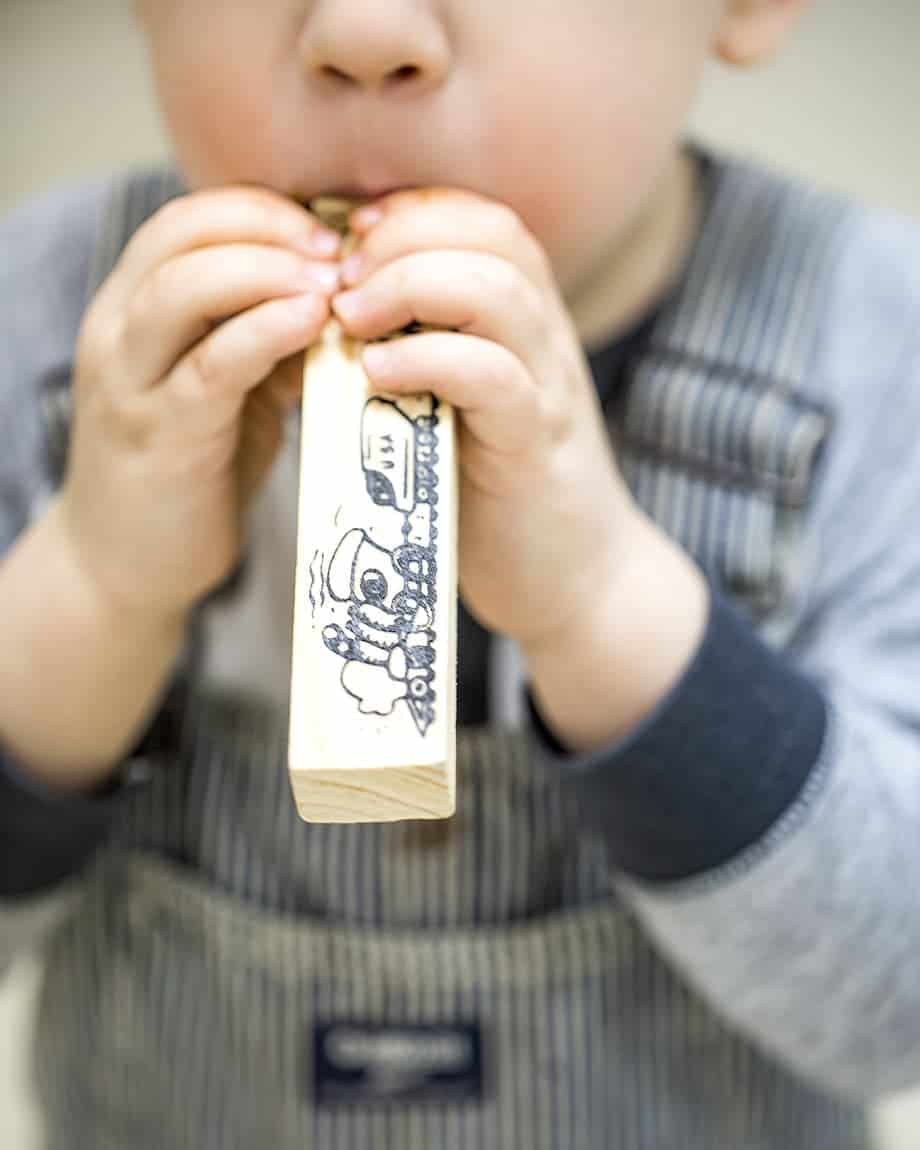 Carlin-Crossing
Our display table featured tons of fun personalized touches for Austin. I especially enjoyed making railroad crossing signs featuring our last name. A couple pieces of scrap lumber, craft paint, and letter stencils were all it took to create the rustic Carlin-Crossing signs. They really added to the train station décor.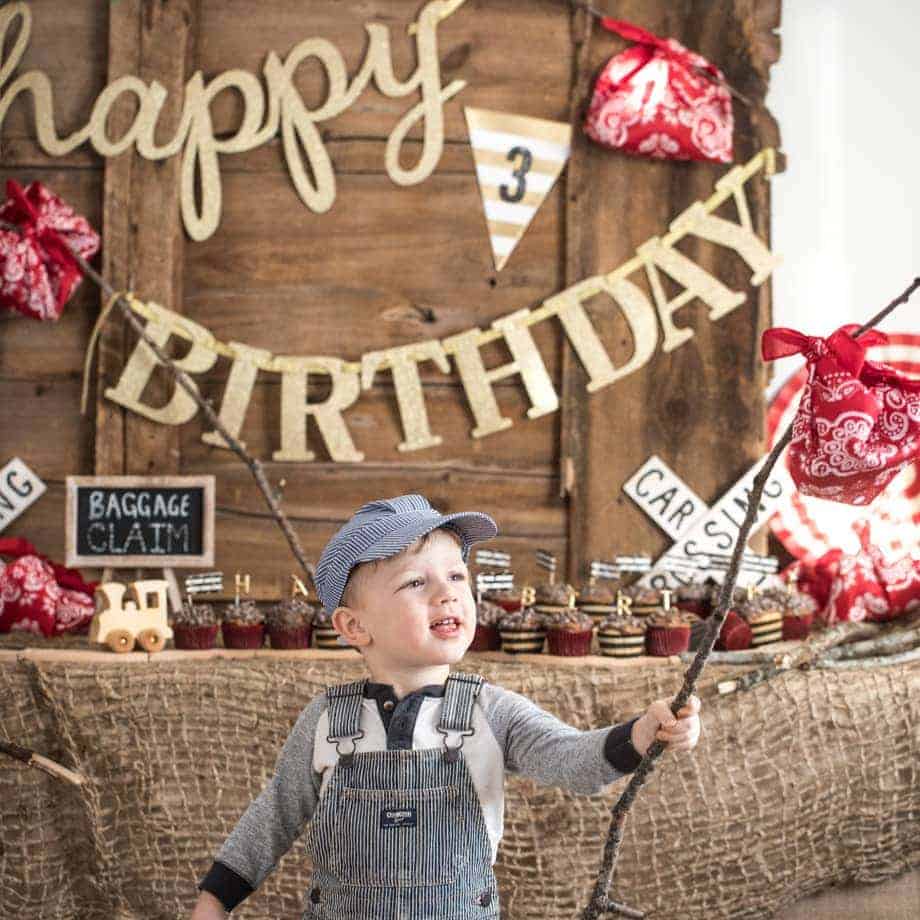 Treat Train!
One of Austin's favorite parts was the chocolate cupcake train. We took the track from one of his favorite wooden trains and used it to haul loads of coal cupcakes: a deceptively healthy chocolate cupcake with fudgy frosting and crushed Oreo cereal to give it that coal car look. He enjoyed driving the engine around the treat table, and then, once the candles were lit, blowing out a long line of Happy Birthday candles.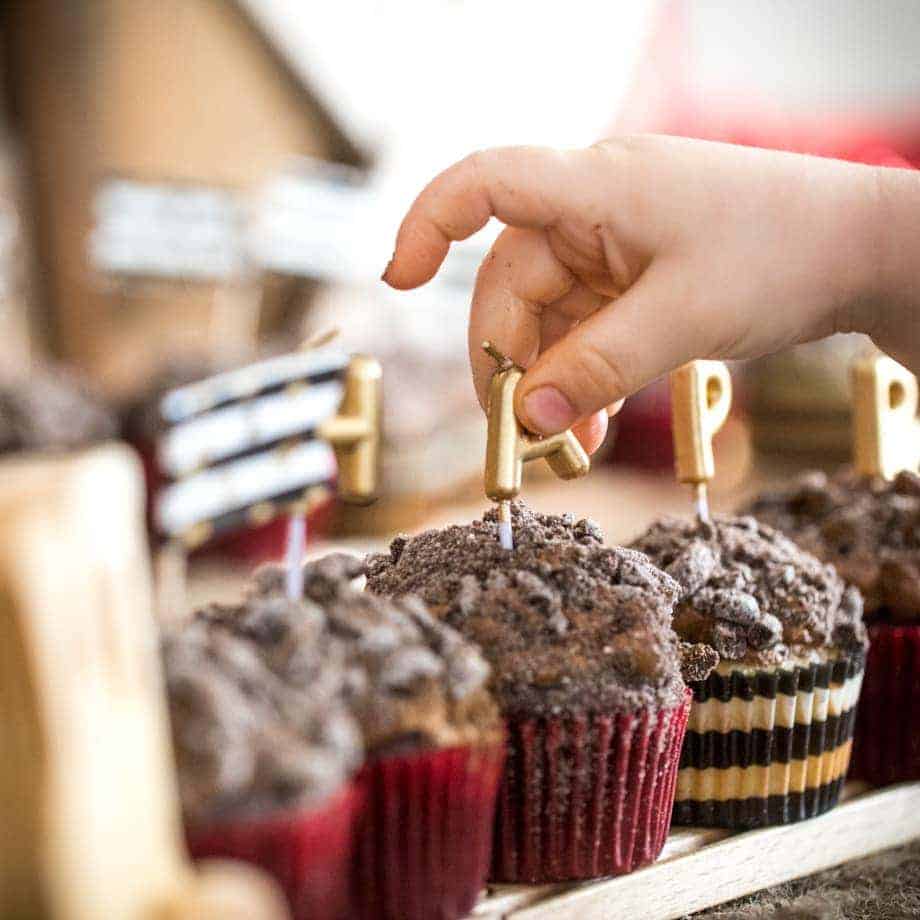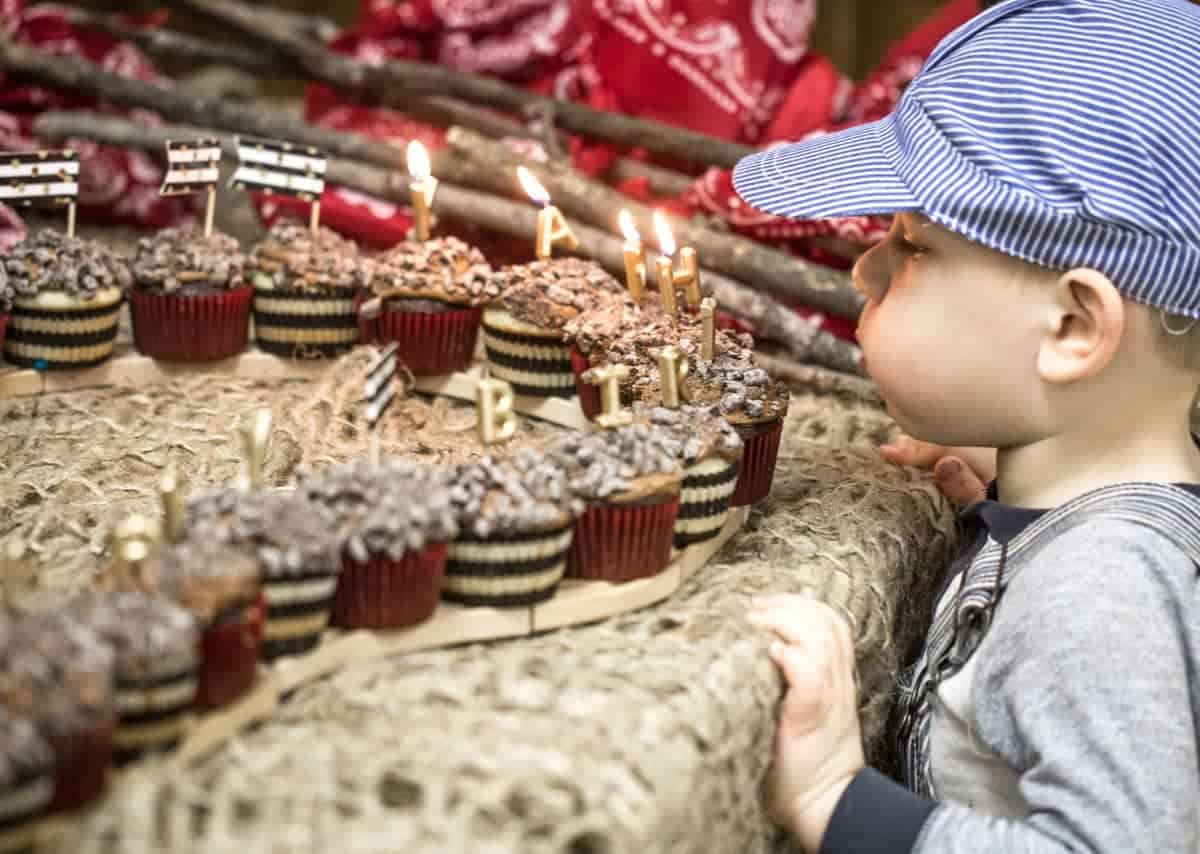 'Round the Bend
Who knows what the next birthday party will bring, but I am so blessed to be able to create these special memories with my boys. If this one was any indication, they are just going to keep getting better as Austin and Eli get older. I hope you'll jump on the train and come along.
Jena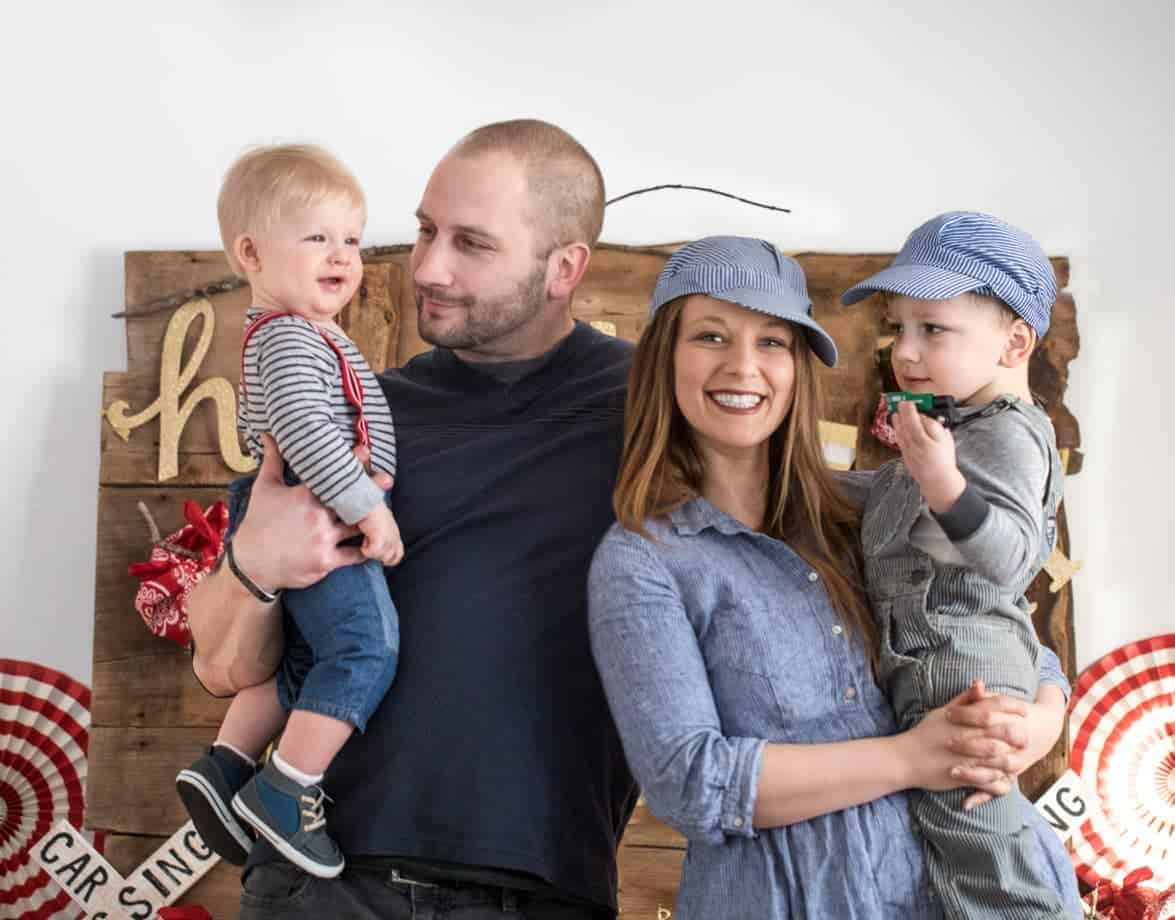 See Austin's Rustic themed Birthday Party on Martha Stewart.
Other birthday party blogs:
First Birthday Smash Cake
Circus Birthday Party on Martha Stewart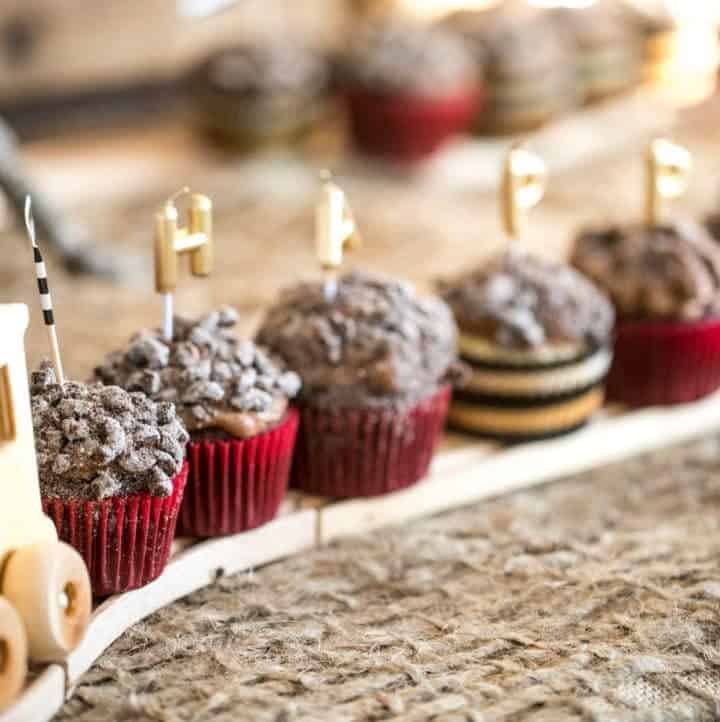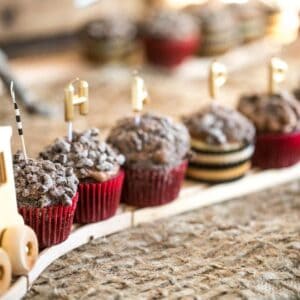 Ingredients
2

tablespoon

olive oil

1/2

cup

semi-sweet chocolate chips

1/2

cup

granulated sugar

1/2

cup

light brown sugar

2

large eggs

1/2

teaspoon

vanilla

3/4

cup

+ 3 tablespoons all-purpose flour

1/2

teaspoon

baking soda

1

teaspoon

baking powder

1/2

cup

unsweetened cocoa powder

3/4

teaspoon

salt

1/2

cup

full fat plain Greek yogurt

1/2

cup

unsweated apple sauce

1/2

cup

boiling coffee
Instructions
Preheat the oven to 350 degrees. Line a 12-cup cupcake/muffin tin with cupcake liners and lightly spray the liners with non-stick spray.

Melt the oil and chocolate together in the microwave, heating in 30-second increments, and stirring between increments each time. Whisk mixture until completely smooth. Set aside to cool.

In a medium sized bowl combine the flour, baking soda, baking powder, cocoa powder, and salt; stir together until thoroughly combined and set aside.

In a large bowl, whisk together the eggs, sugars, and vanilla; beat until smooth. Add the cooled oil/chocolate mixture and whisk until smooth. Add half of the flour mixture, then half of the Greek yogurt and the applesauce. Repeat the process until everything is added, and be sure to mix until combined - then quickly stir in the coffee *Don't over mix.

Divide the batter among the 12 liners in your prepared pan. Bake for 16-18 minutes.

When cool frost with your favorite for frosting and add crushed Oreo cereal to look like coal!