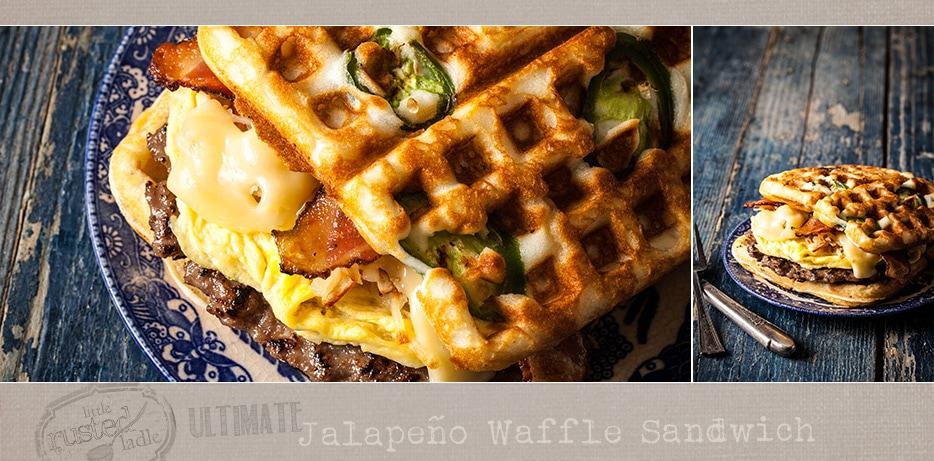 Sometimes what's old is actually new.  I realized this recently, when I needed to find an old waffle maker for a photo shoot.  The shot needed was a packaging shot for a sausage company.  The layouts required square waffles shown in the back of a plate.  Sounds easy enough right?  Well, the next time you are in the store, try to find square waffles.  They're non- existent.  So, I'll just make my own, right?  Not so fast.  All waffle makers these days make big, Belgian style waffles that are not exactly low profile.  This brings me back to the old is new comment above.  The only way I was going to create a square waffle that wasn't huge, was to find an old waffle maker like mom or grandma used to use.  These older waffle makers made skinnier, square waffles.  I have very fond memories of the waffles made from these old waffle makers.  Thin waffles, topped with gobs of butter and rivers of maple syrup.  Yum, I can almost taste them.  Where was I going to get one of these though?  My search led me to a great consignment store in Janesville called Carousel Consignments.  After a little searching, I found not one, not two, but three very old electric waffle makers that made nice, thin waffles.  The best part is they were $7.00 each.  I didn't end up needing any of these waffle makers for the shoot, but I was keeping them anyway.  You never know when you might want a thinner, square waffle for a special blog article recipe.
I have a tendency to go on binges.  I am now officially in a waffle-making binge.  After using those old waffle makers, I realized that they are perfect for making a variety of dishes that require a thinner waffle.  For example, waffles make great bread substitutes when making sandwiches.  Especially when making breakfast sandwiches like the Ultimate Waffle Sandwich shown here.  I've been making my kids waffle sandwiches since they were kids.  Their go to is Eggo waffles with a thin omelet, sausage, cheese and maple syrup.  They are really good, but for this ultimate waffle sandwich I needed to kick it up a notch as Emeril would say.  So, in addition to the normal ingredients, I thought adding sliced jalapenos to the waffles for a sassy kick might be nice, and adding hash browns to the sandwich would add a little more crunch.  The addition of smoked bacon seemed like a no brainer, and creamy havarti instead of American cheese felt a little more grown up.  My kids like store bought syrup, but I chose uncle Bernie's maple syrup because there was no way I was using that stuff called maple flavored syrup.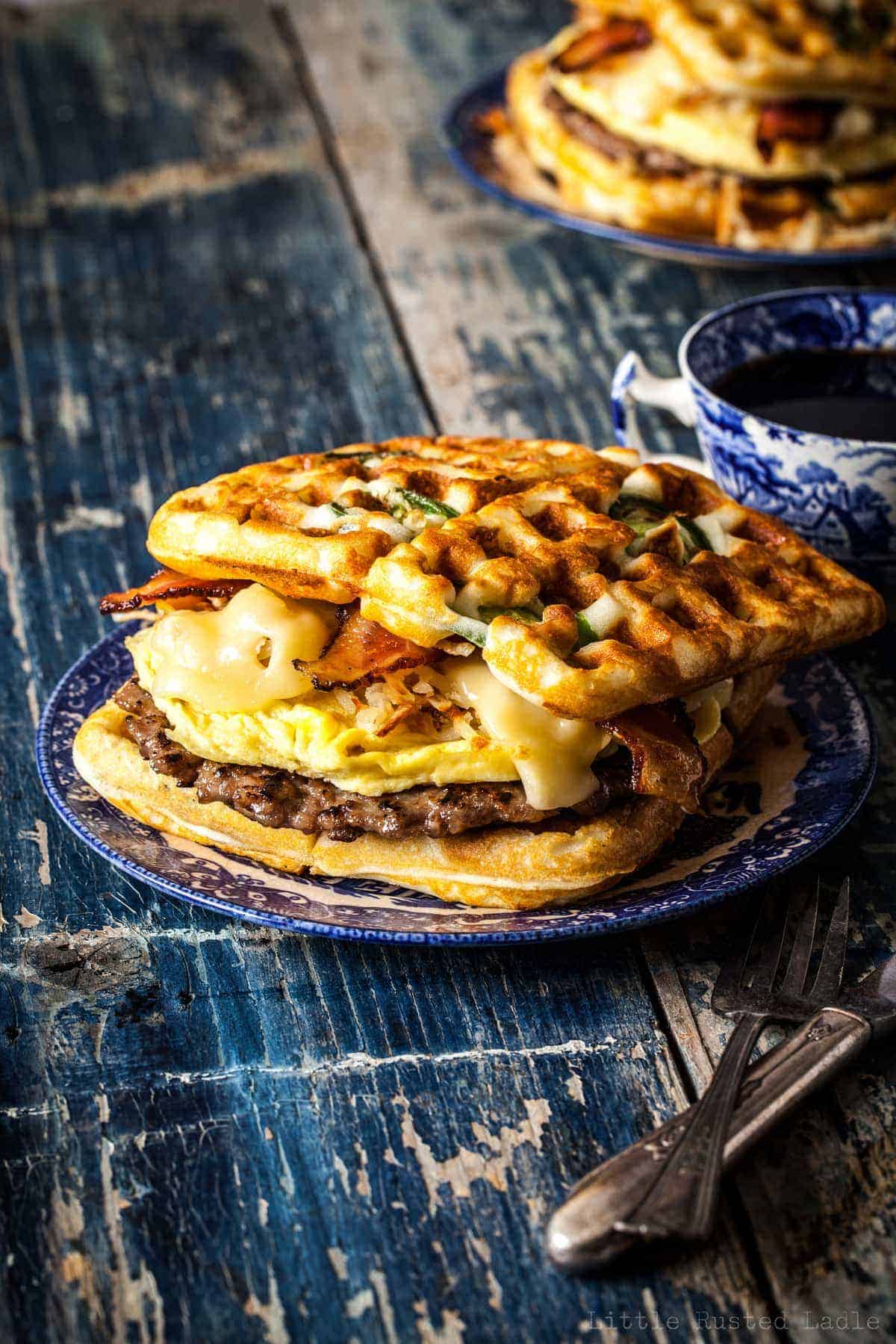 These were all good choices for additions.  The end result was an old is new waffle sandwich that combines waffles made in a 1948 waffle maker with jalapeno, egg, hash browns, sausage, bacon, cheese and maple syrup.  With breakfast this good, I may just have one for lunch and dinner too.  Waffles are not just for breakfast anymore.  Check out our quick video on Facebook that shows how to use these old waffle makers to create cute little waffle canapés perfect for a creative appetizer.  Try your own creative options using the old waffle and share them in the comments below.  Until next time, remember to cook with love and live to cook.
Jim & Jena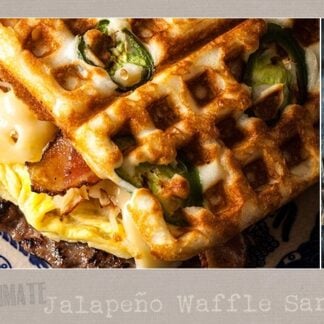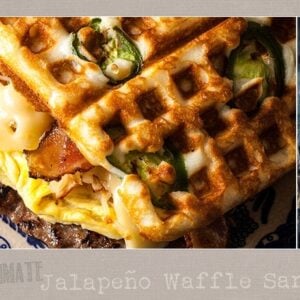 Ultimate Jalapeño Waffle Sandwich Recipe
Waffles are awesome. So are bacon, eggs, hash browns, sausage, and cheese. Combine them and add some jalapeño to the waffle batter and you have what we call the Ultimate Jalapeño Waffle Sandwich.
Print
Pin
Rate
Add to Collection
Go to Collections
Ingredients
1

cup

Pancake and baking mix

2/3

cup

Milk

1

Tbsp.

Vegetable oil

5

Lg. Eggs

divided

1

Fresh jalapeño pepper

thinly sliced

4

Fresh breakfast sausage patties

1

cup

Frozen hash brown potatoes

thawed

4

slices

havarti cheese

4

strips

Bacon

cooked
Instructions
Pre-heat a waffle iron on high.

In a medium size bowl, combine baking mix, milk, vegetable oil, and one of the eggs. Stir until mixture is combined, but still slightly lumpy.

Spray waffle iron with non-stick spray. Place 4-5 slices of jalapeño on each waffle pattern. Pour enough batter over jalapeños to barely cover the bottom of the waffle iron. Close lid and cook for 3-4 minutes or until waffles are golden brown.

Carefully remove waffles from the waffle iron with a fork. Set aside. Repeat process until all waffle batter is gone. Reserve 4 waffles for the sandwiches and freeze or eat any remaining waffles.

While waffles are cooking, combine two sausage patties together and form into a large patty. Repeat with remaining patties. Fry sausage patties in a non-stick skillet until browned and cooked through. Leave grease in pan and keep pan hot to use for hash browns. Remove sausage to paper towels, then keep warm until ready to assemble.

Cook hash browns in the skillet used to cook sausages over medium heat until golden brown and crispy (about 15 minutes).

In a separate bowl, beat eggs. Pour half of eggs into a large custard cup or microwave safe dish sprayed with non-stick spray. Microwave on high for 1-2 minutes or until eggs are set. Set aside and keep warm until ready to assemble. Repeat process with remaining eggs.
To Assemble:
Place cooked sausage patties on two cooked waffles.

Place one cooked egg patty on each sausage patty.

Place half of hash browns over eggs, then place cheese slices over hash browns.

Top with 2 strips of bacon and remaining waffle.

Warm sandwiches in a oven preheated to 250 degrees. Serve when heated through.
https://www.instagram.com/p/BEJZPJ1rFpP/?taken-by=littlerustedladle