Food Styling and Recipe Development by Jim Rude.
These savory hand-held pies feature a buttery, flaky crust stuffed with a Korean-style beef, mushroom, rice noodle, and pea pod filling. Perfect for meal prep, these individual serving sizes heat up beautifully in the toaster oven!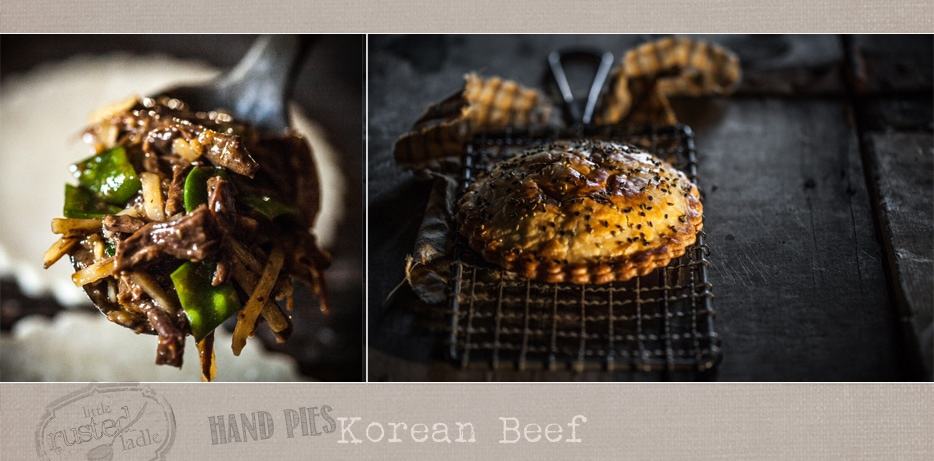 Why This Recipe Works
The pot pie exists in many forms, but these adorable, golden brown wonders bring in the best elements of our favorite recipes. The crisp crunch of pie crust paired with the tender, pressure-cooked short ribs make them easy to enjoy with a knife and fork or in the hands for a more casual dining experience. Korean beef flavors like soy sauce, ginger, chili paste, and green onion ensure a burst of flavor to the last crumb.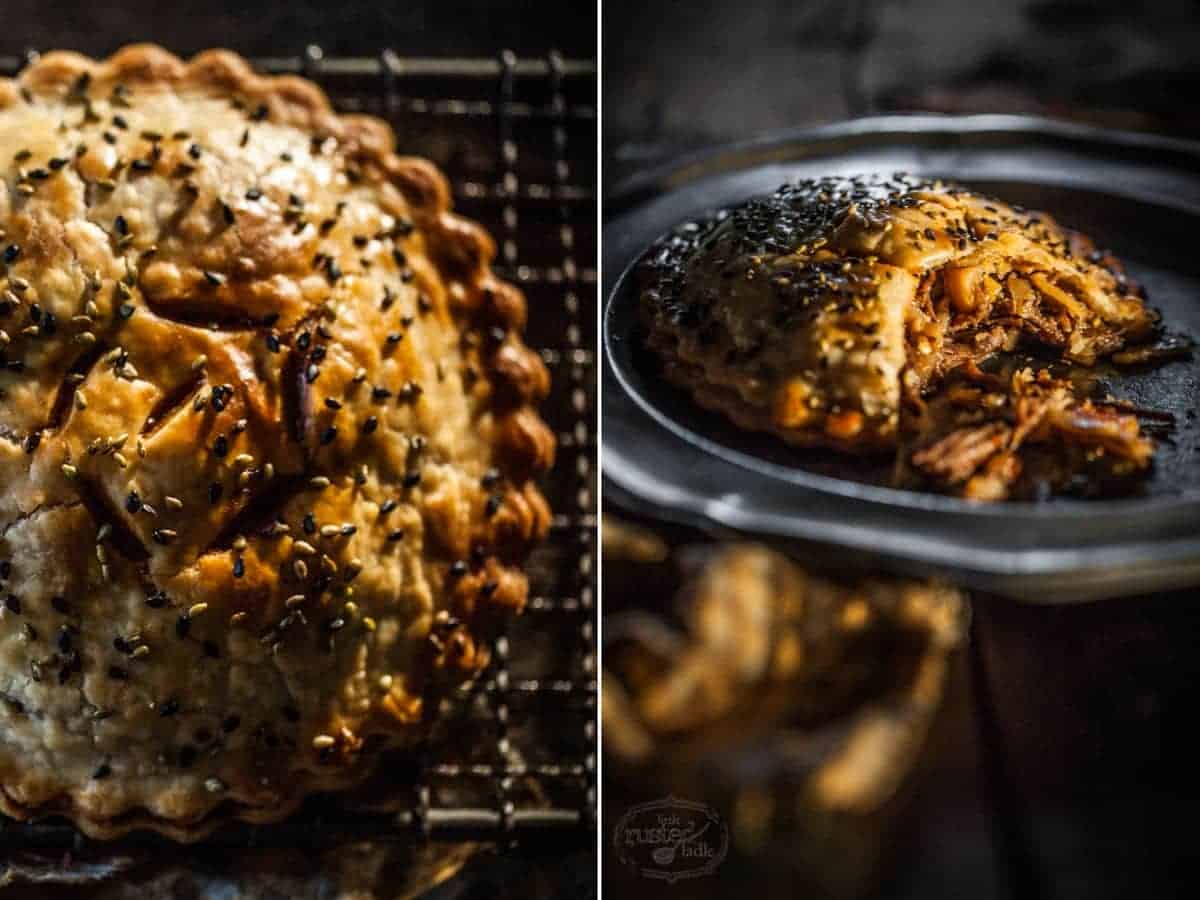 Make Them Tonight!
For these Korean Beef Hand Pies, we started with boneless beef short ribs in a pressure cooker. We cooked them with chicken broth, soy, chili paste, garlic, ginger, scallions and mushrooms until tender and juicy. We shredded the beef and then added rice noodles and pea pods for texture and color. Then, we allowed it to cool while we prepared the pie crusts.
Starting with store-bought 9″ pie rounds, we used a small tart pan to cut 4 fluted circles in each one. You could also use a large, rinsed, tin can or a paper circle pattern to cut them by hand. Once the beef mixture cooled, we spooned it generously into the center of the rounds, leaving about 1/4″ of open dough around the outside edge. The addition of chili paste and cilantro on top gave it a little acid and fresh flavor.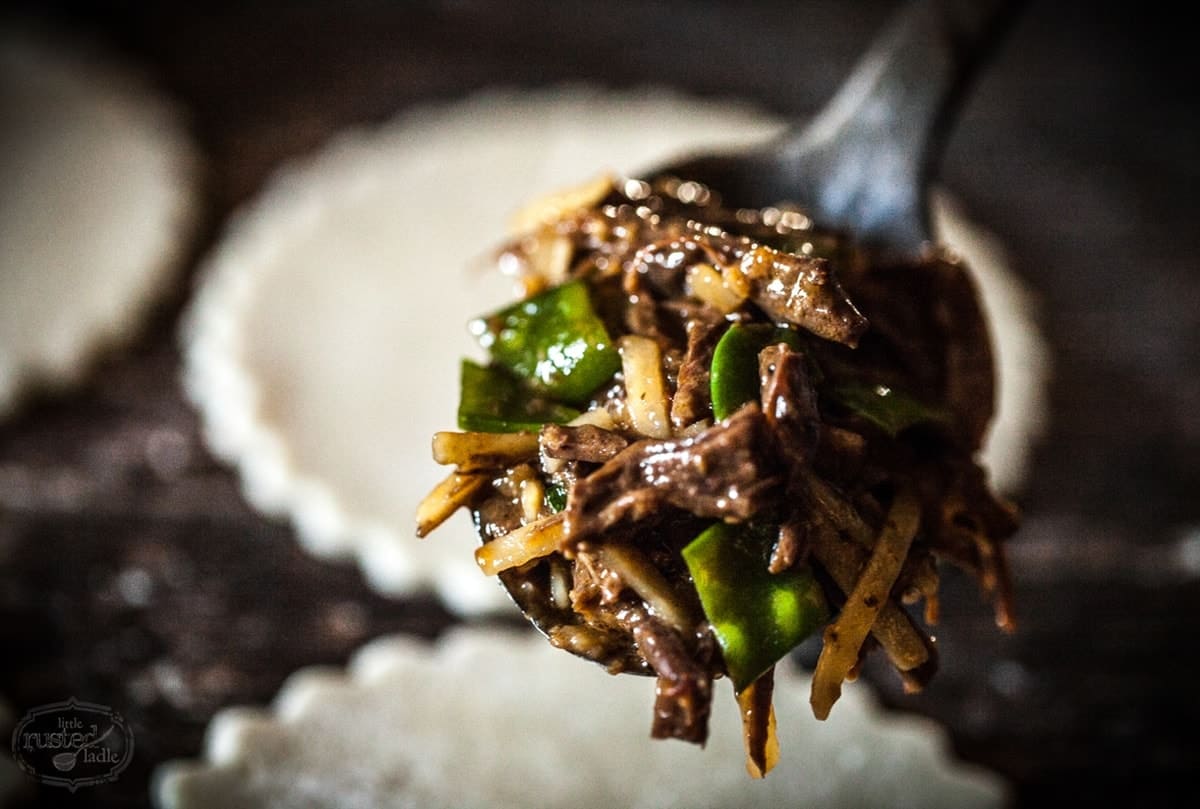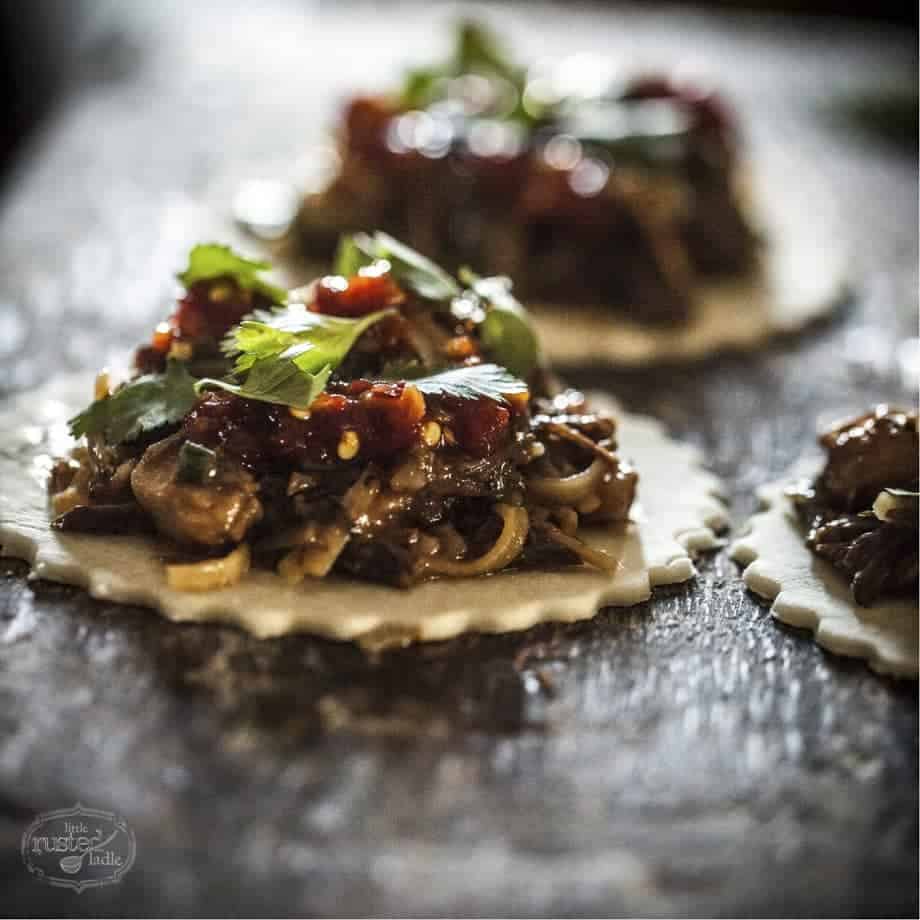 Next, brush the edges with egg wash and top with another four inch pastry round that has been rolled a little larger to accommodate the filling. Sprinkle the top with wasabi flavored and black sesame seeds, and bake until golden brown.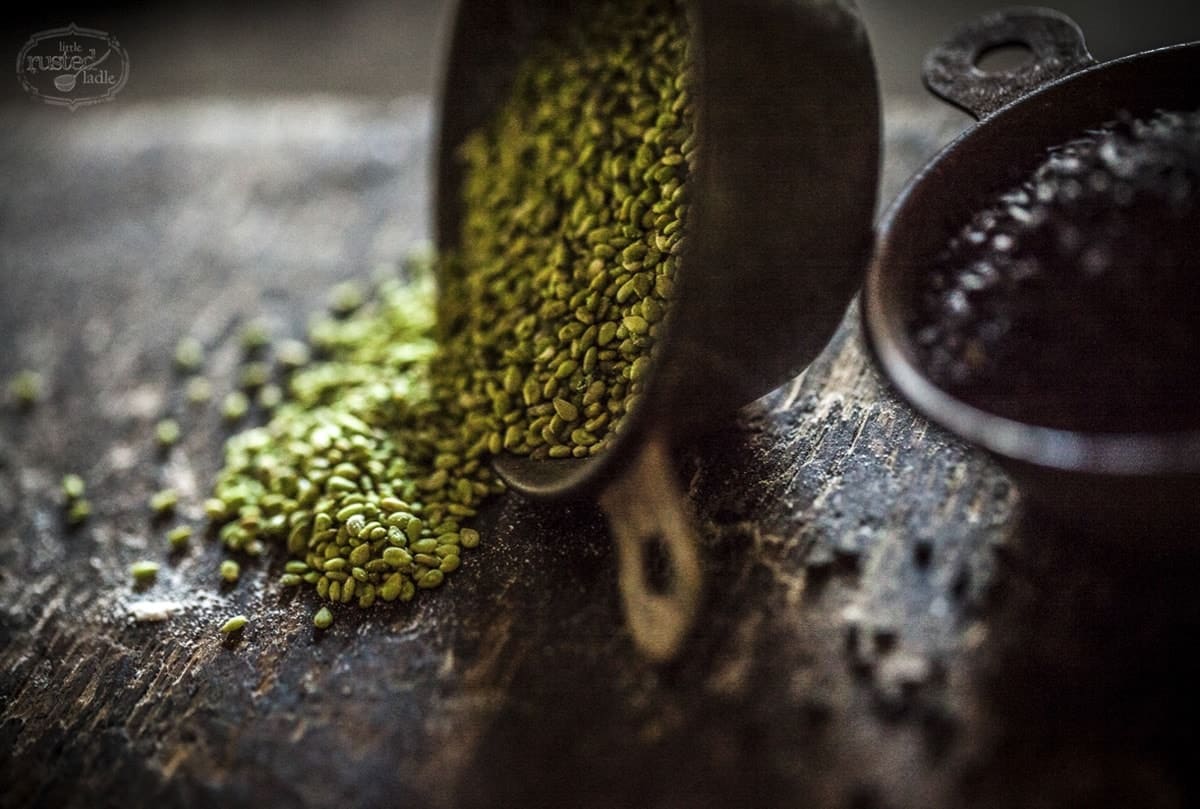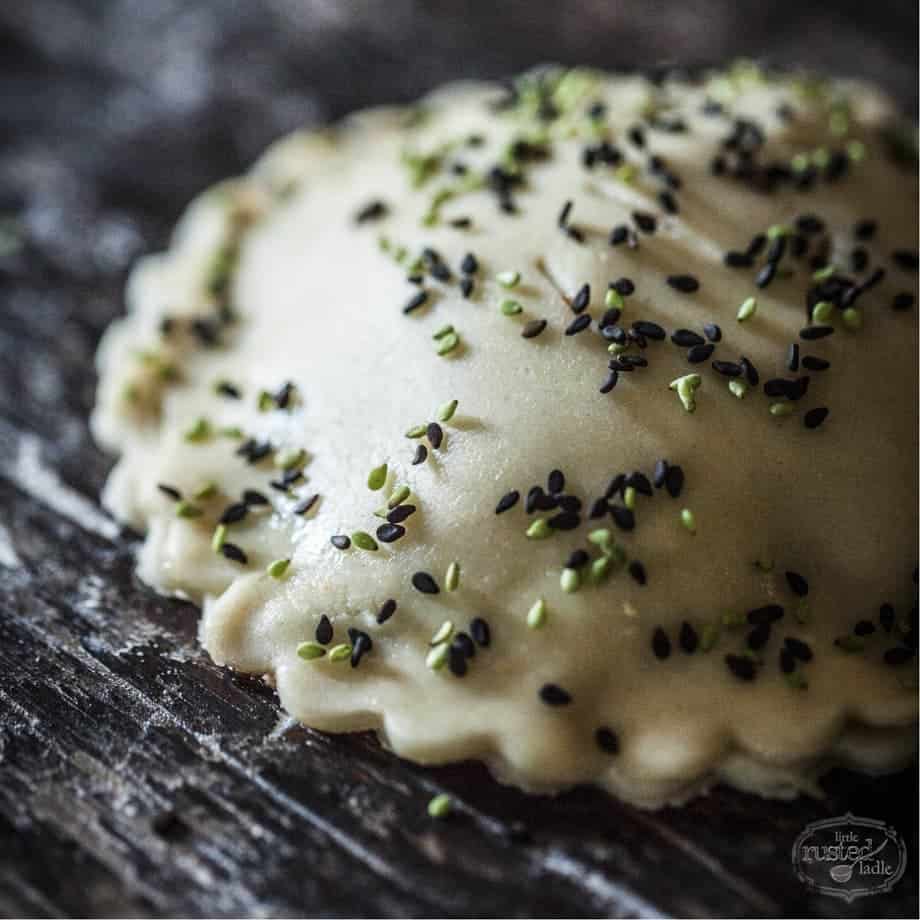 We loved their cute appearance and the portable nature. The tender short rib meat combined with the savory and spicy juices was a perfect contrast to the flaky, buttery crust. These would be wonderful appetizers for a party if made a little smaller, or excellent as lunch item that can be reheated in the toaster oven or as dinner with a light salad.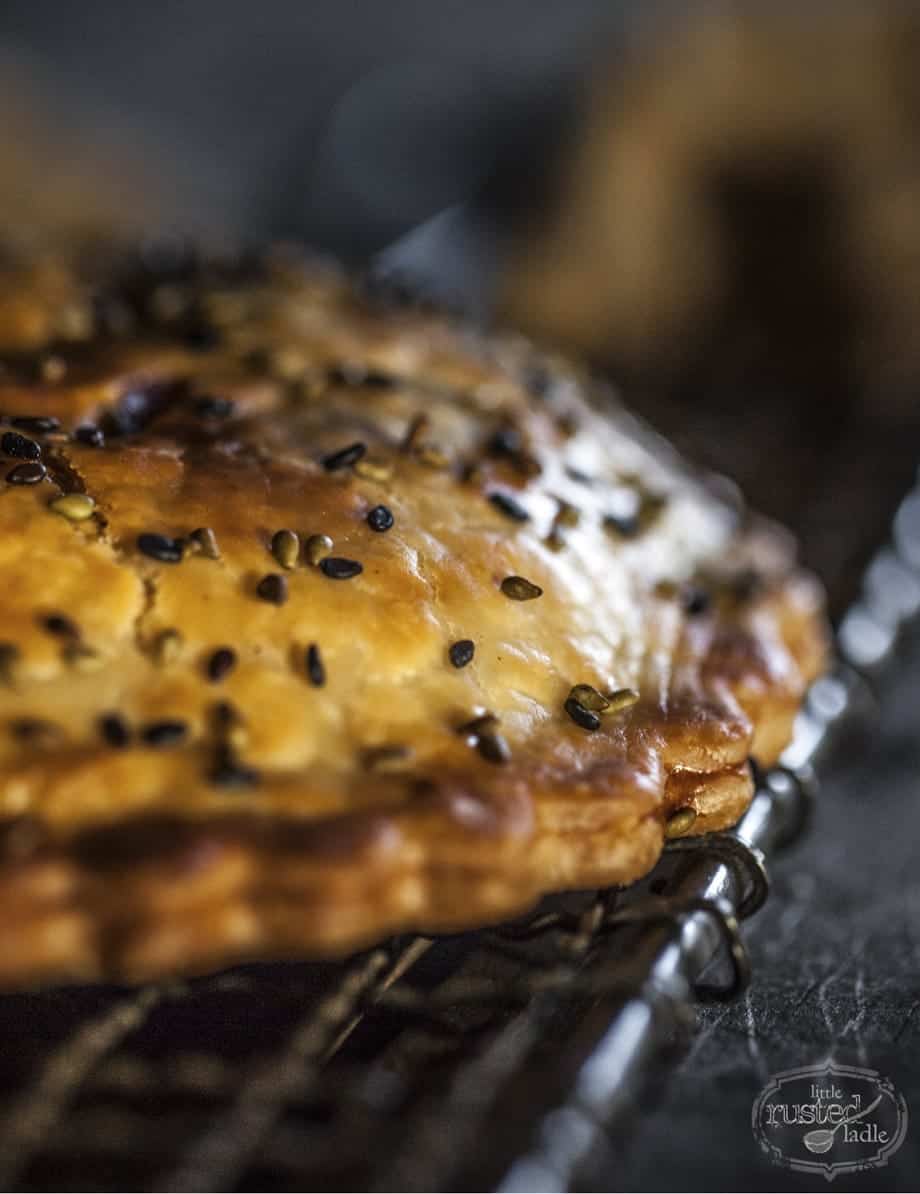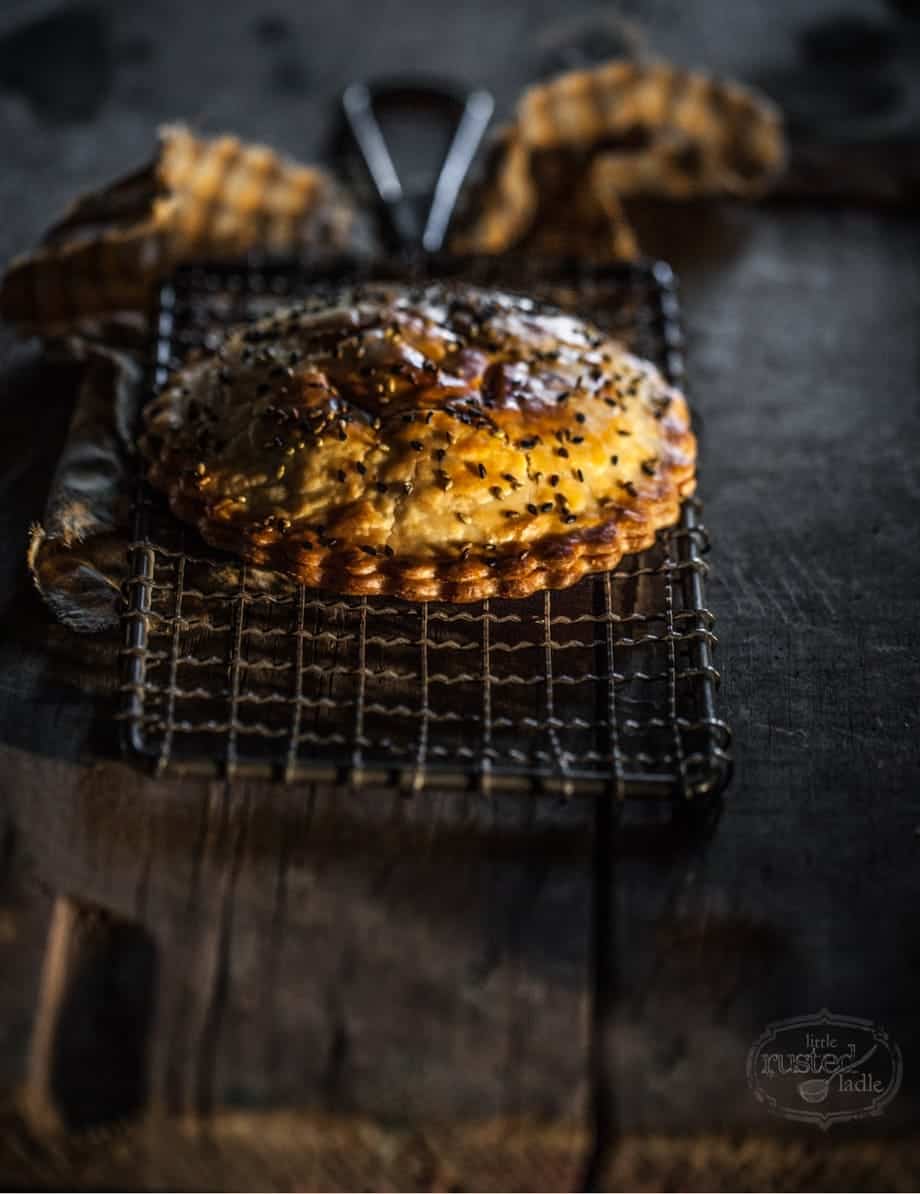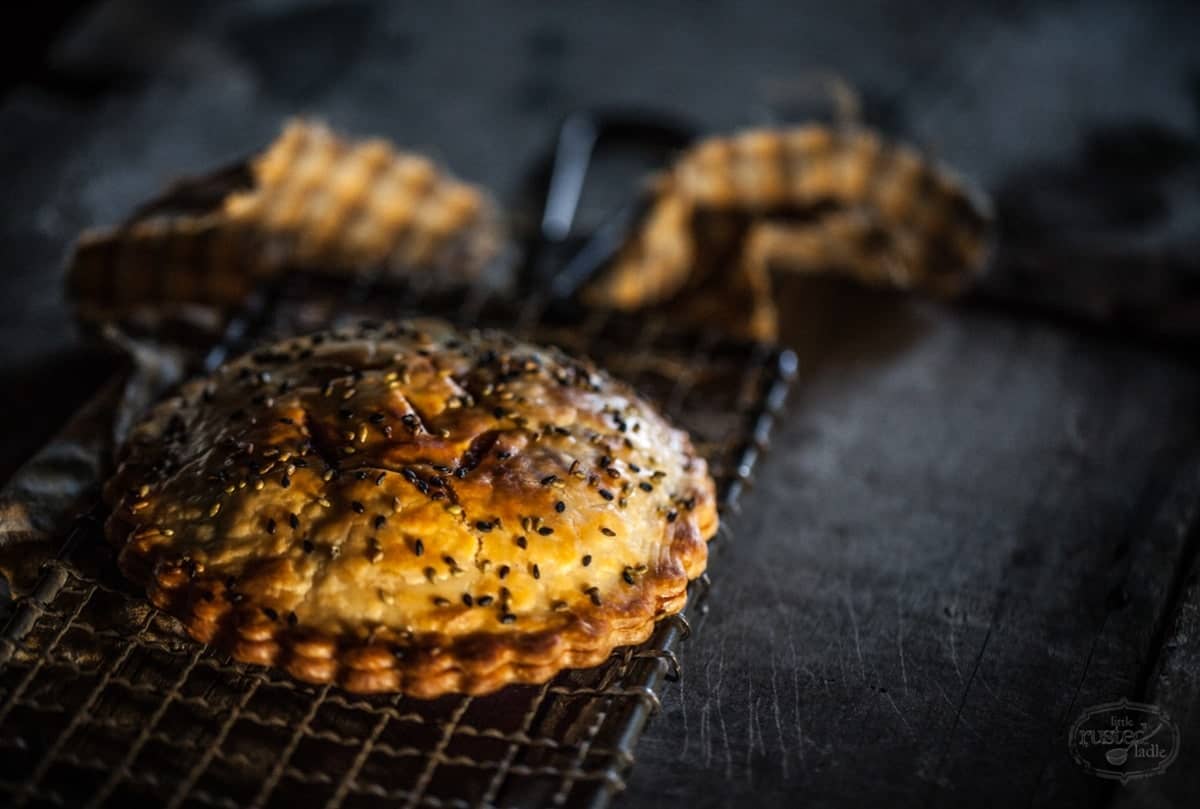 Korean Beef Hand Pie Variations
For a spring time treat, add some asparagus, fresh morel mushrooms, tomatoes and cheese. See the article we did on morel mushrooms as an option for the filling. Some pulled pork and jerk seasoning, seafood, or perhaps some fresh organic vegetables and tofu!
If you make these Korean beef hand pies, make sure to share! Tag @littlerustedladle on Instagram with your food photos. Don't wait for a special occasion, create it!
Jena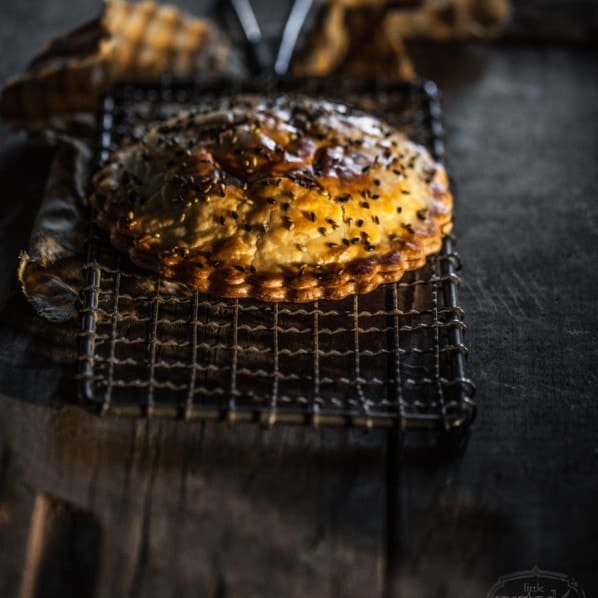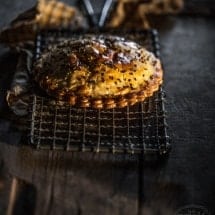 Ingredients
1 3/4

lb

Beef short ribs

1

cup

Chicken broth

1/2

cup

Soy sauce

1/4

cup

Hoisin sauce

1

tbsp

Chili paste

1

Green onion

1

tbsp

Ginger paste

1

tsp

Garlic paste

4

Dried shiitake mushrooms

1

cup

Rice noodles

1/2

cup

Pea pods

cut into 1″ pieces

4

Refrigerated pie dough rounds

9 inch

3

tbsp

Chili sauce

1/2

cup

Cilantro leaves

washed

1

Egg

beaten

2

tbsp

Flavored sesame seeds
Instructions
Place short ribs in a large pressure cooker or crock pot.

In a small bowl, combine next 7 ingredients.

Pour mixture over short ribs. Move ribs around to coat with sauce. Cover pressure cooker and seal.

Place cooker over medium high heat. When pressure cooker seals, set timer for 30 min.

Remove cooker from heat and release pressure until top can be opened.

Transfer meat to a plate and shred with 2 forks.

Meanwhile, skim off fat from remaining cooking liquid.

Break rice noodles into 2″ pieces and add to cooking liquid.

Cut pea pods into 1″ pieces and add to cooking liquid.

Add shredded beef back to liquid. Fold mixture together until beef is well sauced and ingredients are blended.

Refrigerate beef mixture until ready to fill pies.

To make pies, cut out sixteen 4" rounds using a can, cutter, or a small tart pan.

Place rounds on a parchment-lined sheet pan. Spoon about 1/2 cup of beef mixture over 8 dough rounds, leaving about 1/2" border.

Pre-heat oven to 400 degrees.

Spoon about a teaspoon of chili sauce over beef, then top with a few cilantro leaves.

Brush edges of the rounds with beaten egg.

Place remaining dough rounds on top and carefully press together to seal.

Brush the pie tops with egg, then quickly sprinkle with sesame seeds. Bake for 20-25 minutes or until golden brown. Serve.
Total Time: 105m