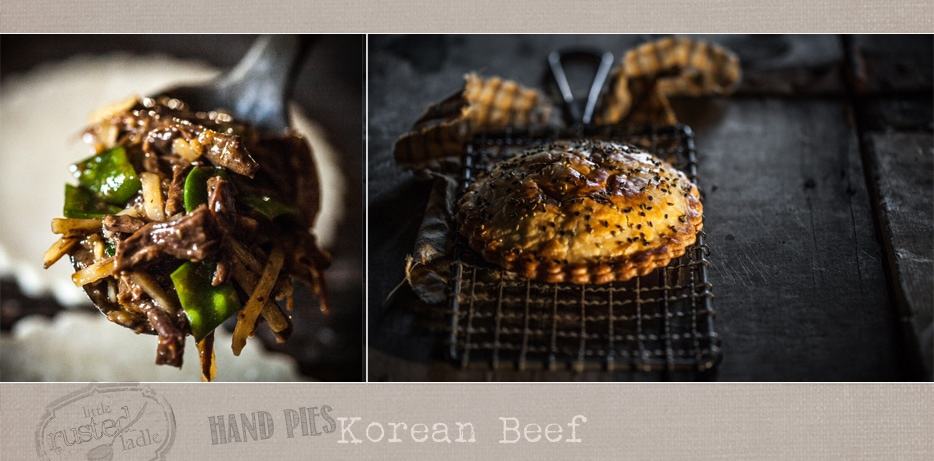 The pot pie has had many transformations over the 10,000 plus years since it made its first appearance.  In 9500BC it was made with only oat, wheat, rye and barley, and flavored with honey.  Savory meat pies made their way into the mix during medieval times, and were called "coffins".  I'm not sure whose idea that was, but if Swanson tried using that one, they would have gone out of business a long time ago.  Since the crust was actually used as the actual baking dish (apparently Pyrex and Le Creuset had not been invented yet.), it wasn't actually edible.  The name has changed over the centuries from coffins to pyes to magpies, etc. Many cultures gave it a go, learning from the previous version and putting their own spin on it.  Then as usual, the French and Italians made them better by refining the pastry into a flaky pastry made with butter, which confirms once again that just about anything is better when made with butter.
These flaky pastries filled with meat and vegetables made their way to other countries, where they were tweeked to fit their own cultures.  They were given names like steak pie, tourtiere, Jamaican patty, fatayer, samosa, empanada, and of course, the pasty, which made its way into my childhood memories thanks to my mom's Upper Peninsula Michigan ancestry der don't cha know.  Sorry, even writing about those Cornish beef and potato filled treasures makes me write like a "yooper".  A dialect used in northern Michigan and Wisconsin.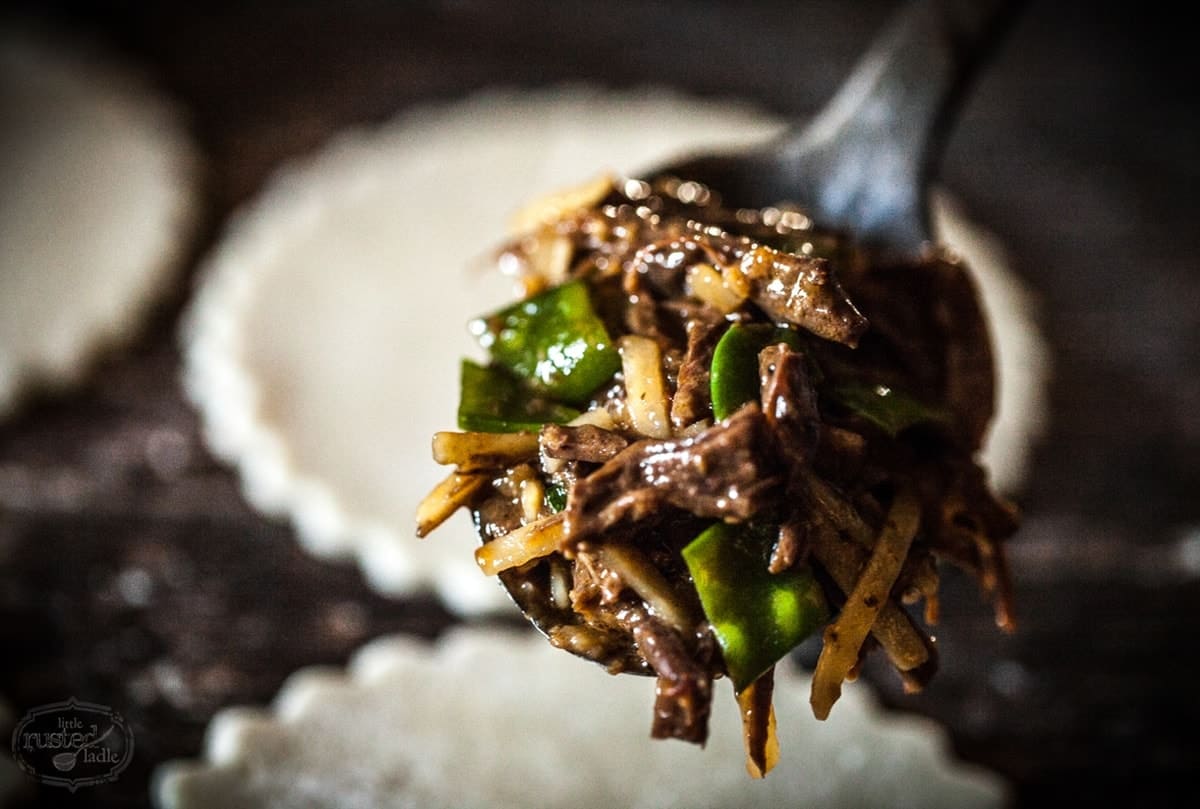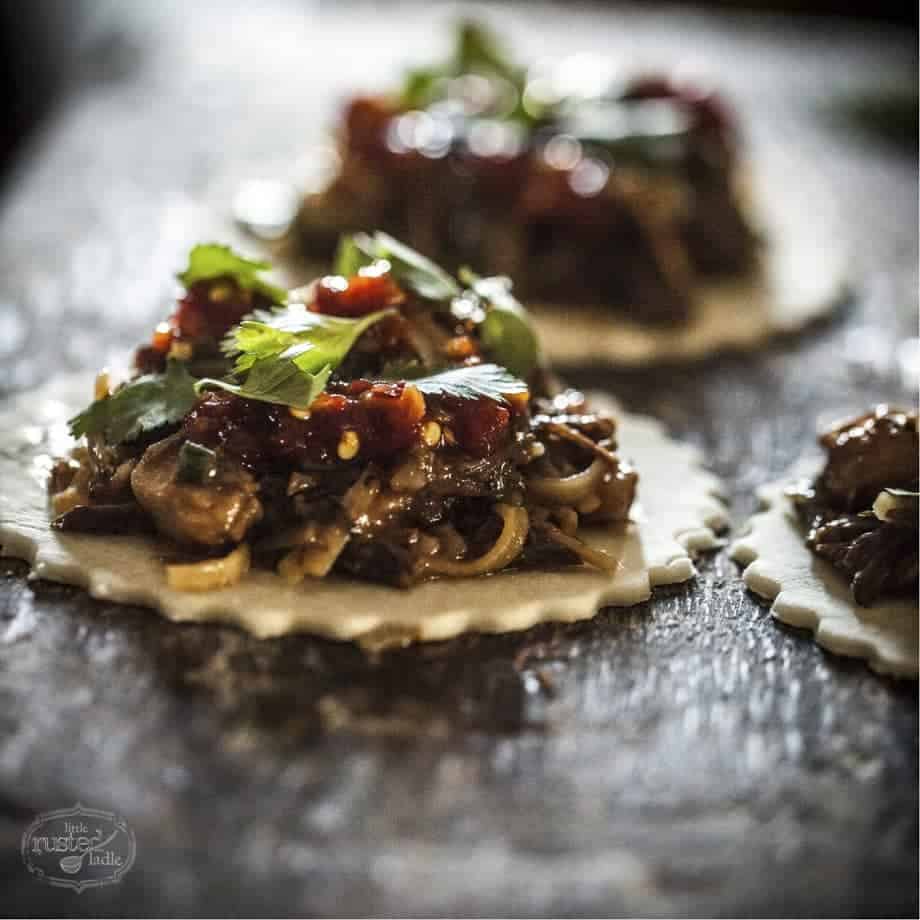 Since Jena and I wanted to do an article on pot pies, we thought we would create some fun variations to the popular chicken pot pie.  Our goal was to do four or five different kinds of pies like we usually do and post one every week.  However, life sometimes throws curveballs like babies, sickness, work and moving that sometimes alters your intentions.  So, "you can't always get what you want, but if you try sometime, you just might find, you get what you need." Thanks Mick, we agree with that philosophy.  Instead of doing four, we did one good one, and added another video.  Rather than creating a pot pie big enough to feed a family, we made a delicious hand held version perfect for those who like to eat on the run.  Also, since you don't see too many pastries filled with meat in the far east besides egg rolls or pot stickers, we decided to do a pot pie version of a Korean beef taco.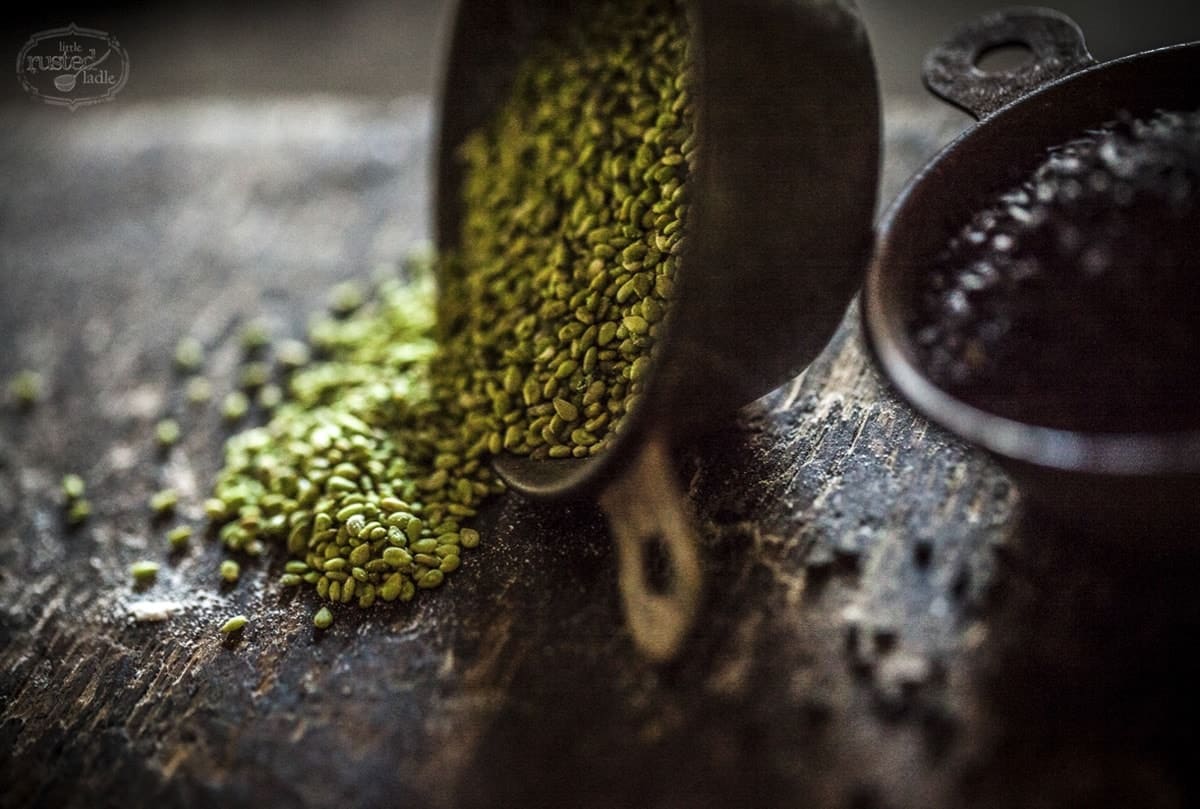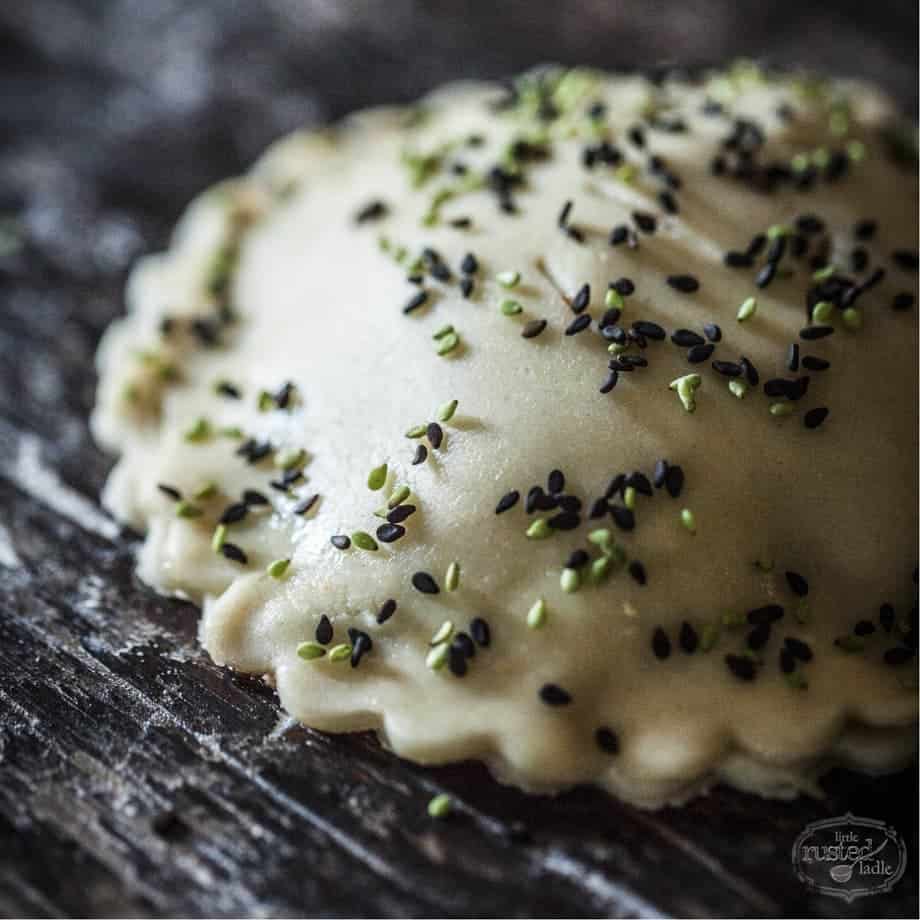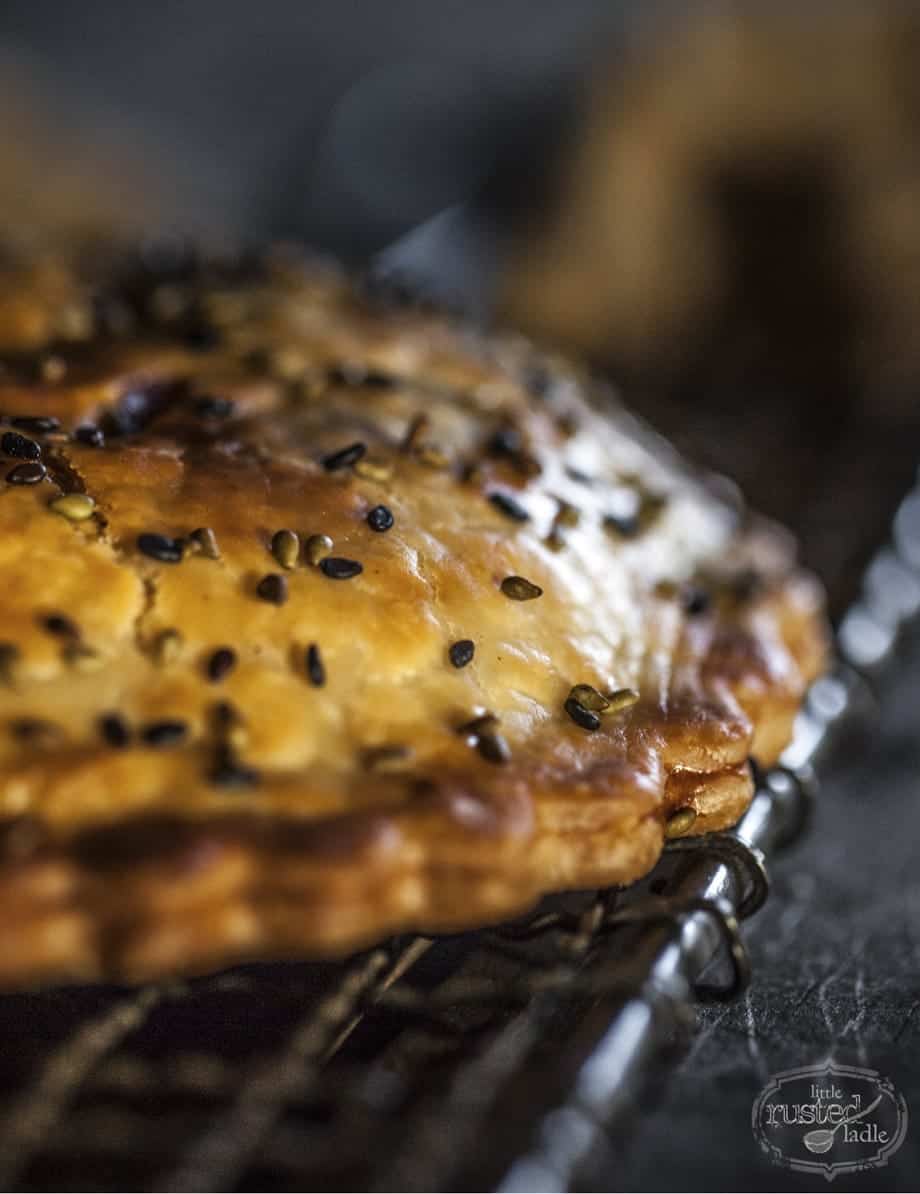 For these Korean Beef Hand Pies, we started with boneless beef short ribs cooked in a pressure cooker with chicken broth, soy, chili paste, garlic, ginger, scallions and mushrooms until tender and juicy.  The meat is shredded and then rice noodles and pea pods were added for texture and color.  This mixture was cooled, then spooned onto store bought dough rounds cut into four inch fluted circles using a small tart pan.  A large tin can like we used for the pound cake can also be used, or simply make cutouts with round paper templates.  The addition of chili paste and cilantro on top give it a little acid and fresh flavor.  Brush the edges with egg wash and top with another four inch pastry round on top that has been rolled a little larger to accommodate the filling.  Sprinkle the top with wasabi flavored and black sesame seeds, and bake until golden brown.  We loved their cute appearance and the portable nature.  The tender short rib meat combined with the savory and spicy juices was a perfect contrast to the flaky, buttery crust.  These would be wonderful appetizers for a party if made a little smaller, or excellent as lunch item that can be reheated in the toaster oven or as dinner with a light salad.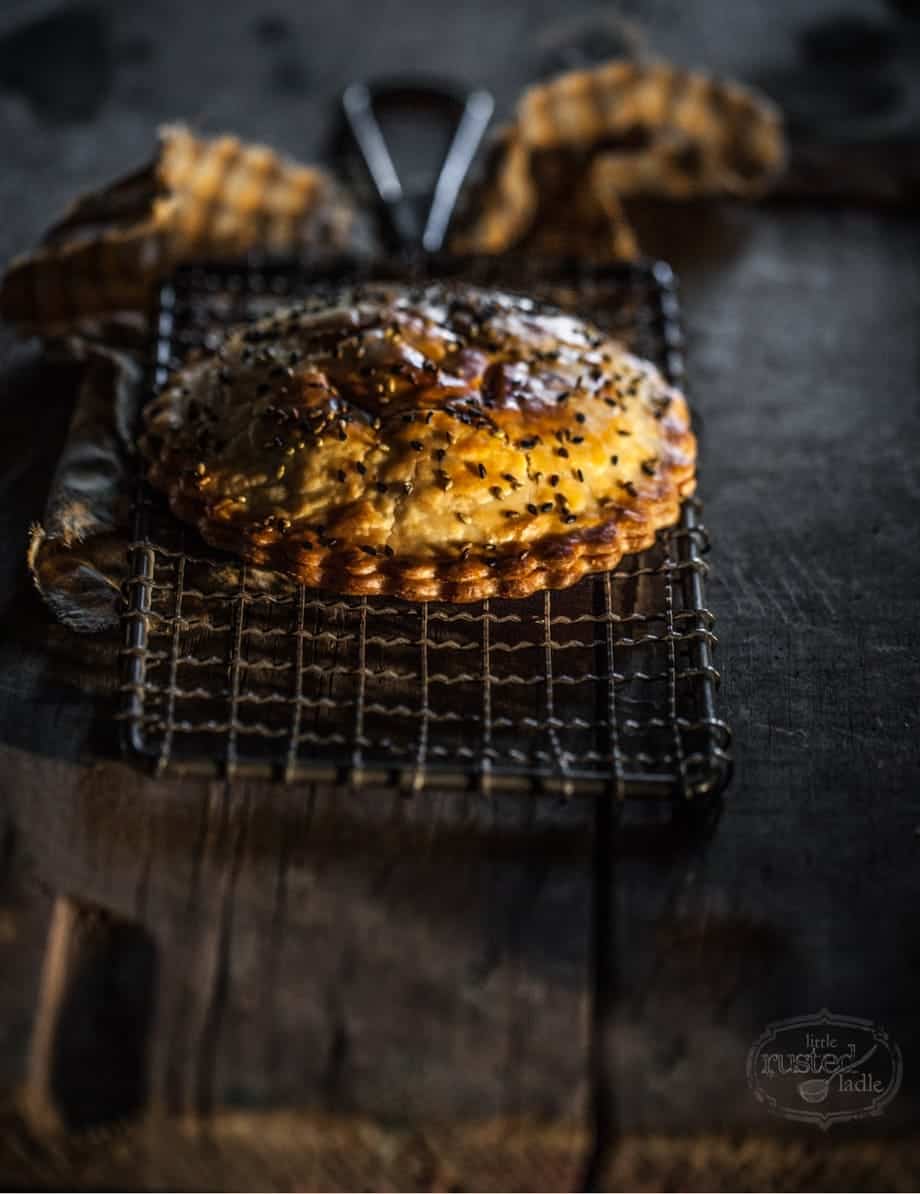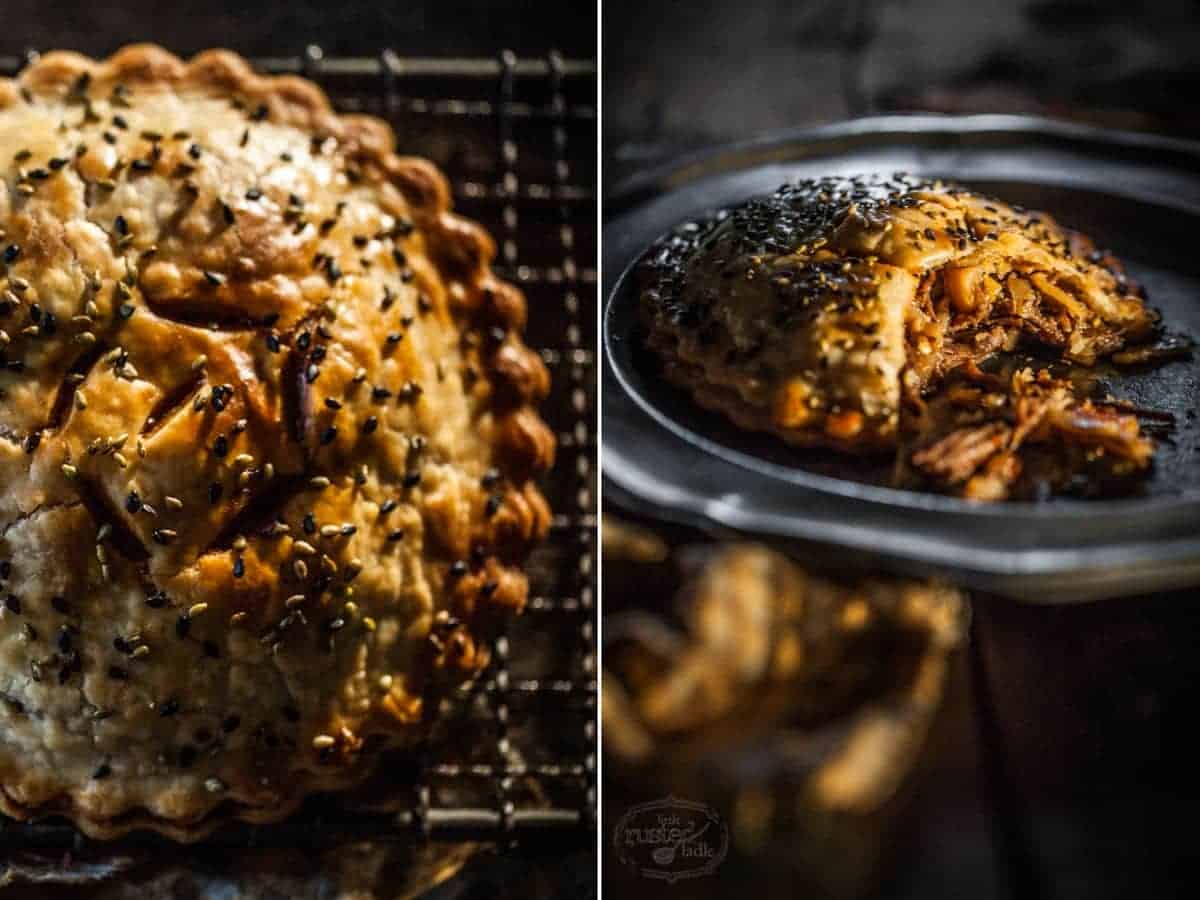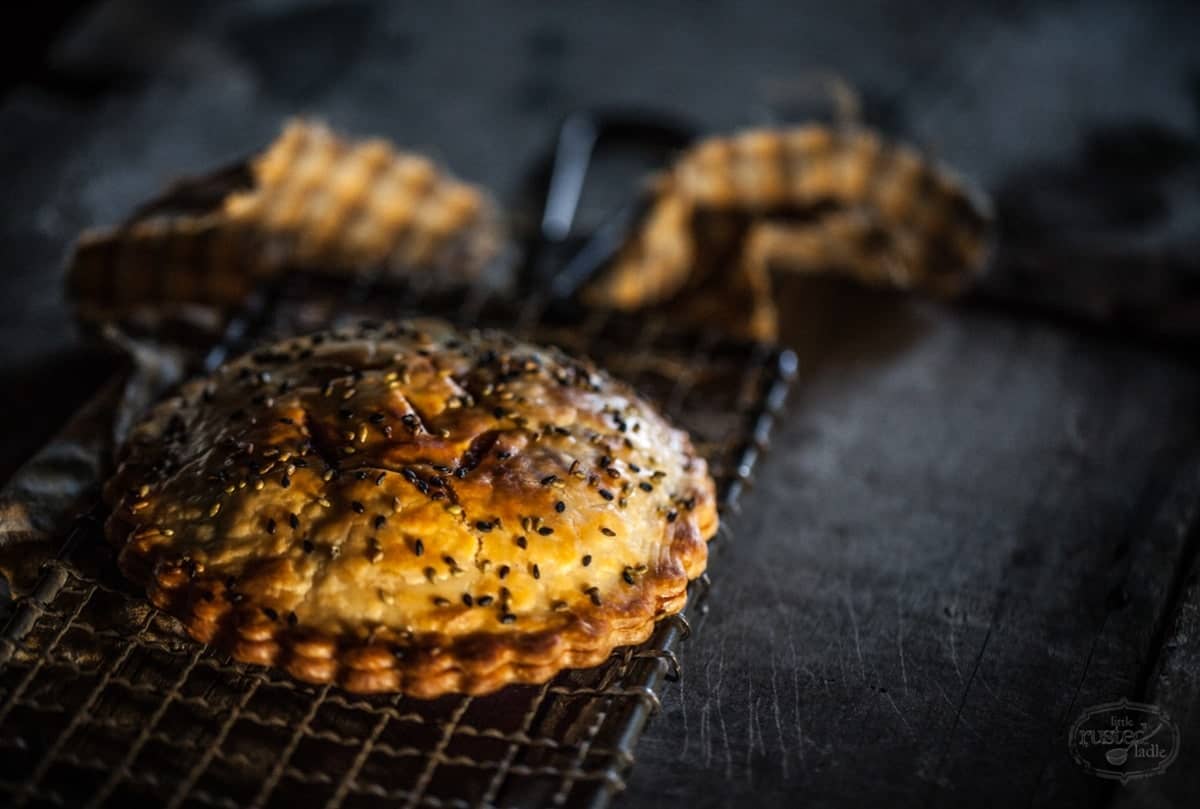 So the next time you're thinking about whipping up a chicken pot pie, think a little outside the box, or should I say pie?  For a spring time treat, add some asparagus, fresh morel mushrooms, tomatoes and cheese.  See the article we did two years ago on morel mushrooms as an option for the filling.  Some pulled pork and jerk seasoning, seafood or perhaps some fresh organic vegetables and tofu if meat isn't your thing. Regardless of your choice, the time tested pot pie is and will always be a comfort food classic because of it's very nature. It's an edible gift filled with wonders that make our tastebuds happy. Until next time, remember to cook with love and live to cook.
Jim & Jena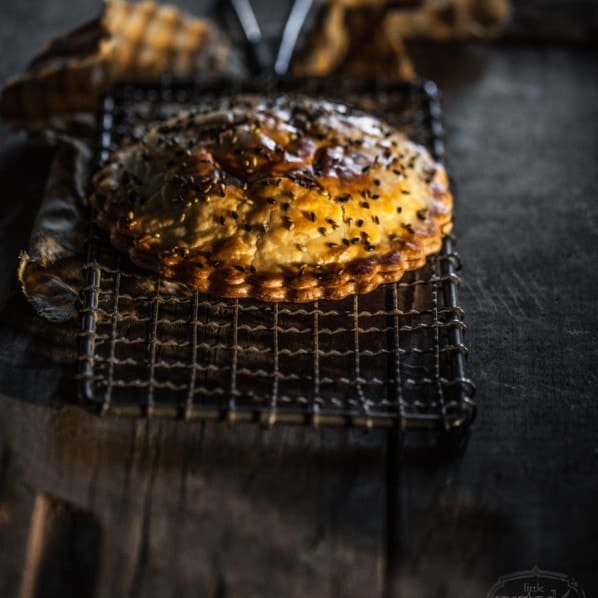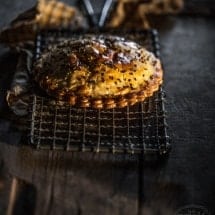 Korean Beef Hand Pies
The Pot Pie gets a facelift with this Korean-inspired hand pie. They can be made as an appetizer, a snack, as an on-the-go lunch or as an entree.
Print
Pin
Rate
Add to Collection
Go to Collections
Cook Time:
1
hour
30
minutes
Total Time:
1
hour
45
minutes
Ingredients
1 3/4

lb

Beef short ribs

1

cup

Chicken broth

1/2

cup

Soy sauce

1/4

cup

Hoisin sauce

1

tbsp

Chili paste

1

Green onion

1

tbsp

Ginger paste

1

tsp

Garlic paste

4

Dried shiitake mushrooms

1

cup

Rice noodles

1/2

cup

Pea pods

cut into 1" pieces

4

Refrigerated pie dough rounds

9 inch

3

tbsp

Chili sauce

1/2

cup

Cilantro leaves

washed

1

Egg

beaten

2

tbsp

Flavored sesame seeds
Instructions
Place short ribs in a large pressure cooker or crock pot.

In a small bowl, combine next 7 ingredients.

Pour mixture over short ribs. Move ribs around to coat with sauce. Cover pressure cooker and seal.

Place cooker over medium high heat. When pressure cooker seals, set timer for 30 min.

Remove cooker from heat and release pressure until top can be opened.

Transfer meat to a plate and shred with 2 forks.

Meanwhile, skim off fat from remaining cooking liquid.

Break rice noodles into 2" pieces and add to cooking liquid.

Cut pea pods into 1" pieces and add to cooking liquid.

Add shredded beef back to liquid. Fold mixture together until beef is well sauced and ingredients are blended.

Refrigerate beef mixture until ready to fill pies.

To make pies, cut out sixteen 4" rounds using a can, cutter, or a small tart pan.

Place rounds on a parchment-lined sheet pan. Spoon about 1/2 cup of beef mixture over 8 dough rounds, leaving about 1/2" border.

Pre-heat oven to 400 degrees.

Spoon about a teaspoon of chili sauce over beef, then top with a few cilantro leaves.

Brush edges of the rounds with beaten egg.

Place remaining dough rounds on top and carefully press together to seal.

Brush the pie tops with egg, then quickly sprinkle with sesame seeds. Bake for 20-25 minutes or until golden brown. Serve.
Total Time: 105m
7