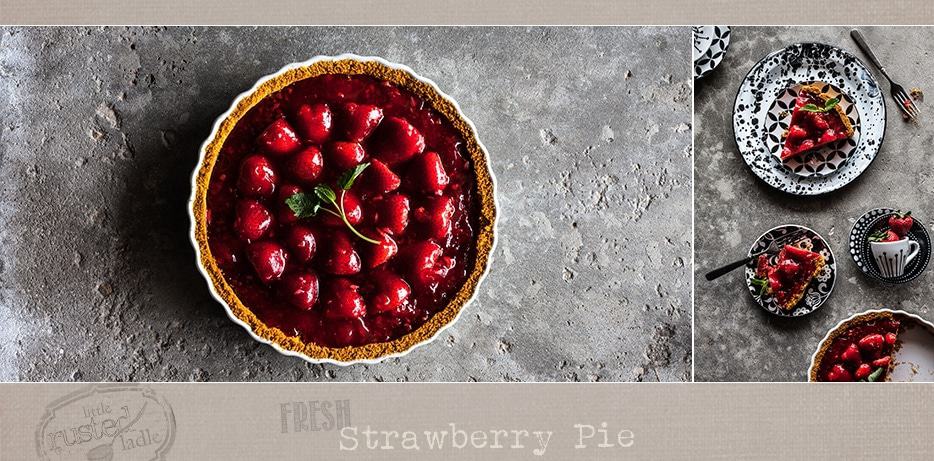 If you look up the definition of Mother in Webster's Dictionary, you simply get "female parent". However, anyone who grew up with a caring and wonderful mother as Jena and I both did, would think that definition is ridiculous. Our mothers were so much more than that. So much so, that as a tribute to them both, Jena and I have decided to dedicate the most of April and May to them as well as every other mom who makes a difference out there. We are both writing separate articles about our moms, and including one of our favorite recipes of theirs. I was lucky enough to go first. So, without further ado, here's a tribute to my mom Phyllis Jean Rude, who was my mom.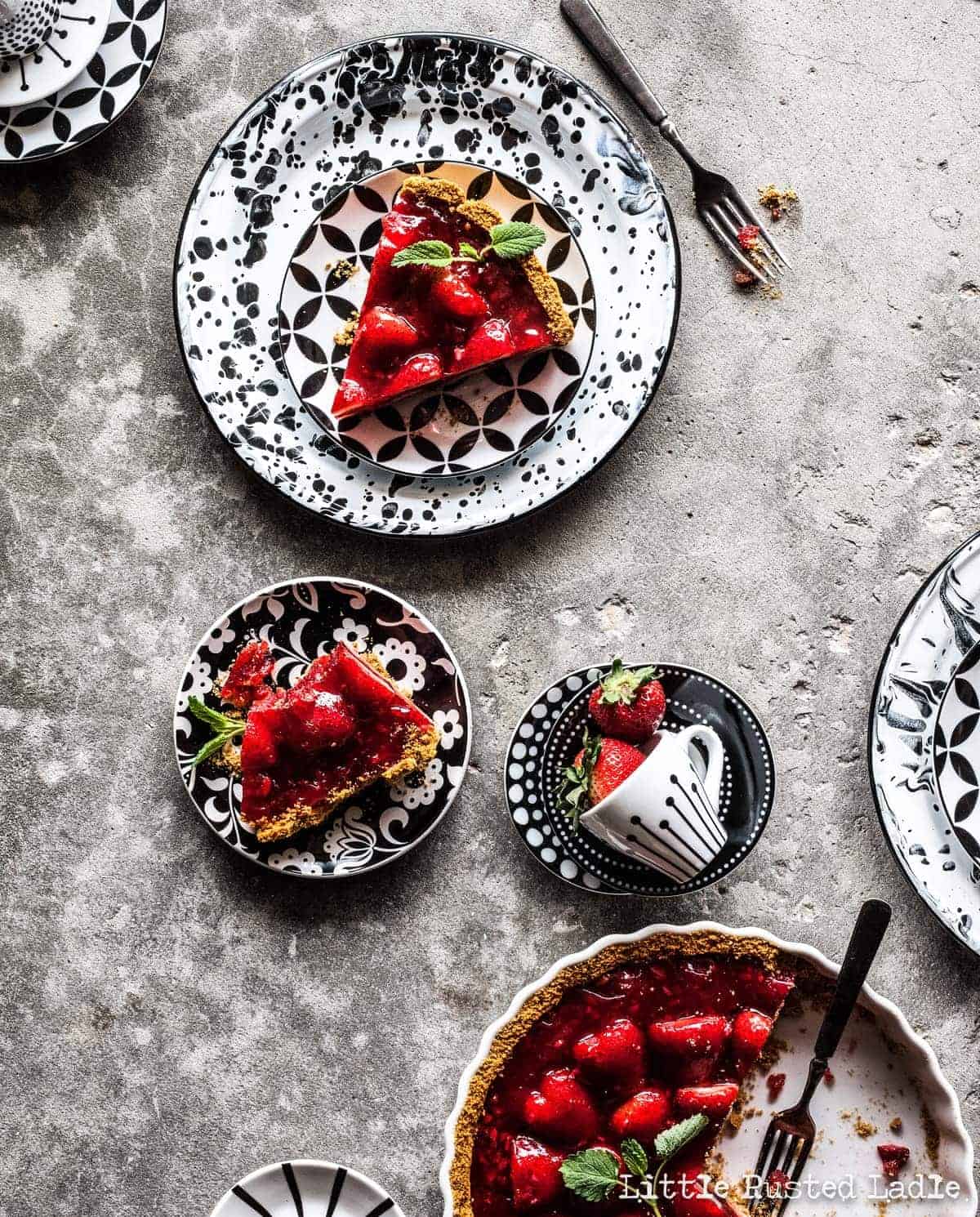 Phyllis Rude was not unlike many mothers of her generation. She was a stay at home mom, who raised my sister and myself with a lot of love. She didn't have to be a stay at home mom. After all, she graduated near the top of her class from Marquette University as one of only a handful of women who graduated in the school of business. She was extremely smart and was well on her way to a professional career when she decided to trade her professional aspirations when she gave birth to my sister and I.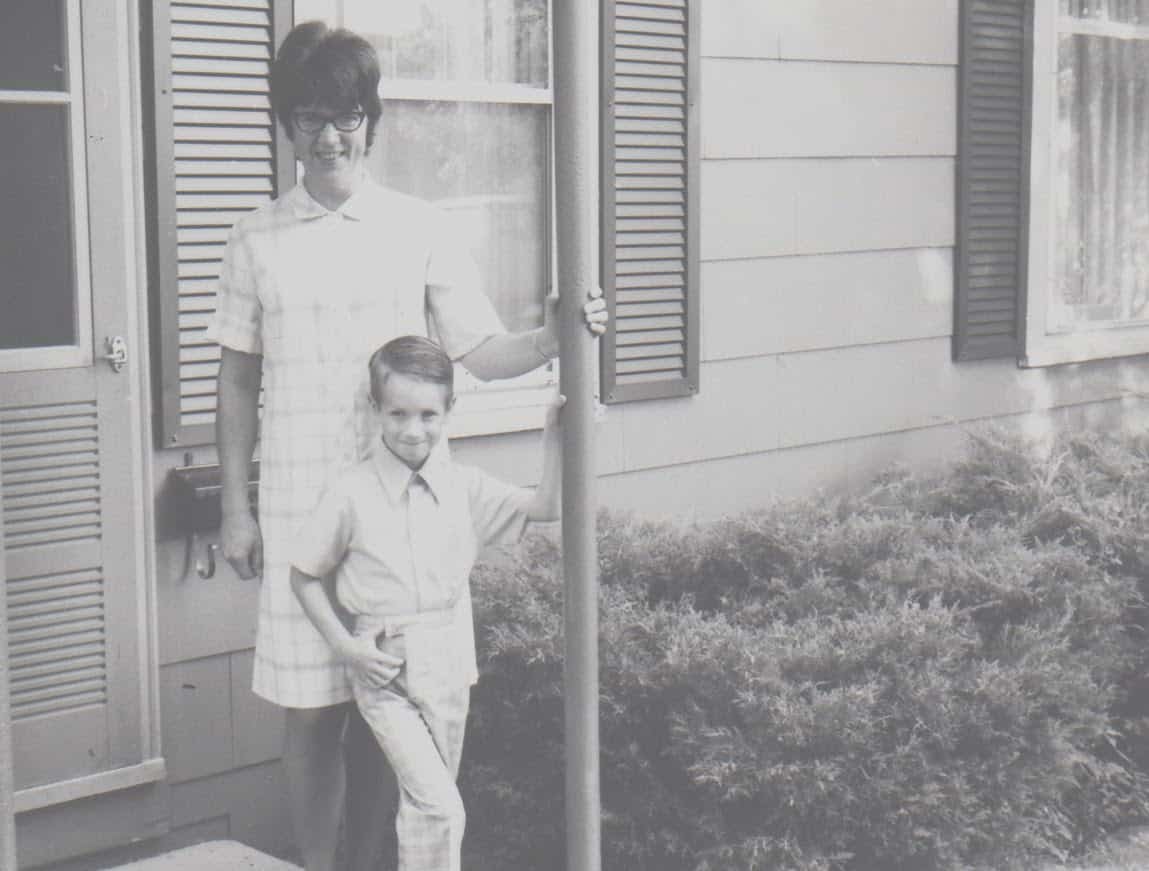 Growing up with a mother like mine was a joy. She was always there for me. She made us breakfast in the morning, she would see me off to school and make us lunch and dinner. Her cooking was almost always homemade. I remember her spending hours scouring through magazines. She'd cut out the ones that she liked and put them in file folders to be made another day. It was funny, because she usually made the same things over and over, so I'm not sure when she planned on making any of those recipes she cut out. There was one dessert that she made that I was always really excited about. Her fresh strawberry pie. Being a mother of the 50's and 60's meant she was barraged with convenience foods such as Campbell's Soup, Hamburger Helper, Sloppy Joe Mix and the ever popular Jello. What made her fresh strawberry pie recipe so wonderful was the effort. Today you can buy fresh strawberries year round. They are bright red, big and often very good. However, back then, the only time she made that strawberry pie was during strawberry season, which was usually about three weeks to a month long. During that time, she would go out to the strawberry farm and pick quart after quart of the most incredibly juicy and sweet berries you can imagine. Since the strawberries were a seasonal and vine ripened fruit, there was literally only a day or two between when they were picked to when they had to be eaten or frozen, or the berries would get too soft or spoiled to eat. This meant that there were literally only three to four times a year that we would get that pie.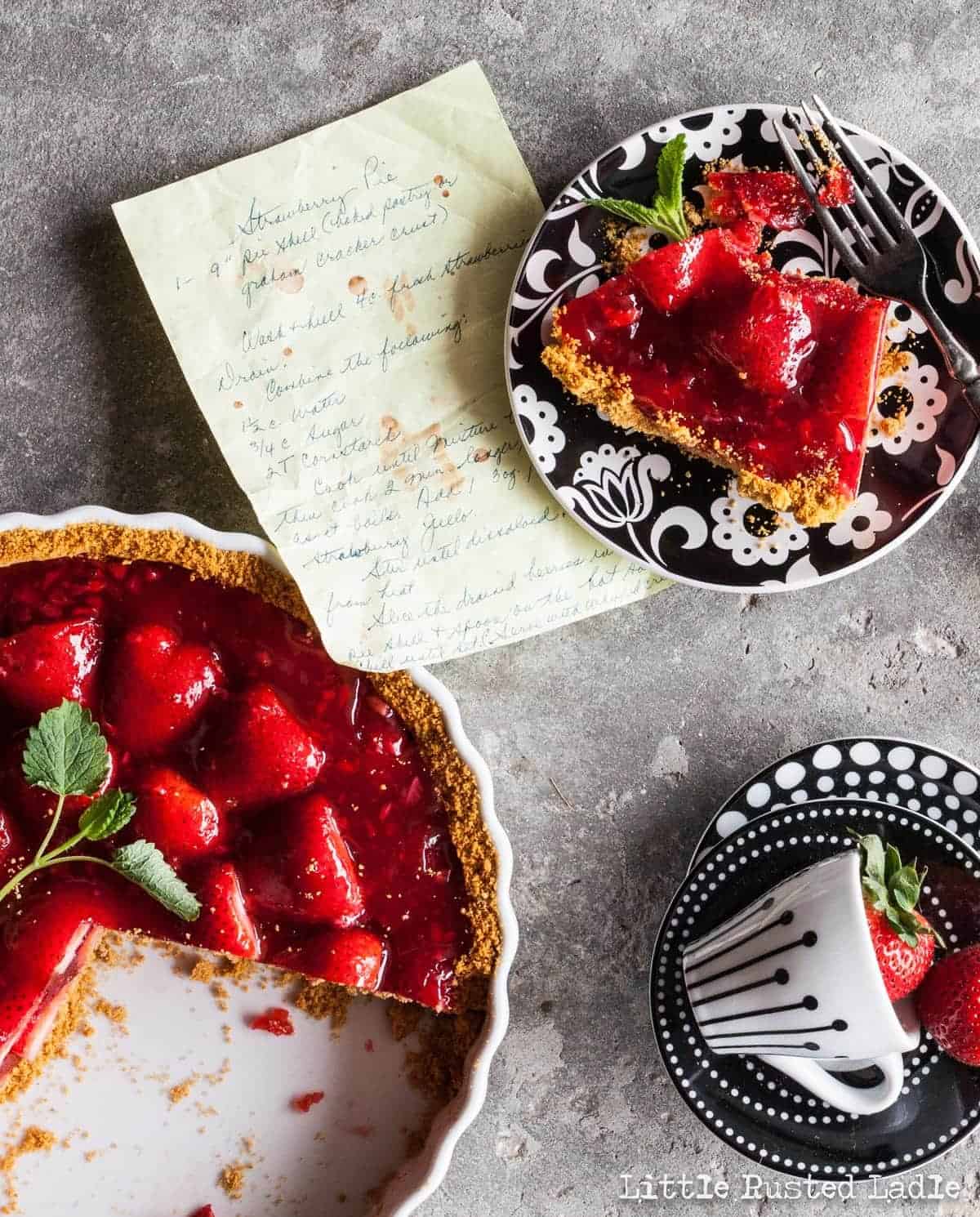 My moms strawberry pie wasn't anything special in terms of the recipe itself. After all, everyone made it back then. I'm pretty sure Jello developed the recipe and thanks to good marketing and word of mouth, Jello sold a lot of product to moms looking for an alternate use to that jiggly gelatin dessert. It's basically fresh berries in a graham cracker or pastry crust, with a syrupy strawberry jello mixture spooned over the top and refrigerated. I'm not a huge jello fan today, but as a kid, that pie was as close to heaven as I could imagine. I would eat three slices in a sitting with no problem. She'd make one, and it would be gone as soon as it was firm enough to cut. I remember sitting in the kitchen and watching her make that pie. She's come home with the sun warmed berries. She'd immediately wash and stem them and start making the pie. She would keep enough berries for a pie and freeze the rest. I of course would be right next to her eating them as fast as she was stemming them. She would often say "if only you enjoyed picking them nearly as much as you do eating them." She was right. I hated picking strawberries. All that crouching and looking under the leaves to find the hidden berries. I was often invited to help pick, but almost always declined in favor of playing with my friends. Why not, I got the berries and the pie anyway.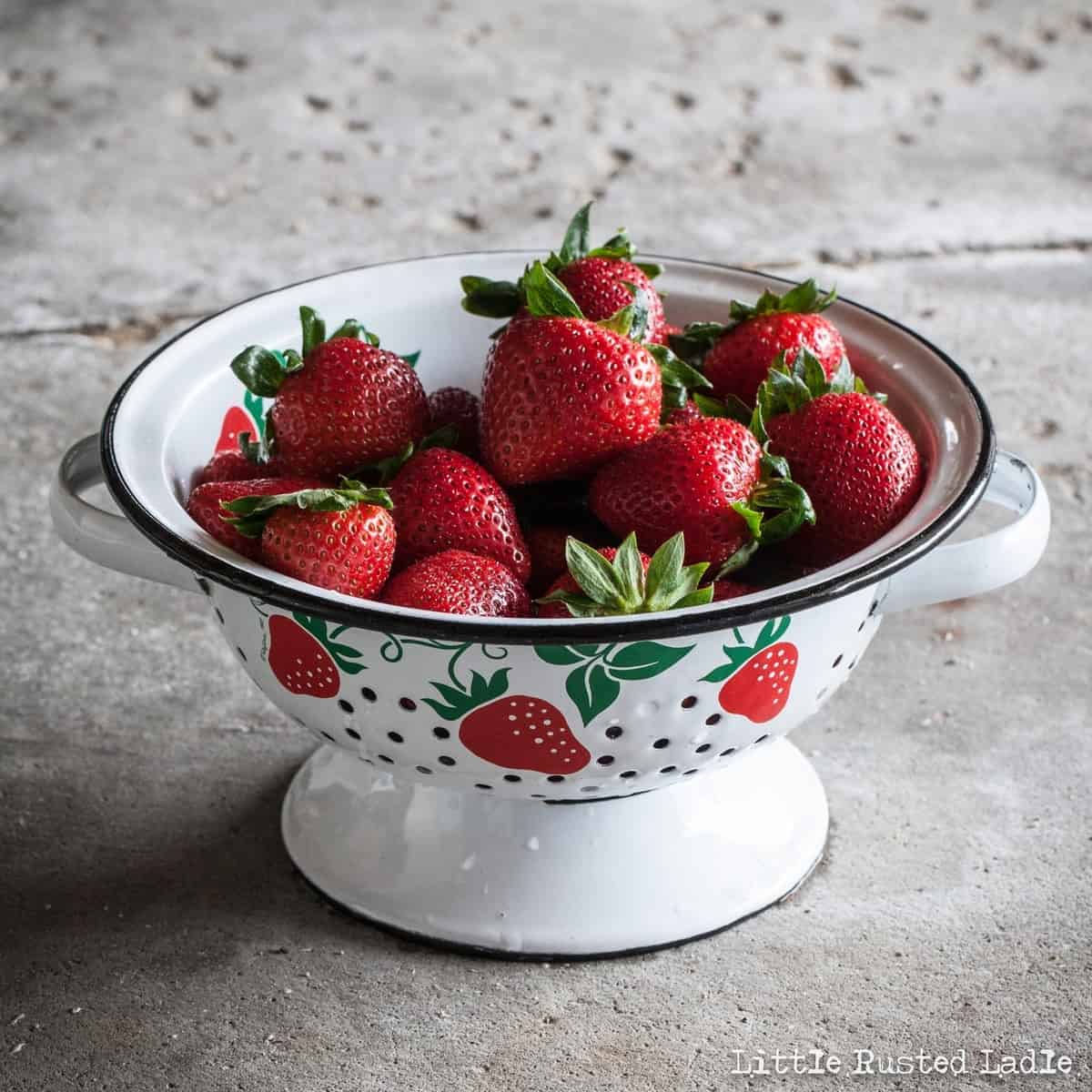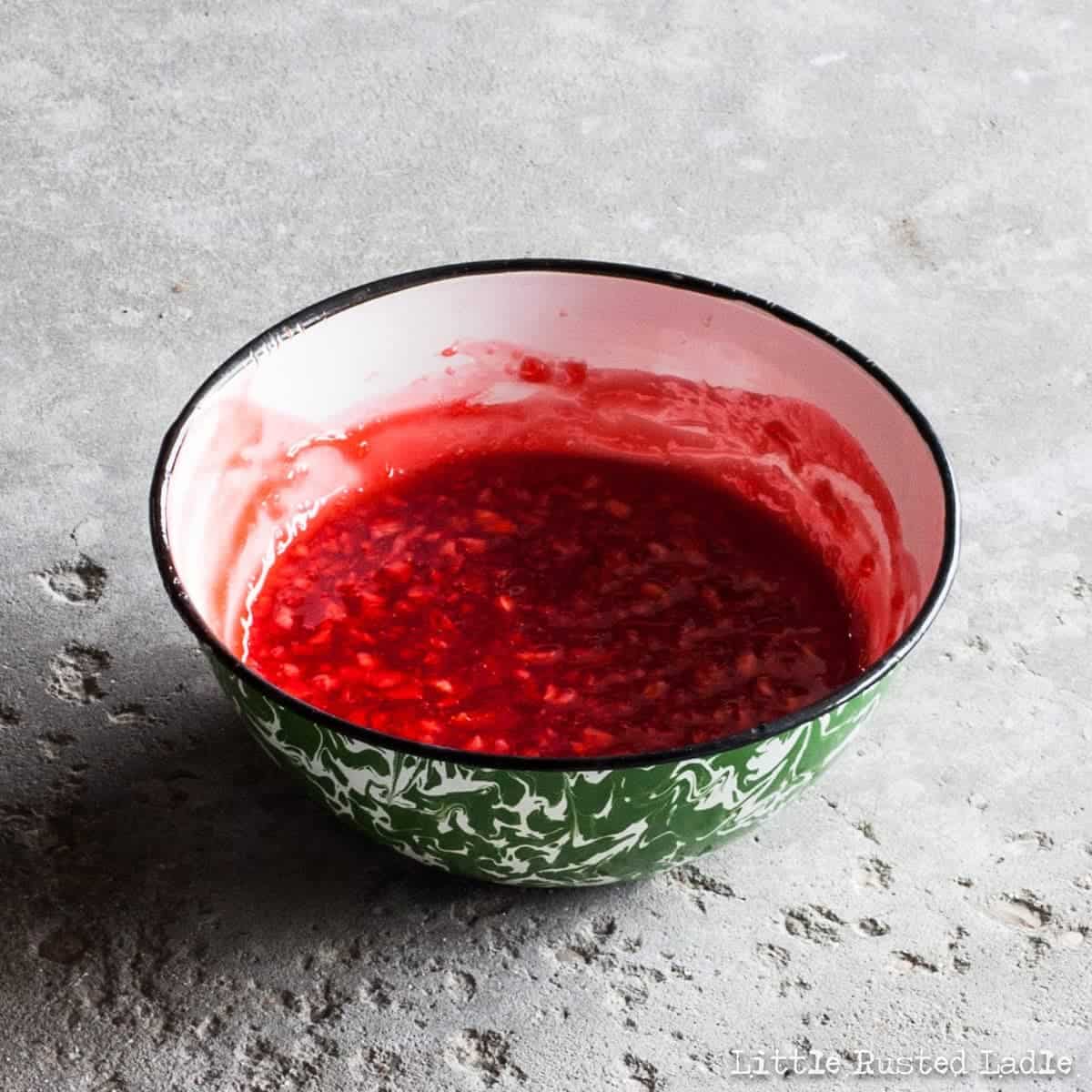 When the berries were stemmed, dried and ready, she would make the strawberry glaze, which was nothing more than water, sugar and cornstarch cooked in a saucepan, then strawberry jello mix stirred in and cooled until it was just thick enough to coat the berries. She said that if the mixture wasn't the correct thickness or was too warm, it would soak into the crust and make a mess. There was no room for error with this pie. The pie was then refrigerated until the jello was firm. I think she used the graham cracker crust because she was sick of spending the time to make a pastry crust only to have me devour the pie in less than thirty minutes. I don't blame her. Cool Whip was the topping of choice, but I usually didn't need it. Heck, I didn't need the plate. I'd eat it right out of the pie plate if she let me. She never did. Something about "other people" wanting some. Whatever!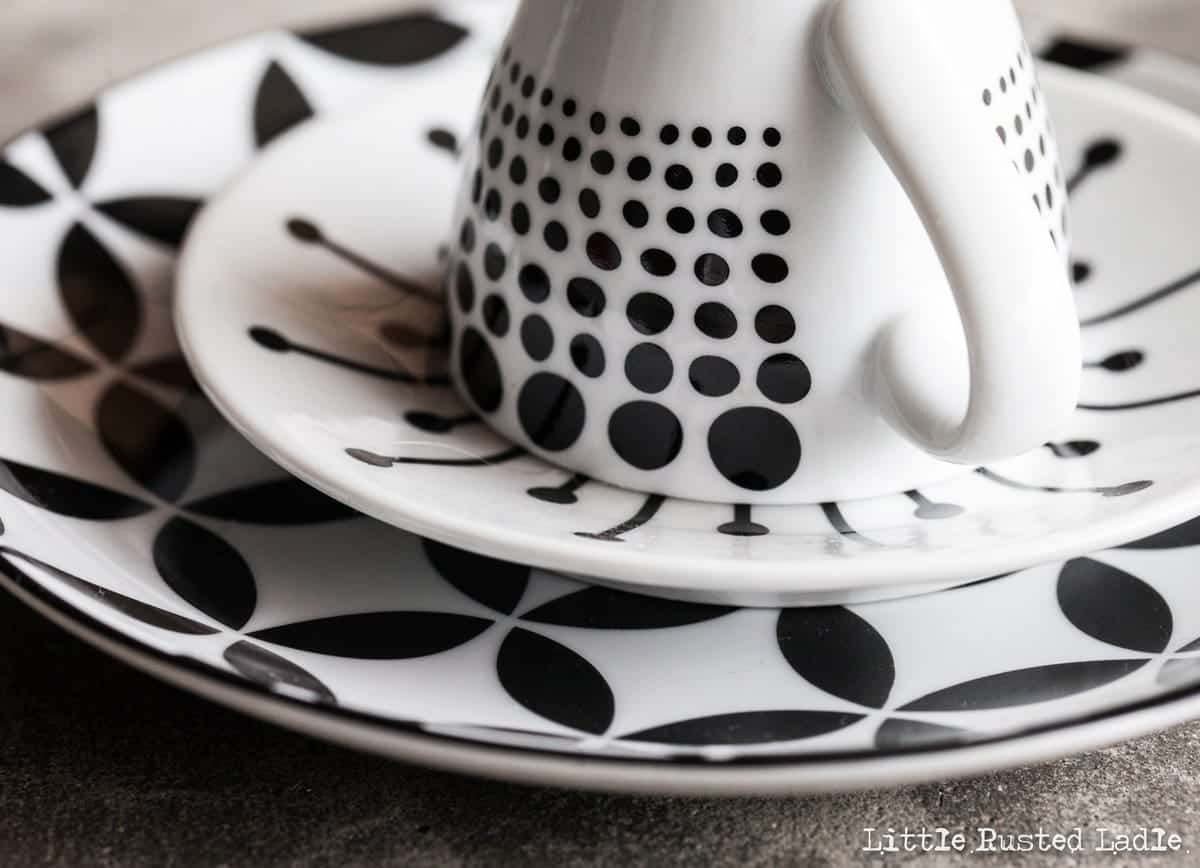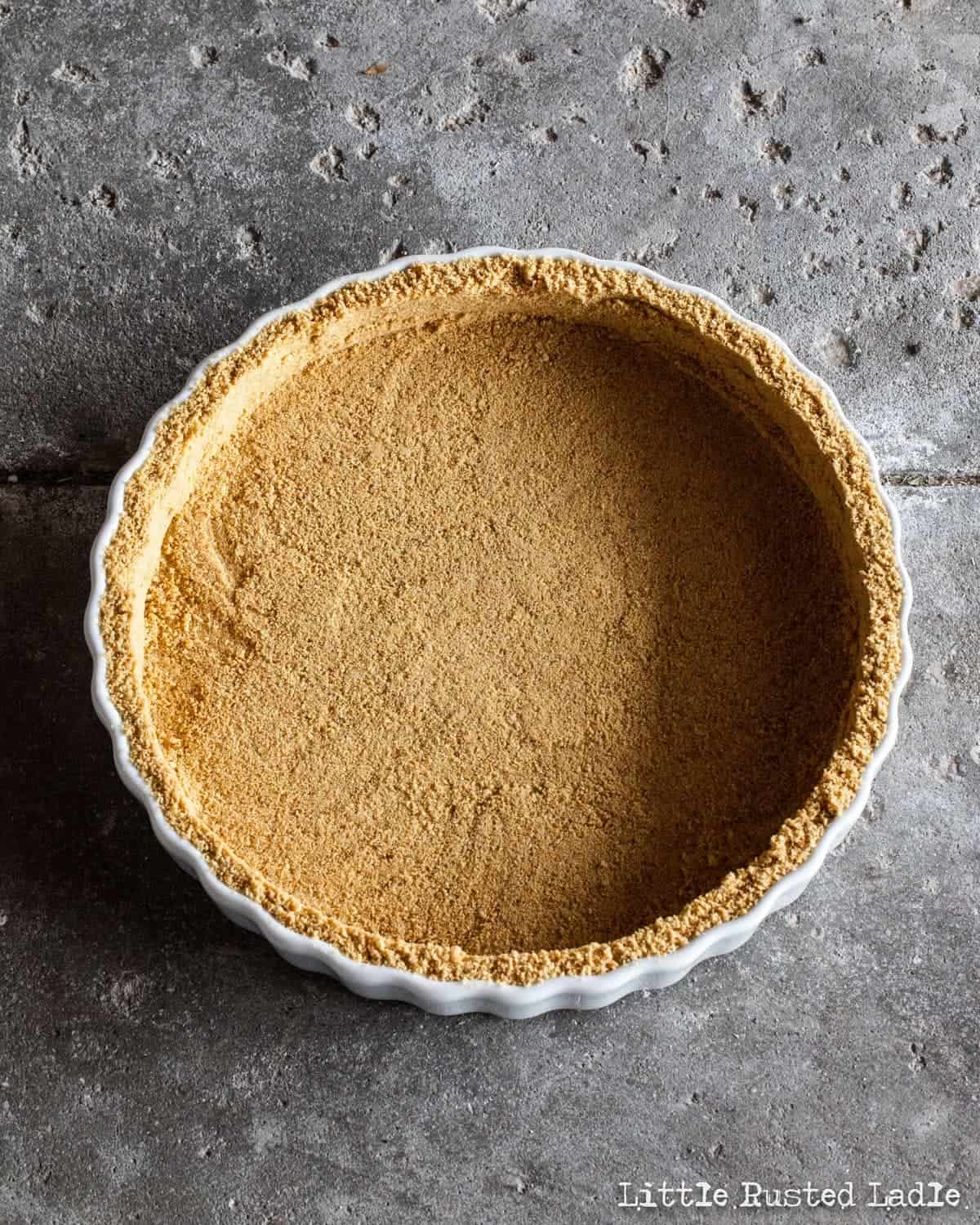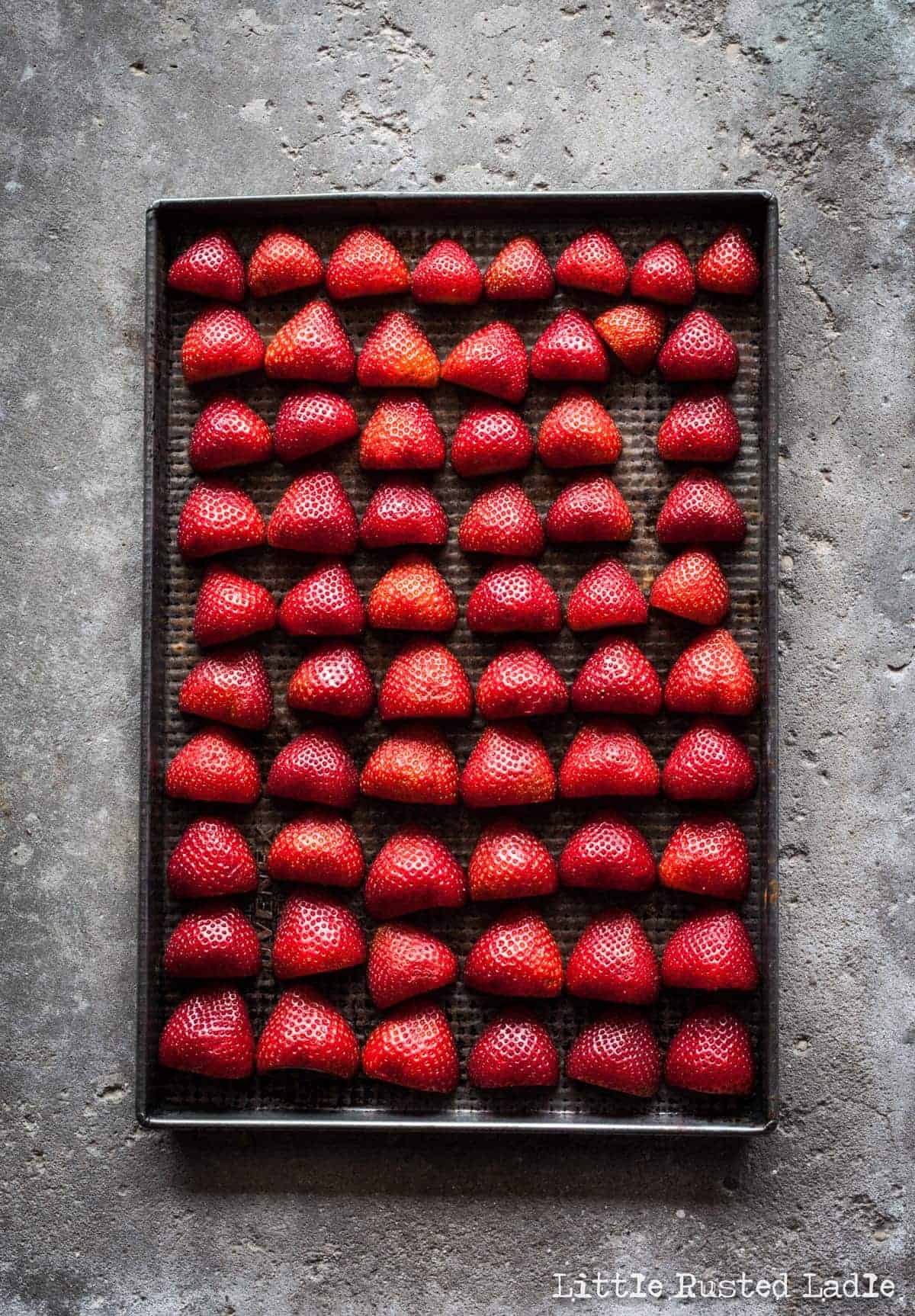 I always smile inside remembering the many fleeting fresh produce treats of my childhood. However, the one that I am most fond of is that fresh strawberry pie. Because it was made with local berries picked at their peak. Mom would work hard to gather those berries, wash them, and spend time making those pies because she knew I loved them. As she got older, the number of pies she made dwindled. However, every time she made one, an boyish excitement was renewed. Last year I made her a fresh strawberry pie using the same berries from the same local farm. I didn't pick them, because I hate picking strawberries, but they were just as good. There was a lump in my throat as I gave her that pie, because I realized I was now playing the part she had so many times over the years. That was the last strawberry pie we shared, and like all those of my childhood, I will always remember it fondly. She passed away last October, so this year will be the first Mother's Day without her. She was a great mom who could have been anything she wanted to be. She chose to be a mother and I will always be eternally grateful for that sacrifice and for everything she taught me. Happy Mother's Day to all of you moms out there who make all those wonderful memories for your kids. You deserve more than a day. Until next time, remember to cook with love and live to cook.
Jim & Jena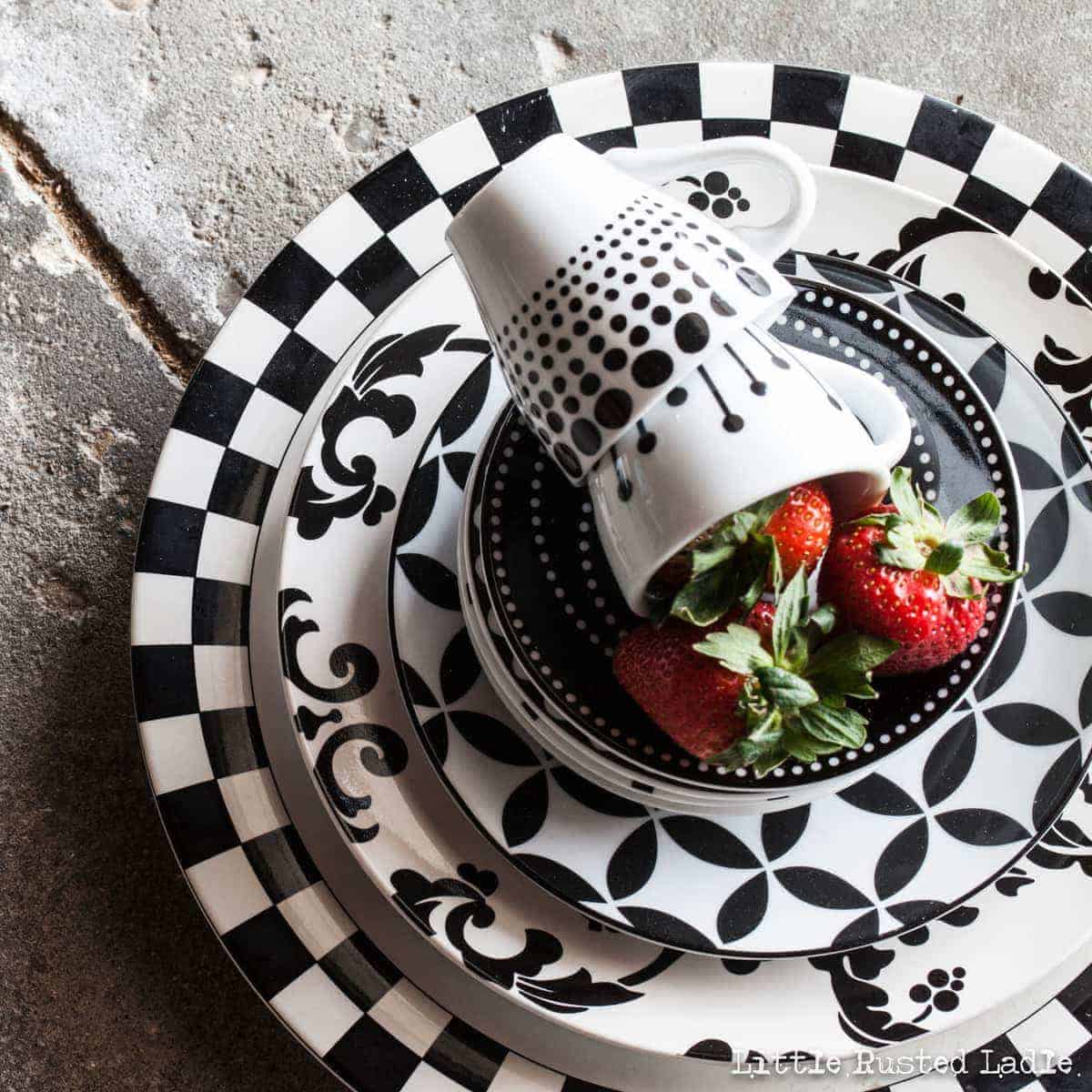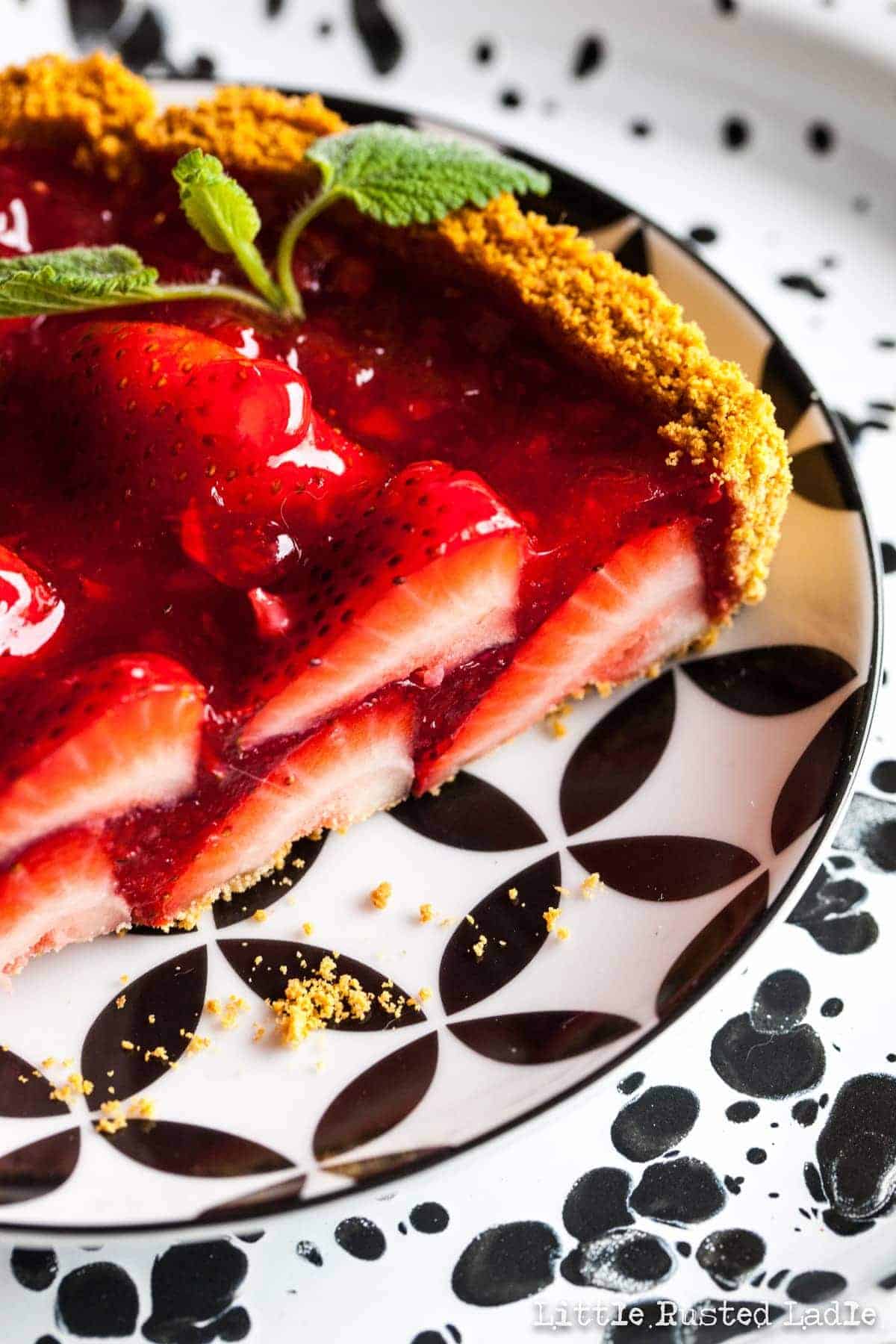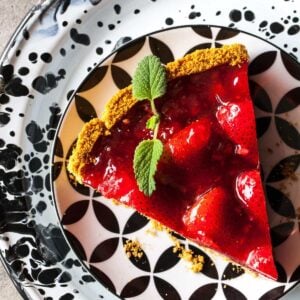 Fresh Strawberry Pie
This classic strawberry pie is best when using farm fresh strawberries in season. You can substitute a fresh strawberry puree made with fresh strawberries and unflavored gelatin in place of the Jello.
Print
Pin
Rate
Add to Collection
Go to Collections
Ingredients
1 1/2

cups

Graham cracker crumbs

4

Tbsp.

Unsalted butter

melted

3

Quarts

Fresh strawberries

washed, stemmed, and cut in half lengthwise.

1 1/2

cups

Water

3/4

cup

Granulated cane sugar

2

Tbsp.

Cornstarch

1

Pkg

Strawberry Jello mix, 3 oz
Instructions
Preheat oven to 350 degrees.

In a medium bowl, combine graham cracker crumbs and butter and str until moistened. Press into the bottom and up the sides of a 10" tart pan. Use a flat glass to make it even in thickness.

Bake for 8-10 minutes or until lightly browned. Cool completely.

Meanwhile, finely chop 1 cup of strawberries and set aside.

In a medium saucepan, combine water, sugar, and cornstarch. Bring to a boil. Cook for 2 minutes, then add Jello mix and reserved chopped strawberries. Remove from heat and let cool until slightly thickened but still liquid.

Place strawberries cut side down, side by side, in the bottom of the cooled crust making one layer. Spoon half of the strawberry mixture over strawberries, making sure to cover all of the berries.

Layer remaining strawberries over sauce and finish by spooning remaining sauce over berries.

Place level in a refrigerator until strawberry mixture has stiffened. Serve.