Not Your Mom's Homemade Marshmallows
As kids, we sometimes forget that many of the foods that our parents buy at the store started out as a homemade recipe. Marshmallows are one of those foods. I don't ever remember my mom making homemade marshmallows. Why would she? After all, you could buy them already made! How simple, right? Except for one thing–homemade is always better. Especially these days, when manufacturers continually make sacrifices with ingredient quality in order to help reduce costs. Marshmallows are no exception.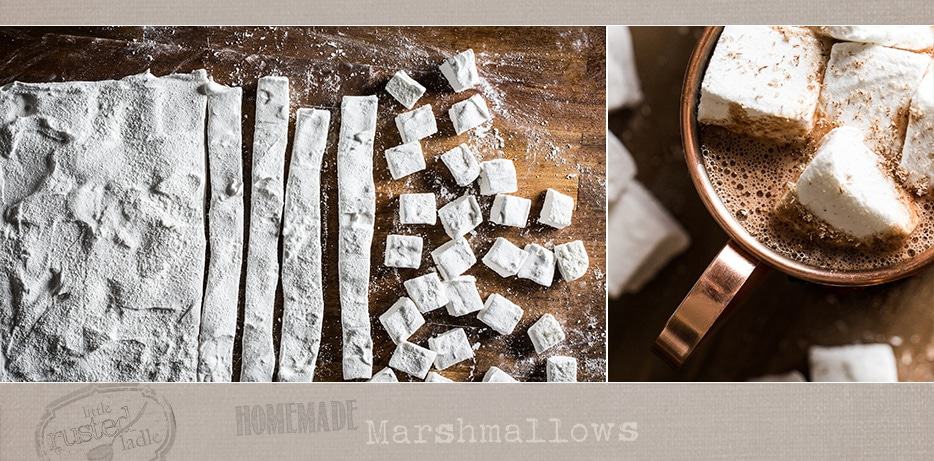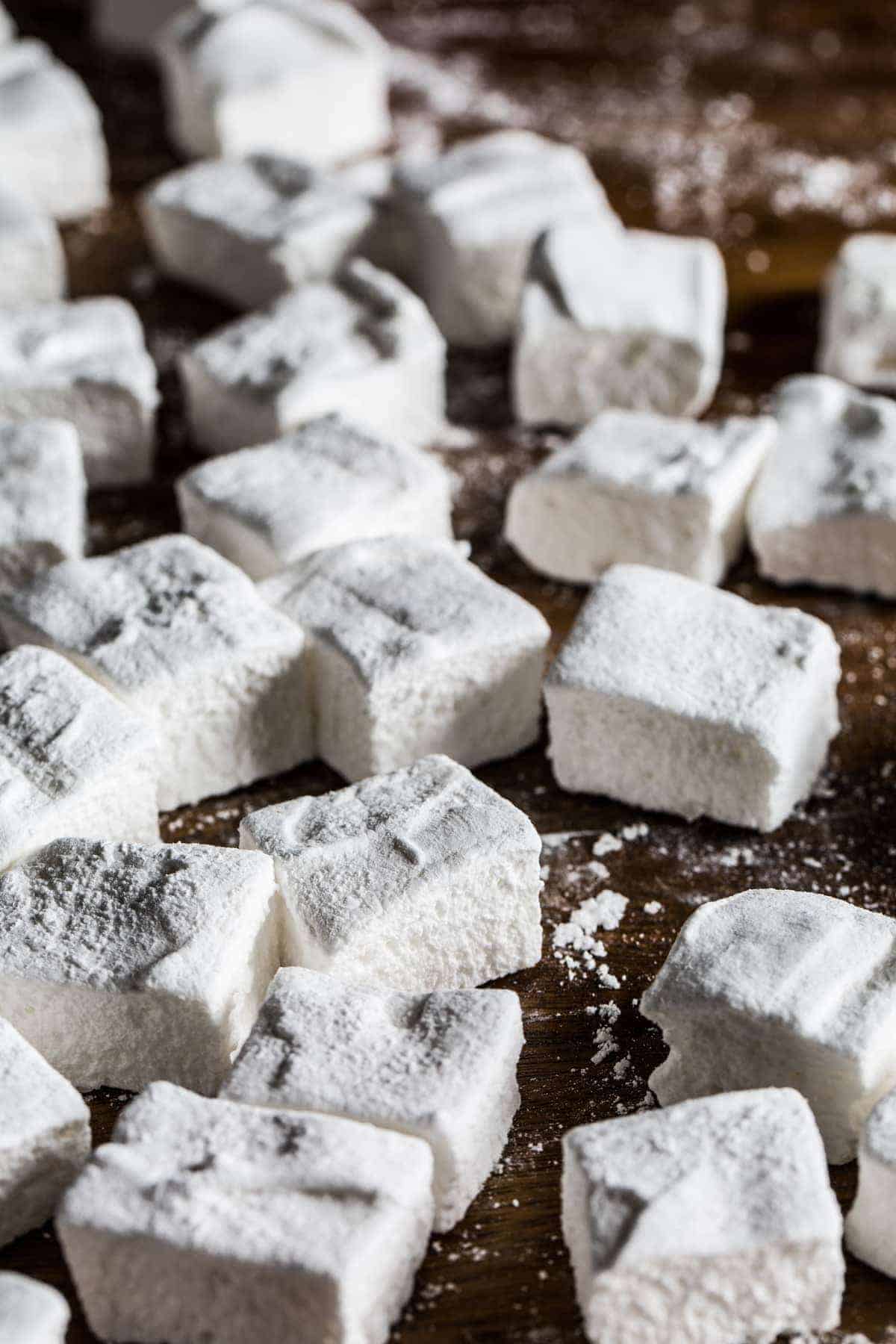 Making a Mellow Mallow
I hate to say it, but in my more than 25 years of professional cooking, I had never made homemade marshmallows. Like everyone else, I figured they were really hard to make. Little did I know, I couldn't have been more wrong.
Marshmallows are so easy to make from scratch. The recipe requires only 6 simple ingredients: water, sugar, gelatin, corn syrup, vanilla, powdered sugar, and cornstarch. Ten minutes to cook, 15 minutes to mix, and 8 hours to dry. When it comes to actual effort, these fluffy squares of sweetness are a breeze. Usually I like to put my own stamp on recipes because I don't like to copy other people's work. With homemade marshmallows, though, I decided to keep it simple. After all, the real purpose of these white clouds of joy was to top homemade hot cocoa cups for our hot cocoa party series.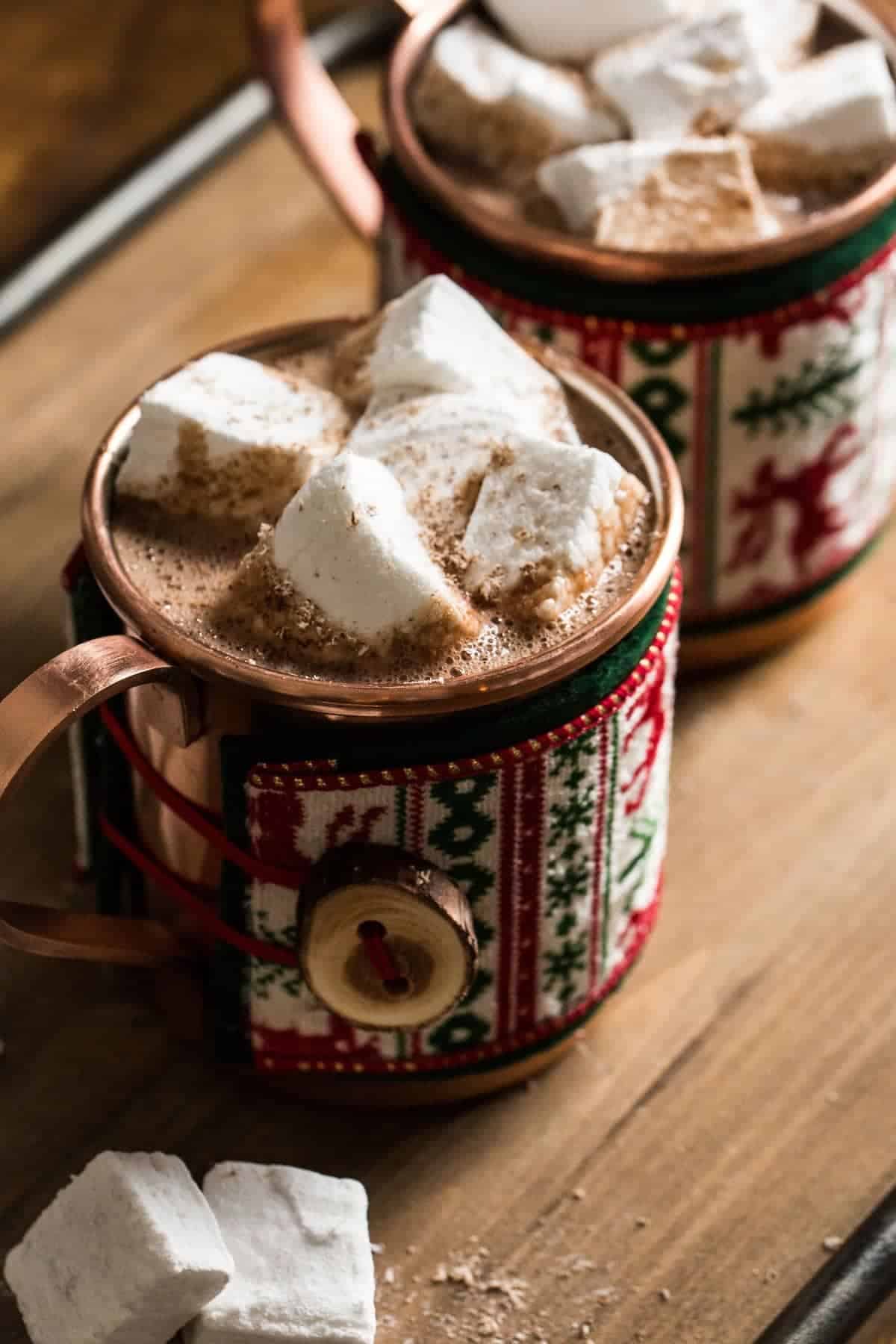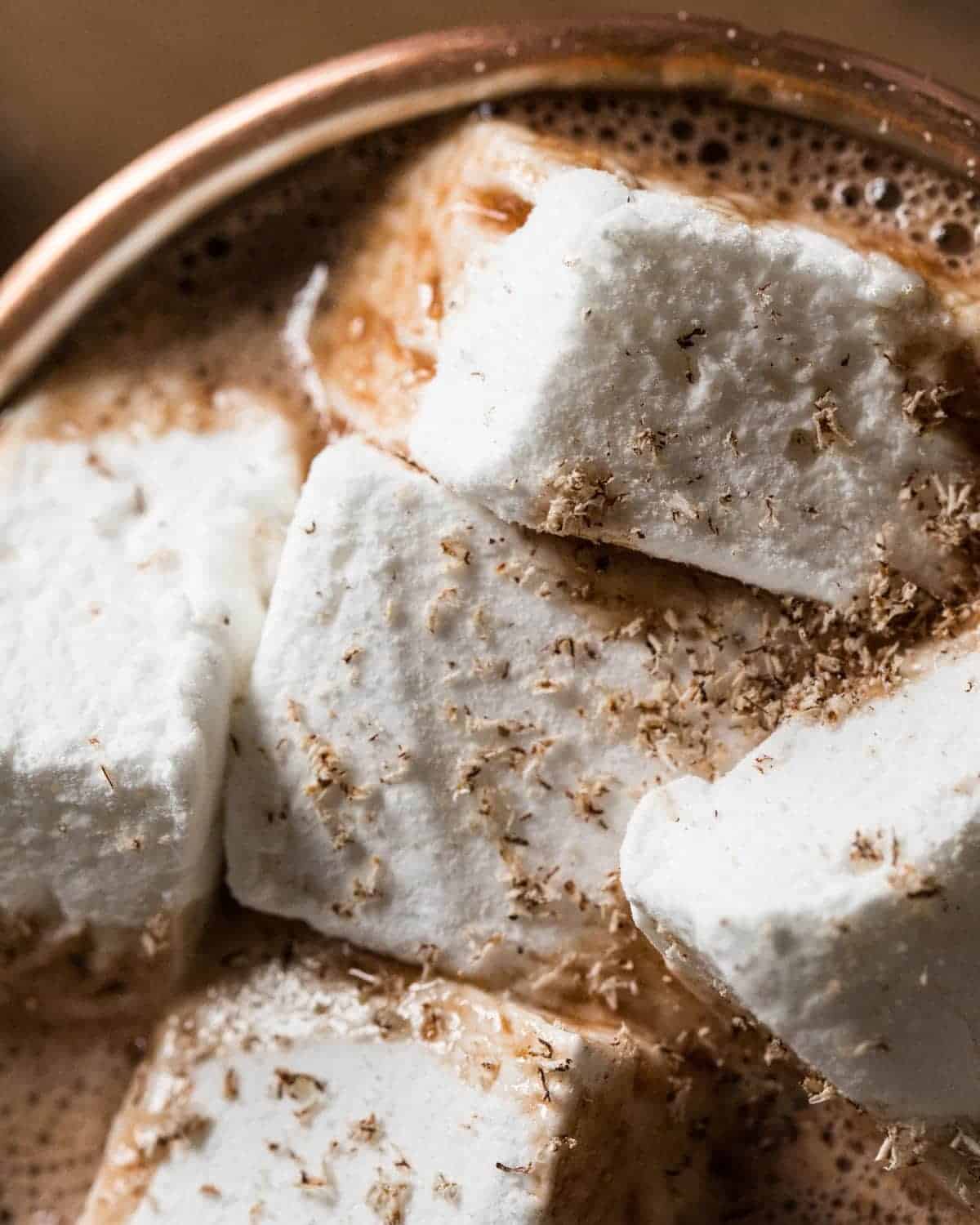 A Super Fluffy Foundation
After looking over a few internet options, we settled on Alton Brown's recipe. I love that he keeps his recipes simple and has logical, well thought out reasons for his methods. Plus, he had a great video he did on Good Eats showing how to make them. Homemade marshmallows are so easy, there's even room for error.
In the recipe below, you take half the water and add it to the gelatin, then add the remaining water with the sugar and corn syrup. Admittedly, I made a rookie cooking mistake and didn't read ahead in the recipe; I added all the water to the gelatin. No problem, I added another 1/4 cup of water to the sugar and corn syrup, continued on, and they turned out perfectly. I also forgot to add the vanilla at the end, and they still tasted great! Yeah, it was one of those days. Made one too many chocolate cups beforehand, I guess.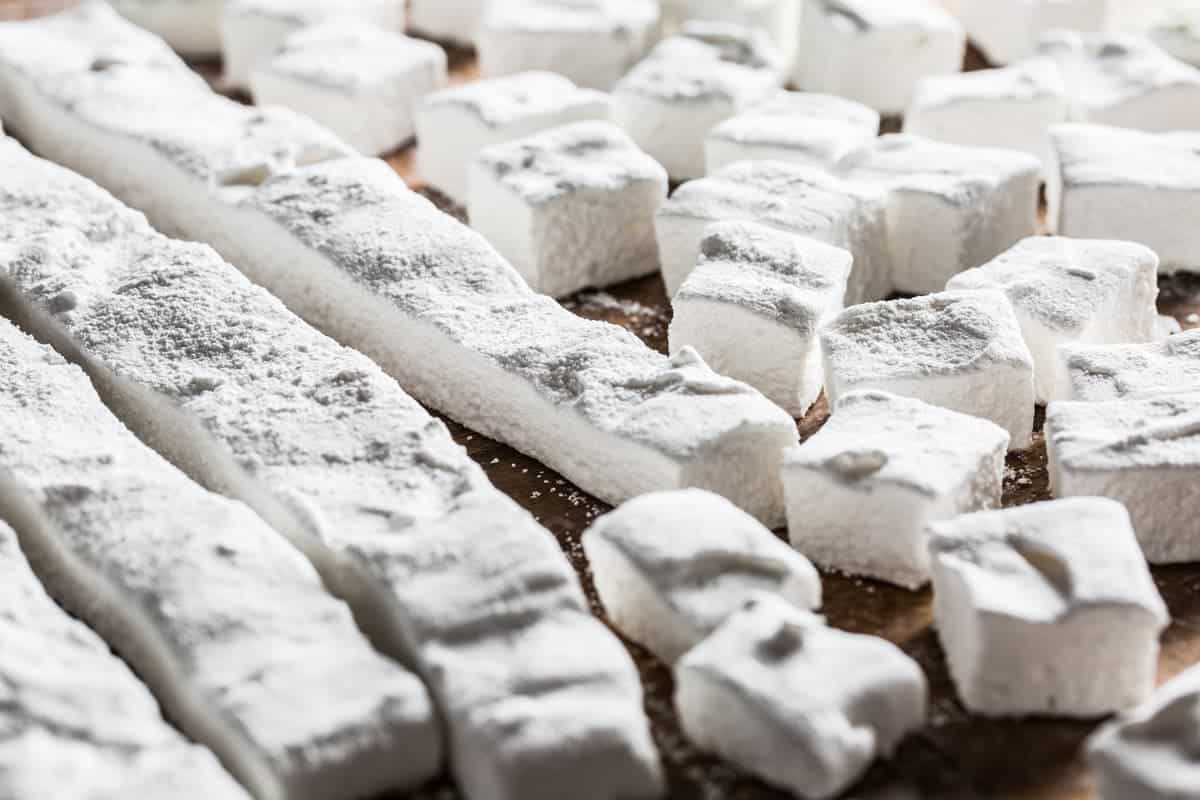 Mix it Up!
Think of the options if you make your own marshmallows. Cut them into large thin squares and you never have to worry about tippy s'mores. Use cookie cutters to make fun holiday shapes to accompany hot cocoa gift packages. Add flavorings like peppermint, cocoa, cinnamon, or even toffee chips and you've got a cool twist to the standard mix-in.
Well, get to it! Send us your unique, homemade marshmallow creations on Facebook or Instagram. We'd love to see them!
Next item on the hot cocoa bar list—flavored syrups. These liquid-gold concoctions are great in so many things, so check back soon. It's the holidays, so remember to cook with love and live to cook.
Jim & Jena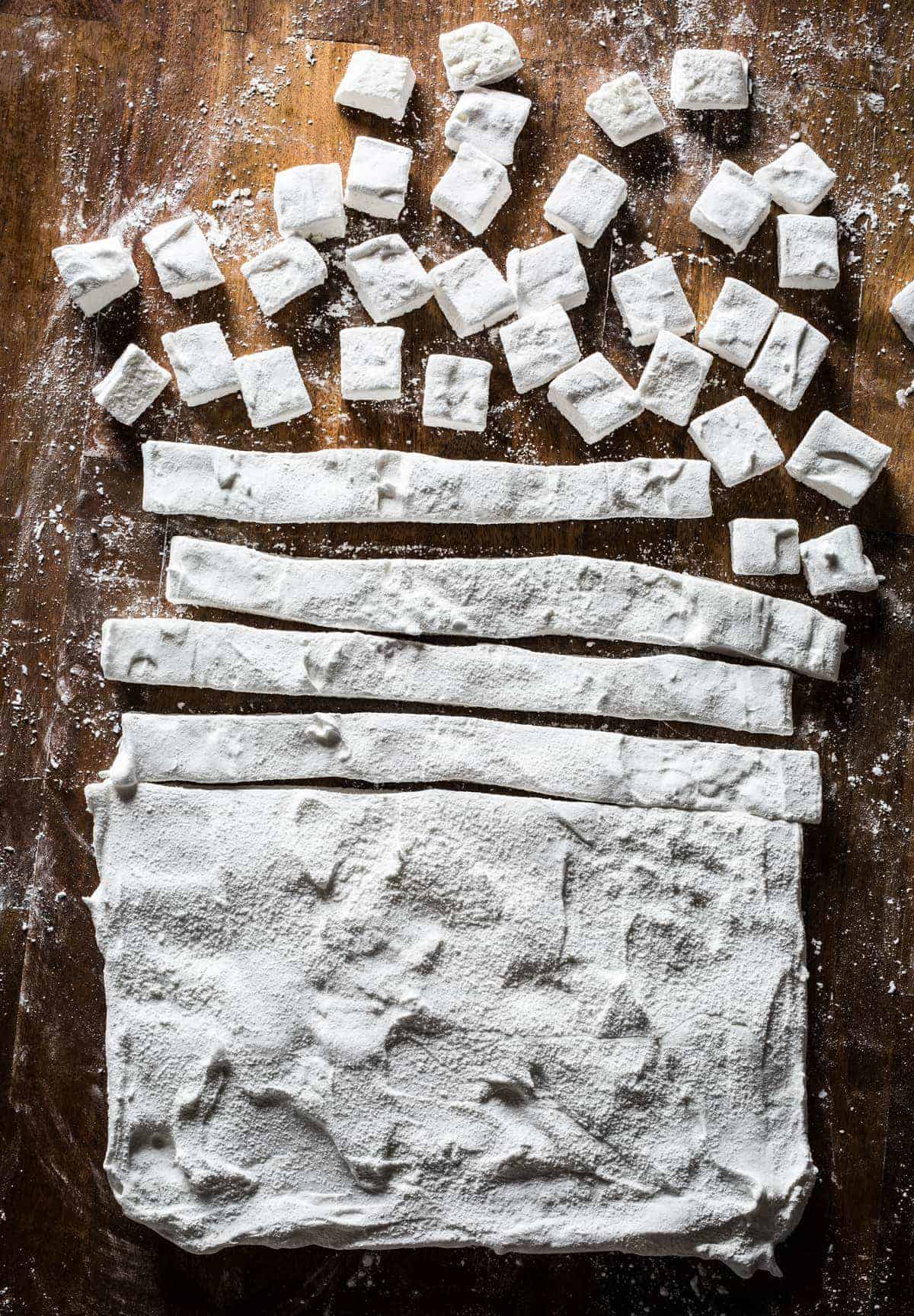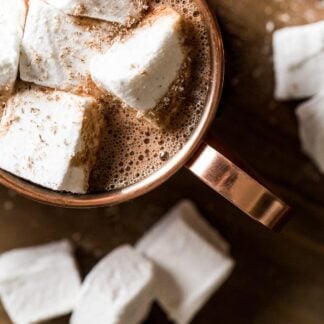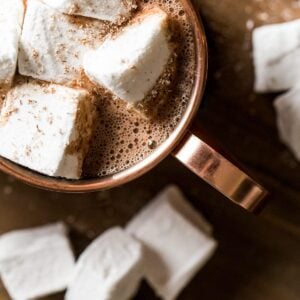 Ingredients
3

pkgs

Unflavored gelatin

1

cup

Ice cold water

divided

1 1/2

cups

Granulated sugar

1

cup

Corn syrup

1/4

tsp

Kosher salt

1

tsp

Vanilla extract

1/4

cup

Powdered sugar

1/4

cup

Cornstarch

Non-Stick spray
Instructions
Place the gelatin into the bowl of a stand mixer along with 1/2 cup of the water. Have the whisk attachment standing by.

In a small saucepan, combine the remaining 1/2 cup water, granulated sugar, corn syrup, and salt. Place over medium high heat, cover, and allow to cook for 3 to 4 minutes. Uncover, clip a candy thermometer onto the side of the pan and continue to cook until the mixture reaches 240 degrees F, approximately 7 to 8 minutes. Once the mixture reaches this temperature, immediately remove from the heat.

Turn the mixer on low speed and, while running, slowly pour the sugar syrup down the side of the bowl into the gelatin mixture. Once you have added all of the syrup, increase the speed to high. Continue to whip until the mixture becomes very thick and is lukewarm, approximately 12 to 15 minutes. Add the vanilla during the last minute of whipping. While the mixture is whipping prepare the pans as follows.

Combine the confectioners' sugar and cornstarch in a small bowl. Lightly spray a 13 by 9-inch metal baking pan with nonstick cooking spray. Add the sugar and cornstarch mixture and move around to completely coat the bottom and sides of the pan. Return the remaining mixture to the bowl for later use.

When ready, pour the mixture into the prepared pan, using a lightly oiled spatula for spreading evenly into the pan. Dust the top with enough of the remaining sugar and cornstarch mixture to lightly cover. Reserve the rest for later. Allow the marshmallows to sit uncovered for 4 to 12 hours.

Turn the marshmallows out onto a cutting board and cut into 1-inch squares using a pizza wheel dusted with the confectioners' sugar mixture. Once cut, lightly dust all sides of each marshmallow with the remaining mixture, using additional if necessary. Store in an airtight container for up to 3 weeks.