This Mediterranean Saucy Meatball Bake puts an exotic twist on a classic Italian comfort food.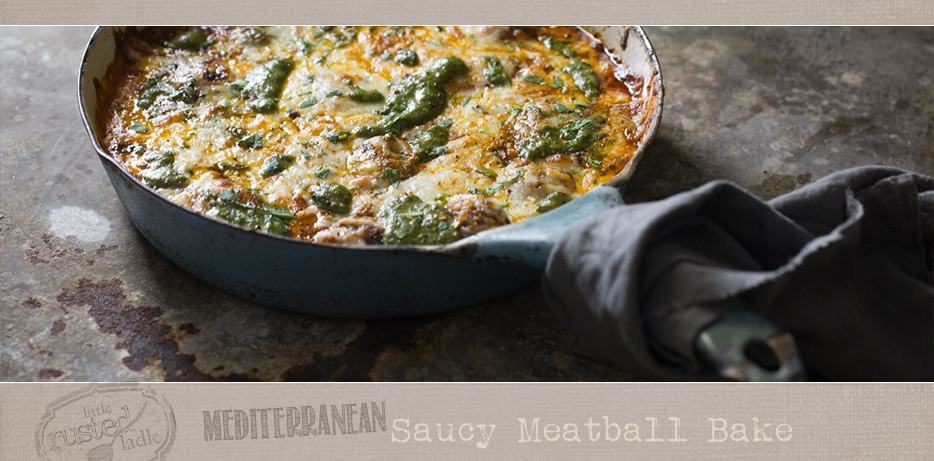 Food is infinitely versatile. It can be a joy and a challenge to take our favorite foods and transform them—make them new again. Often while I'm working on a recipe I say to myself, "this would be good in a quesadilla", or "this would make an interesting sauce!" or "hey, these would make a great saucy meatball bake."
Well, that is exactly what happened while Jena and I were working on our last post: "Mediterranean Dip Shooters". If you missed it, we were working on some fancy game-day apps that combined four fan-favorite dips into one impressive snack. While Jena and I were working on photography for that post, I found myself rethinking these dips as a warm, gooey bake.
Culinary Comfort Food
Do you love lasagna as much as we do? In a world set on taking the gluten out of everything, it can be hard to enjoy my favorite pasta dishes without a hefty guilt trip. But what if that lasagna was made without lasagna noodles?
Imagine meatballs in place of meat sauce, gorgonzola cheese added to the ricotta, a touch of olive tapenade, and the whole dish topped with a mix of fresh and skim shredded mozzarella before being baked until gooey and finished off with some pesto and chopped parsley.
Are you salivating yet? Well, our saucy meatball bake does it all right in one large skillet, creating the casserole version of our Mediterranean Dip Shooters.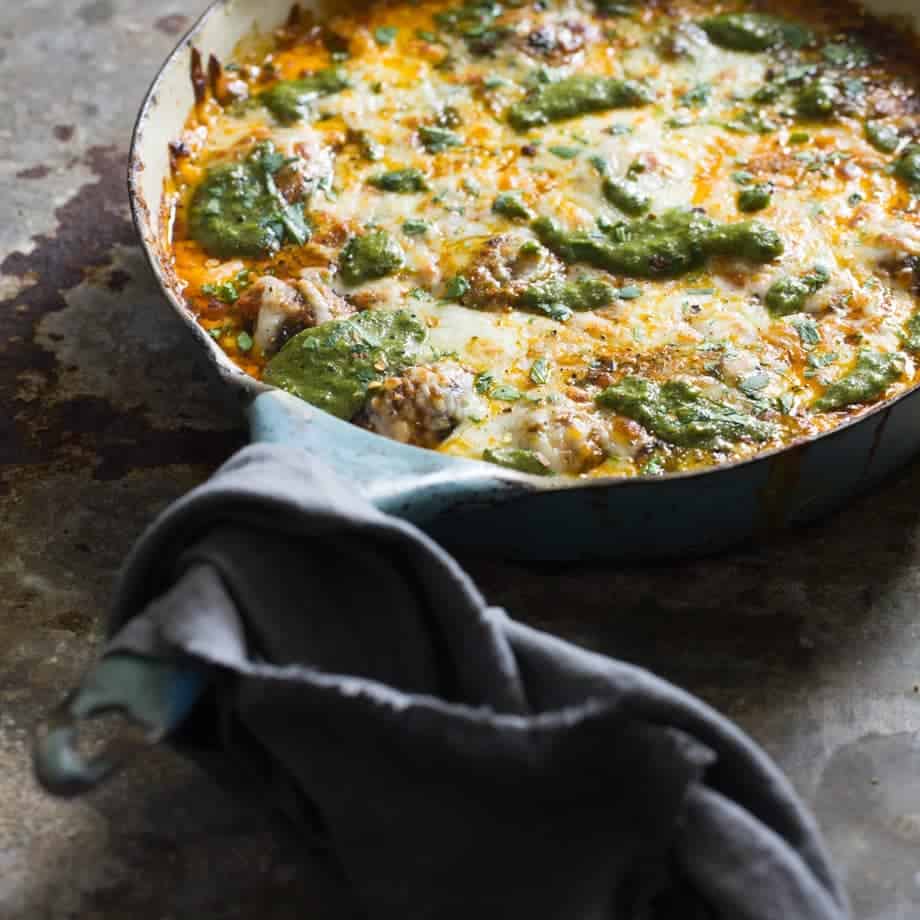 From Dips to Dinner
The combination of our four shooter dips make a fabulous addition to this pasta-less lasagna. Our roasted pepper dip combined with store-bought marinara would be a great sauce for meatballs on its own, but when you add spoonfuls of the kalamata and ricotta dips to the marinara pepper sauce, it adds a burst of flavor that is to die for.

The double mozzarella combo is fabulously cheesy and the pesto on top really makes this one-pot dish sing. Add a little chopped parsley and you've got a unique, simple-to-make dish that is guaranteed to put a smile on everyone's face and warm their insides. That is a good thing when it's below zero in Wisconsin.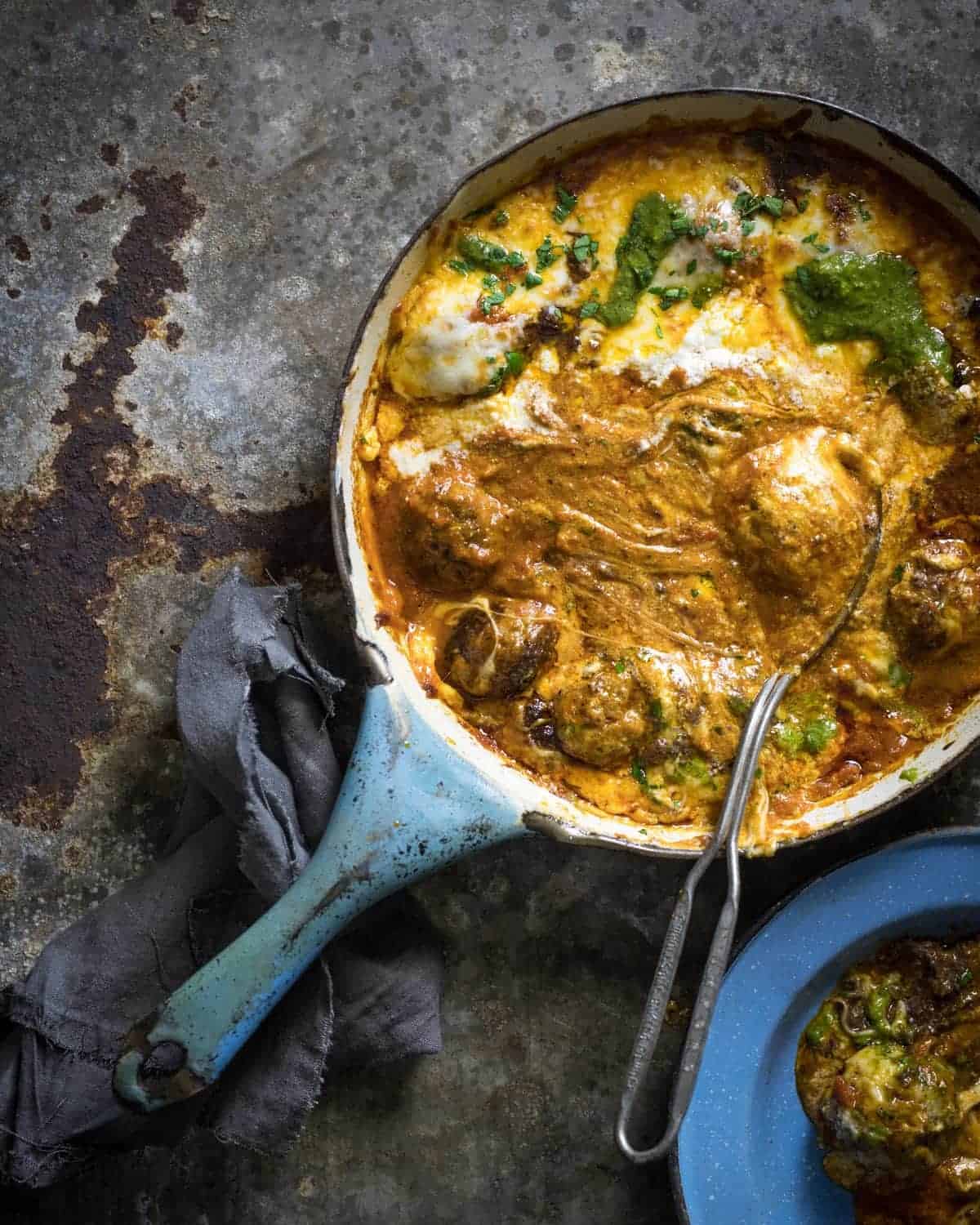 If you're unwilling to part with pasta—which we completely understand—make your traditional lasagna and use our Mediterranean dips in layers. You literally can't go wrong. And trust us, the leftovers are just as good the second, third, or fourth day, so make a double batch of this meatball bake and feed yourself all week!
Until next time, cook with love and live to cook.
Jim & Jena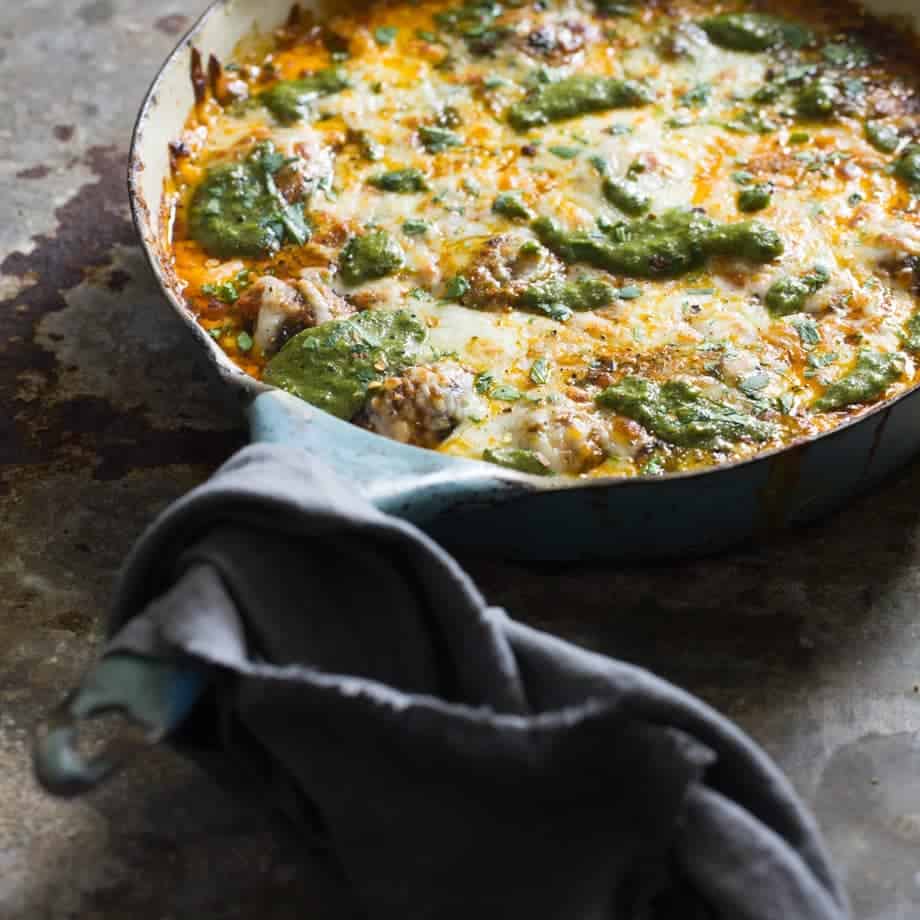 Saucy Meatball Bake
Fancy mediterannean shooters get transformed into an easy one pan dish that is both delicious and simple. Use the recipe for the Mediterranean shooters article posted before this one to make the dips used in this recipe.
Print
Pin
Rate
Add to Collection
Go to Collections
Ingredients
1

Tbsp.

Light olive oil

12

ea. Fresh meatballs

thawed

1

cup

Prepared marinara sauce

1

cup

Prepared roasted pepper/tomato dip

see recipe

1

cup

Prepared cheese dip

see recipe

1/2

cup

Prepared kalamata olive dip

see recipe

8

ozs. Fresh mozzarella

sliced

1

cup

Part-skim mozzarella cheese

shredded

1/4

cup

Parmesan cheese

grated

1

cup

Prepared pesto dip

see recipe

1

Tbsp.

Fresh parsley

chopped
Instructions
Pre-heat oven to 400 degrees.

In a large frying pan or skillet, heat oil over medium heat. Add meatballs and brown on all sides (about 5-7 minutes).

Lower heat to low, then stir in marinara and red pepper dip. Bring to a simmer(about 5 minutes)

Spoon dollops of cheese and olive dips. Simmer for 5 more minutes.

Top with fresh mozzarella, shredded mozzarella and parmesan cheeses. Bake for 15 minutes or until cheese is bubbling and lightly browned.

Remove from oven and let rest for 5 minutes..

Spoon pesto dip on top of the melted cheese. Sprinkle with chopped parsley and serve.
Notes
Serve over hot pasta, or stir in cooked pasta when adding the marinara sauce. Leftovers are great served on toasted hoagie buns as a sandwich.