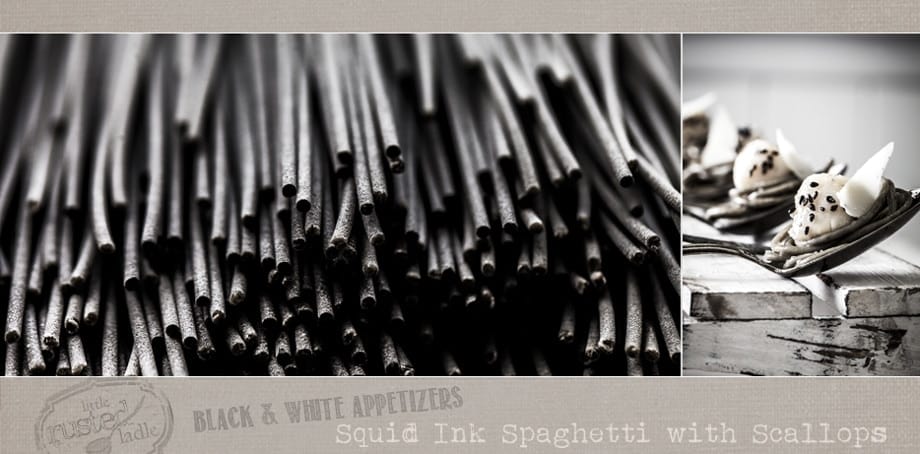 Simplicity is a beautiful word.  It can mean so many things to so many people.  Whether your talking about something as complex as your life, or something basic like a spoon.  The word simplicity cuts right to the heart of just about everything beautiful and good.  The simple sight of the first tulip blooming in the spring.  The simple sound of a childs laugh.  The simple smell of bread baking.  The simple taste of chocolate.  The simple touch of a loved one when you need it.  Our brain keeps those simple things locked in our memory banks ready to retrieve them in extreme detail when we need to.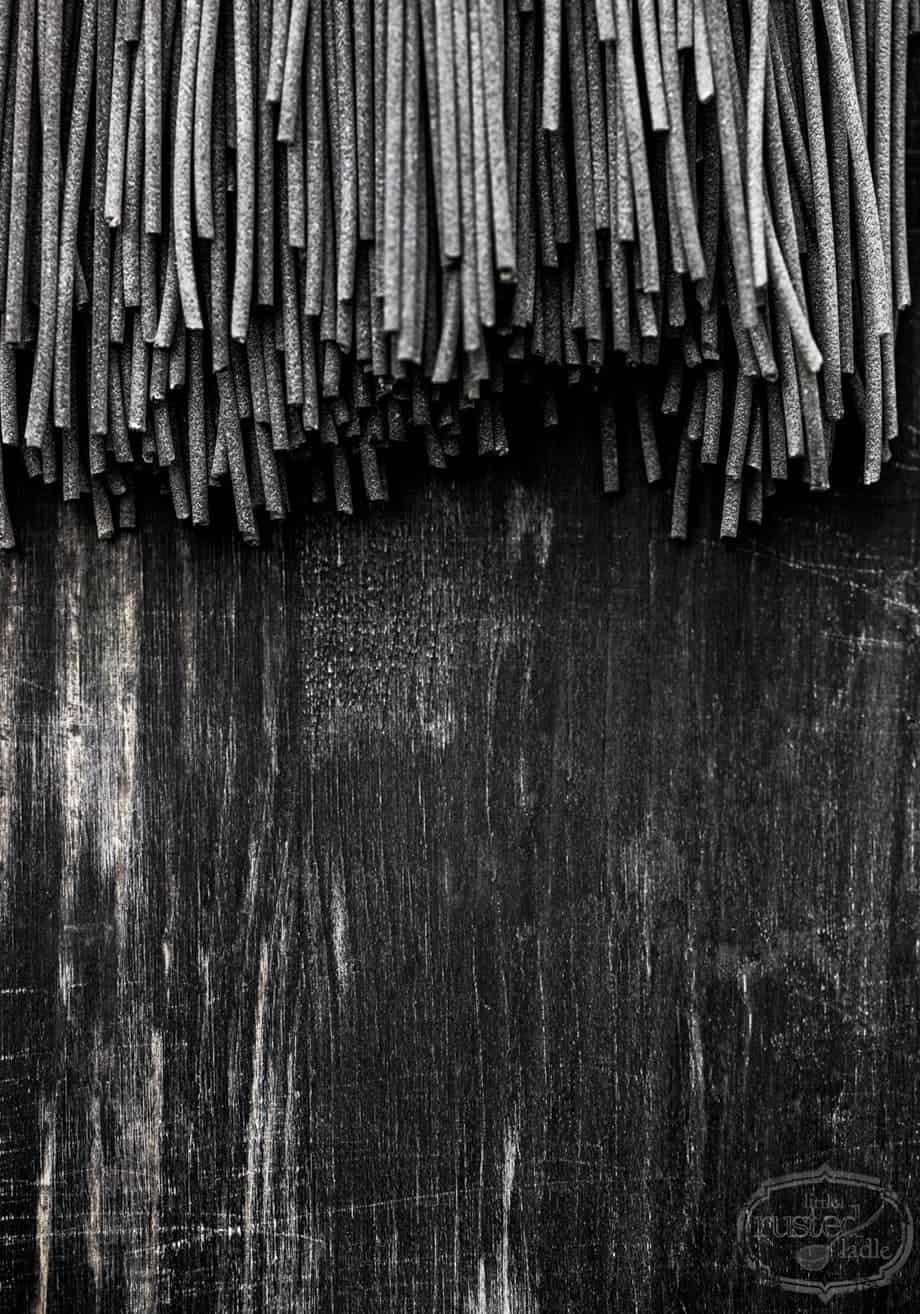 Some of the best food I've ever tasted was the least complex.  I realized recently that all of the food that we made for our black and white themed appetizer party, also had simplicity.  The soup was onions, beer and broth.  The cheese triangles were cheese, flour, eggs and bread crumbs.  The rice cakes were rice, beef and ponzu sauce.  A few simple ingredients that when combined, create a harmony of flavors that attacks the senses.  The same can be true of the next appetizer on this months menu.  Squid ink pasta with black sesame sea scallops, white truffle oil and parmesan cheese.  I know what your saying, that doesn't sound simple to me.  Actually it is.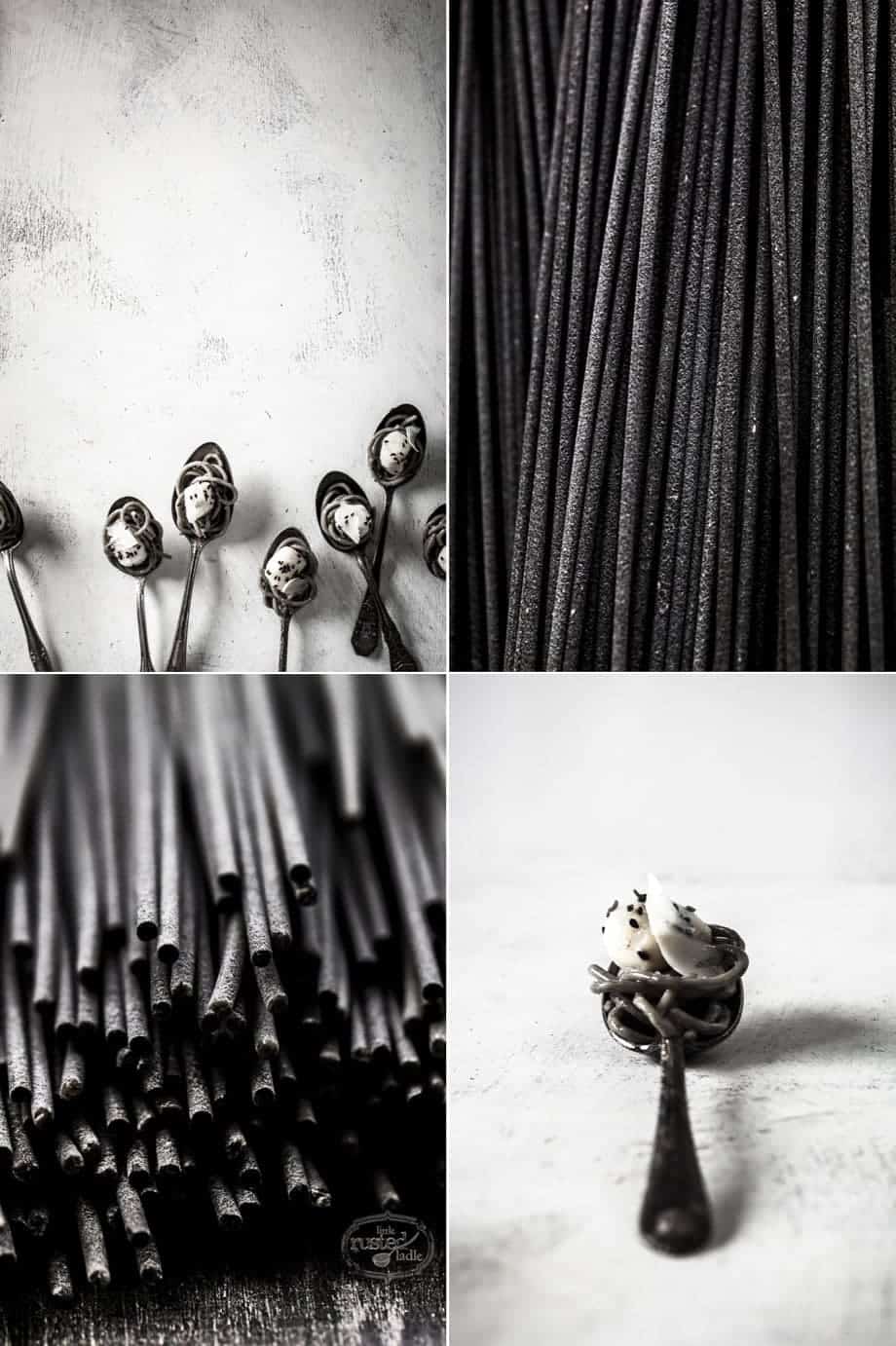 Squid ink pasta is flour, water and egg with the addition of squid ink.  It comes premade, so, that makes it simple.  Plain pasta would have worked just fine as well, and is very simple to make.  Black sesame seeds are the about the same as regular sesame seeds, except black.  Sea scallops are pretty simple.  Nature's simple seafood packaged in a cute little shell.  They are already bite sized for our convenience.  Parmesan cheese, although complex in flavor, is an easy way for a chef to add depth of flavor by simply shaving it into a dish.  White truffle oil is simple?  Actually it is.  White truffle oil is made by simply extracting the gas that is released from fresh white truffles and adding it to oil.  Two ingredients combined to make an unmistakably unique taste that can't be duplicated, but at it's core is very simple.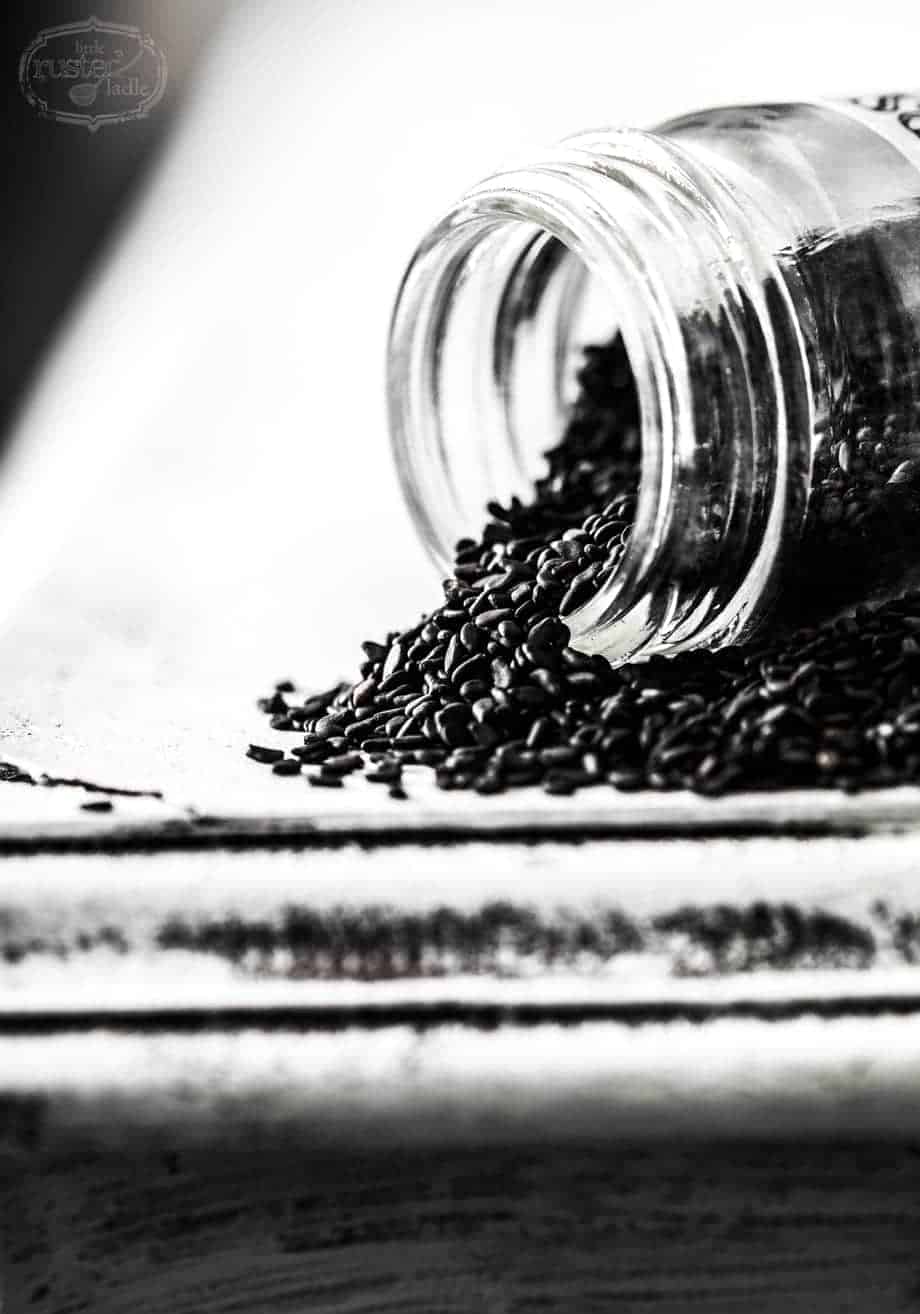 Combined, these ingredients, though few in number are very complex in flavor.  So, simplicity doesn't need to be boring.  Just as the first tulip blooming in the spring is an orchestra of science at work, the simplicity is in it's final beauty.  all elements coming together creating that classic cup shaped flower in vibrant colors.  It's simplicity also gives us the feeling of joy.  The joy of knowing that warmer weather is on it's way, which in the midwest, can seem like an eternity.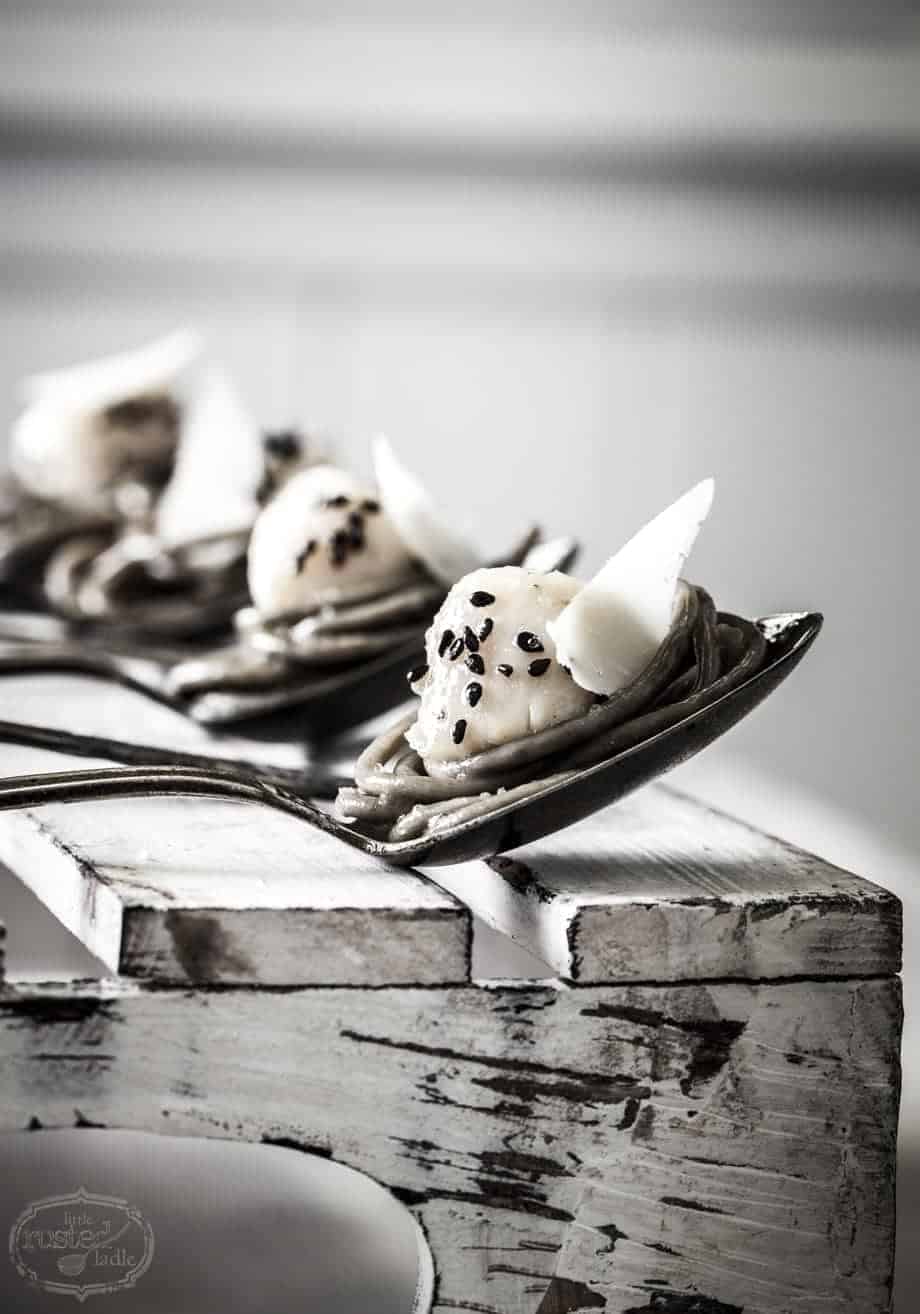 So, when you are making your next pasta dish, and you're not sure what to do with it, remember the word simplicity.  Pasta, seafood, cheese, and oil with maybe some seeds and if you want to get crazy, a touch of salt.  Serve it on spoons as an appetizer, or in a large bowl served with fresh bread to loved ones.  Add a child's laughter and a bouquet of tulips and some chocolate for dessert, and you'll have an entire symphony of simplicity that you'll remember for years to come.  Until next time, remember to cook with love and live to cook.
Jim & Jena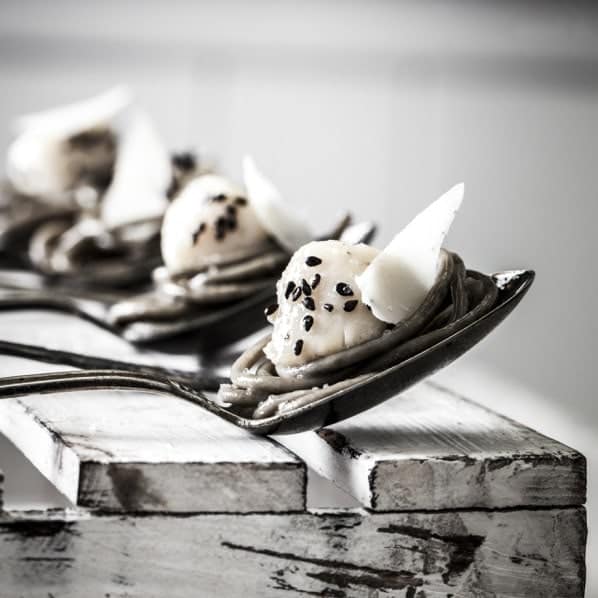 Squid Ink Spaghetti with White Truffle Oil and Sea Scallops
The stunning contrast of the squid ink spaghetti, the white sea scallop, the black sesame seeds, and the Parmesan cheese is only matched by the intense flavor of white truffle oil.
Print
Pin
Rate
Add to Collection
Go to Collections
Ingredients
1

cup

squid ink spaghetti

cooked, rinsed and tossed with a little light olive oil

1

tsp

white truffle oil

1/2

tsp

white truffle salt

optional

1

tsp

olive oil

24

small sea scallops

1

tbsp

black sesame seeds

1/4

cup

parmesan cheese shavings
Instructions
Combine cooked spaghetti, truffle oil, and salt in a bowl and set aside.

Heat a large skillet over high heat, then add scallops.

Cook for about one minute on each side or until cooked through. Transfer scallops to a plate and let cool. Sprinkle black sesame seeds on scallops.

Add liquid that drains from cooked scallops to bowl of cooked pasta and toss to coat.
To Serve:
Curl one or two pieces of spaghetti onto 24 spoons.

Place one scallop on each spoon. Top with parmesan cheese and an additional drop or two of white truffle oil if desired. Place spoons on serving tray and serve.
Notes
This recipe can be easily served family style with the pasta and scallops tossed together and topped with the sesame seeds and shaved parmesan.