Tuna Poke Tacos:  The word poke is a strange one.  I can think of a few ways of using the word.
The first two can usually be associated with children. How many moms out there can relate to these requests: "Stop being such a slow poke, you're going to be late for school."  How about, "If you poke your sister one more time, you're in trouble!"
Then there's the old western version which goes something like "Bart, if'n you don't poney up that money fer the whiskey, you're gonna end up in the pokie."
How about, "Jena, can you pass me another poke taco, they are sublime."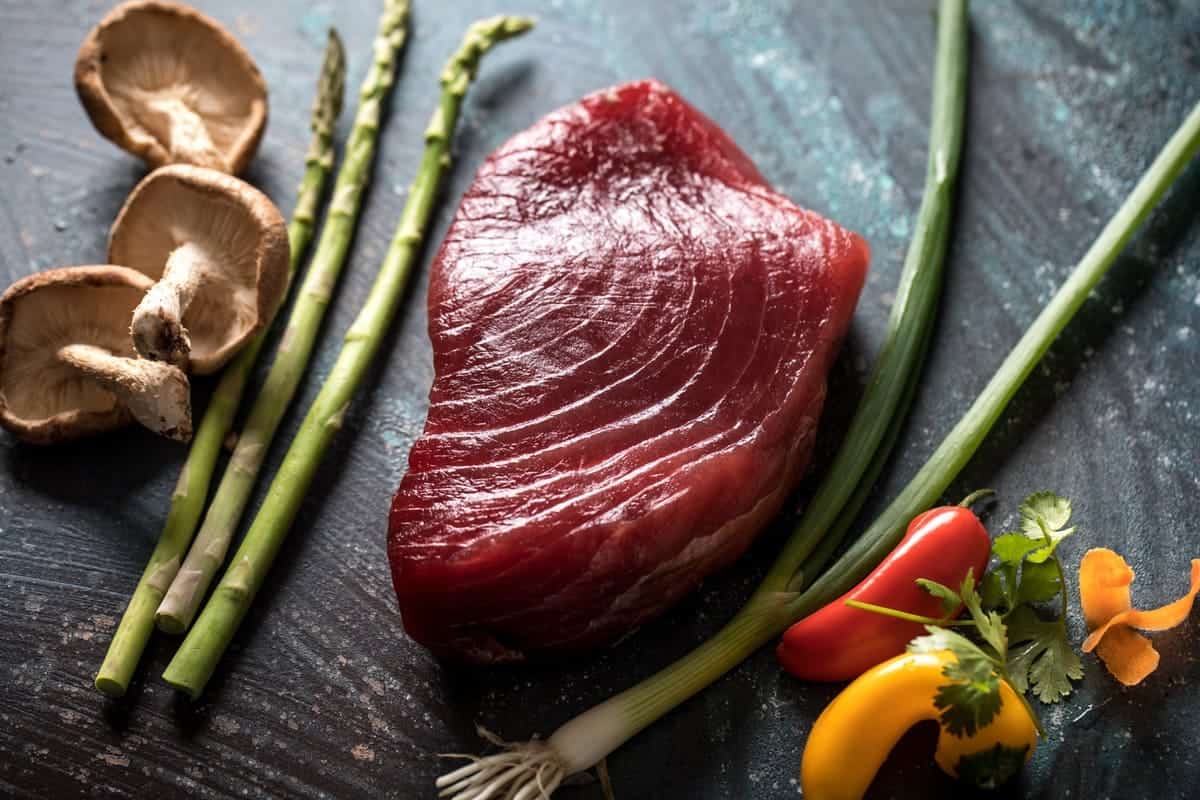 Testing the Trend
I would have never imagined I'd be saying the last one, which in that case, was used to describe a trendy seafood dish seen on so many menus these days.
The poke "POH-keh" we are referring to in this article means "chunk" in Hawaiian. It is almost always raw seafood such as tuna, cut into small chunks and marinated.
The traditional Hawaiian poke bowl contains cubes of raw fish, onions, salted candlenut, limu, which is algae, soy sauce, green onions and sesame oil. However, there are poke restaurants popping up all over these days and the trendy dish can be made with many different ingredients.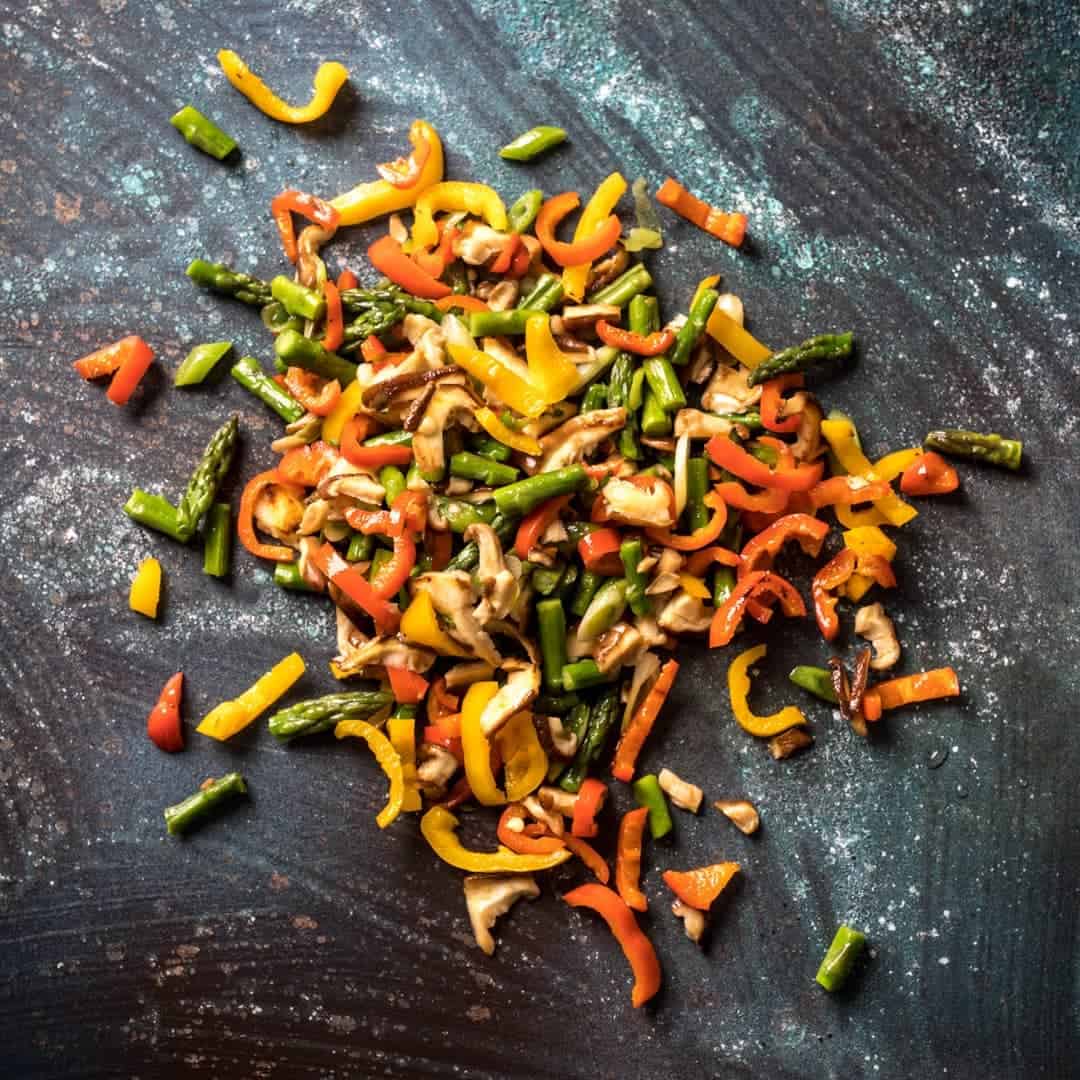 Poke with a Twist
So Jena and I thought we'd give it a LRL twist: tacos!
Our version combines the traditional Asian flavors of soy, ginger, sesame, green onion, shiitake mushrooms and tuna. Then we added a few Mexican flavors such as peppers, avocado, and flour tortillas to the mix. Throw it all together, and you end up with a poke taco. Since it was spring when we made these, we decided to add some asparagus and carrots to the mix as well.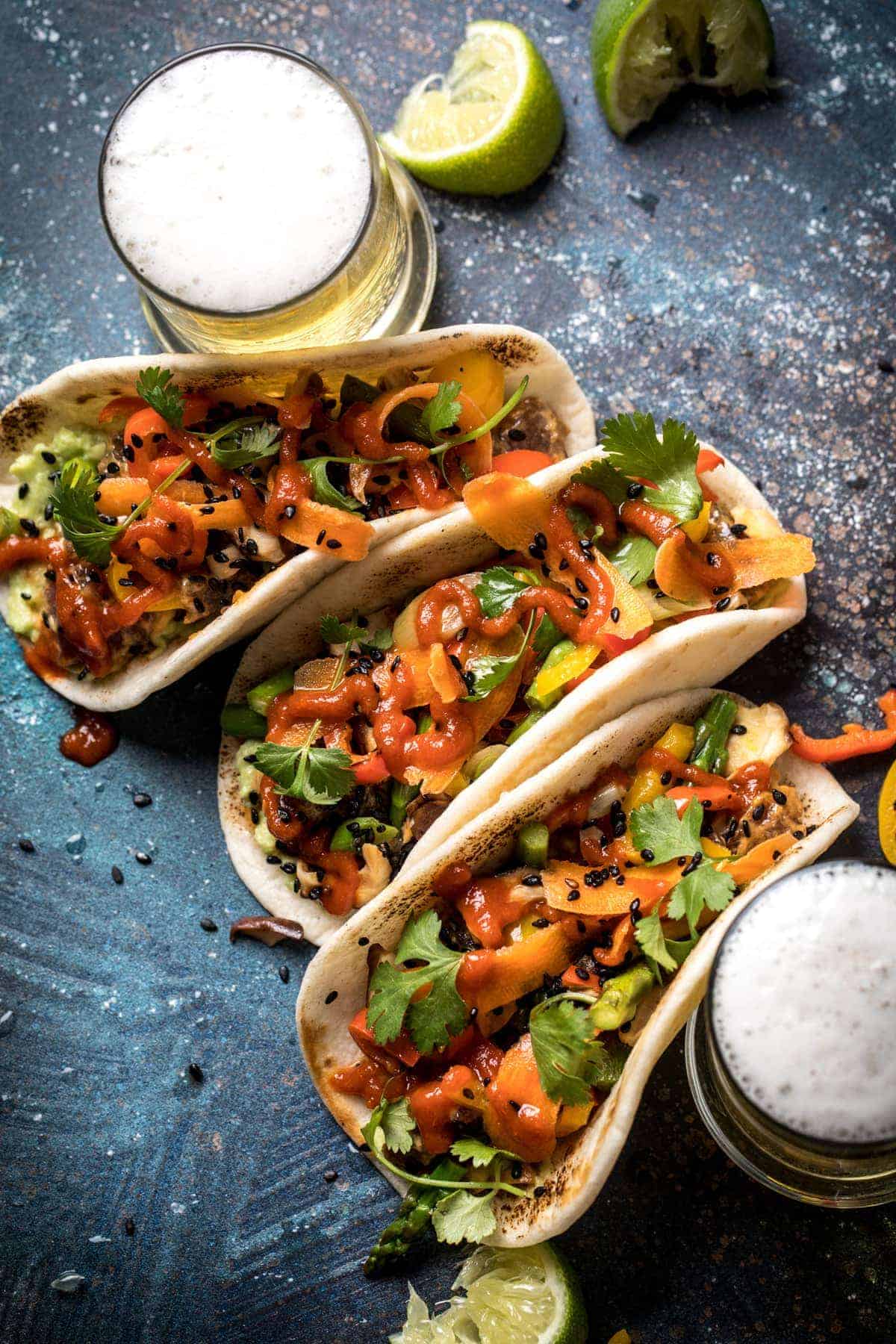 A Dish for Every Palette
There are three basic steps to making these tacos. First make the marinade for the tuna and marinate the tuna chunks. Next, prepare the guacamole mayo. As soon as the tuna has marinated, sauté the vegetable mixture. Finally, assemble the tacos and top with taco favorites, sriracha or cilantro.
(For more on the wonders of cilantro, check out our book, Herbs for Flavor, Health, and Natural Beauty.)
Oops, I guess that's 4 steps. At any rate, the end result is a colorful, sassy, and full-flavored taco that will satisfy poke lovers and the novice seafood eater alike.
Feel free to alter the recipe if you wish. For example, if you sauté the marinated tuna mixture you end up with a tuna salad taco. Substitute cooked chicken and you have Asian chicken tacos. Let us know in the comments how you personalized the recipe!
Remember, cook with love and live to cook.
Jim & Jena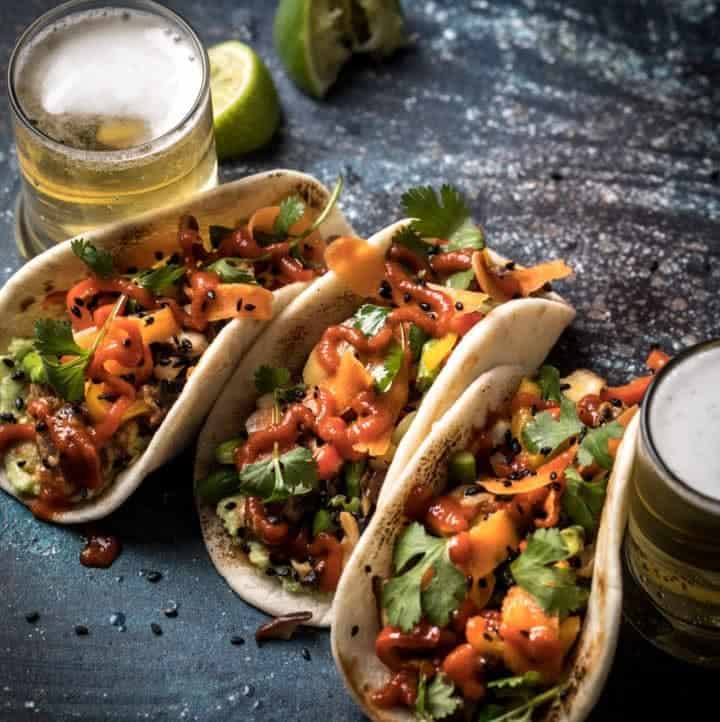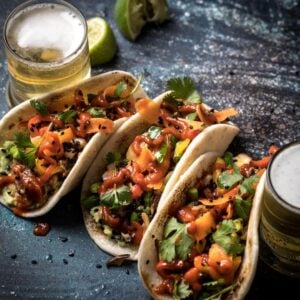 Ingredients
Marinade
1/4

cup

Teriyaki sauce

1

tbsp

Sriracha chili sauce

1

tbsp

Miran wine

1

tsp

Minced ginger

1

tsp

Minced garlic

1/2

tsp

Sesame oil
Tuna
12

ounces

Fresh tuna

preferably sushi grade

1

tbsp

Sriracha chili sauce

1

tsp

Mayonnaise

1

tsp

Sweet chili sauce
Avocado Mayo
1

Avocado

seeded and diced

1

tbsp

Mayonnaise

1

tsp

Lime juice
Sauteed Vegetables
5

small

Sweet peppers

seeded, cut into thin strips

3

medium

Shiitake mushrooms

stems removed, thinly sliced

2

stalks

Asparagus

trimmed and chopped

2

Green onions

chopped

1

tbsp

Olive oil
Tacos
8

Street taco flour tortillas

grilled

Fresh cilantro leaves, carrot shavings, sriracha, and black sesame seeds

for toppings
Instructions
In a small bowl, combine teriyaki sauce and next 5 ingredients. Transfer to a pie plate or shallow bowl, then add tuna steak. Turn tuna steak over twice to coat all sides with marinade. Cover and refrigerate for 1 hour, turning once after 30 minutes.

While tuna is marinating, seed and dice an avocado. Combine with lime juice and mayo in a small bowl. Mash until smooth. Set aside.

Remove tuna from marinade and discard marinade. Pat tuna dry and cut into small cubes. Add sriracha, mayo and sweet chili sauce to tuna. Toss to coat. Refrigerate until ready to serve.

Saute peppers, asparagus, and onions in a medium skillet over medium-high heat for 3-4 minutes or until crisp tender. .

To serve: Spread a small amount of avocado mixture over each tortilla. Spoon reserved tuna mixture over avocado. Top with sautéed vegetables and finish with fresh cilantro, carrot shavings, sriracha, and sesame seeds. Enjoy!
Notes
Marinade: We have a recipe below for a stellar Asian-inspired marinade, but if you're short on time or ingredients, your favorite teriyaki marinade works well!
Tuna: "Sushi-grade" has to do with how the fish was handled and frozen (a requirement to kill off bacteria and parasites). Talk to your local fish market (if you're on the coast) or look for "flash frozen" in the freezer section for your best bet.
Adding lime juice to avocado helps keep it from browning before you serve up your tacos.
Be careful not to overcook the vegetables. They should be heated through but still nice and crisp when you bite into them.
This dish is great even for people who are not familiar with eating raw fish, but you could easily saute your cubed tuna or substitute cooked chicken.
Don't like cilantro? Try fresh basil, parsley, or celery leaves instead!
Nutrition
Calories:
460
kcal
|
Carbohydrates:
42.6
g
|
Protein:
27.7
g
|
Fat:
19.6
g
|
Saturated Fat:
3.7
g
|
Cholesterol:
34.2
mg
|
Sodium:
1354.4
mg
|
Potassium:
728.8
mg
|
Fiber:
6.1
g
|
Sugar:
8.3
g
|
Vitamin A:
3146.1
IU
|
Vitamin C:
56.4
mg
|
Calcium:
85.3
mg
|
Iron:
3.9
mg