Father's Day Steak
When it comes to Father's Day, I can't think of a food more dads desire than a big, juicy, mouth-watering steak on the grill. After all, us hunters and gatherers are known for cooking our meat after a long hunt. I do realize that today's dad is in no way similar to our neanderthal relatives. There are very few men left who go out hunting for food and I'm no exception. In today's world, we get our meat from butcher shops, grocery stores, and even online.
So now that you know what dad wants to eat on Father's Day, who's fixing their man a big steak this year? What do you mean he does the grilling? On Mother's Day, mom usually wants to be pampered. As husbands, we take mom out for brunch or cook mom breakfast in bed. After all, mom knows that a day named after her means she gets to relax and be taken care of. At least that's what us men should be doing for mom.
So why would dad want anything different? Truth is, we do like to be pampered on our day too. Steaks can sometimes be difficult to make. In this post I'm going to answer all of your questions about how to make the perfect steak for dad and do it so easily, he may not want to take the job back.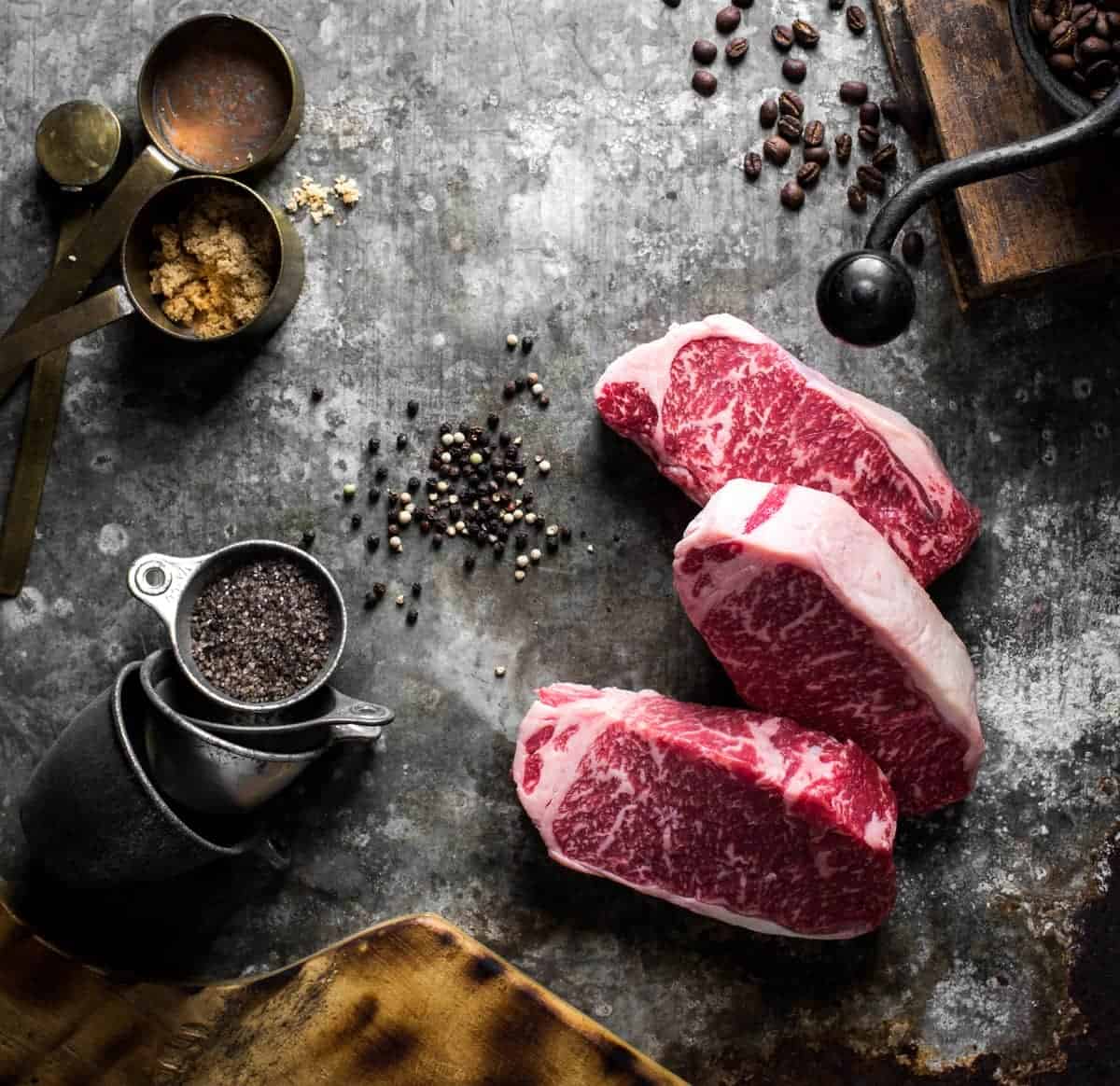 A Cut Above the Rest
There are a few key things to consider when planning on preparing a steak for dinner: the cut and quality of the meat, how to season it, and how to cook it.
The first item on the list is what cut of meat you're buying. If you want a steakhouse quality, melt-in-your-mouth tender steak, then you only have a few options: a filet, a ribeye, or a strip steak. Those 3 cuts of meat are on every steakhouse menu for a reason—they  are the best. I prefer a nice strip steak, but if you pick any of those cuts, you'll be fine.
If you're wondering why I didn't mention a t-bone or a porterhouse, it's because a t-bone or porterhouse steak is made up of both a strip steak on one side and a filet on the other with a bone in between them. They cook a little different than the others because of the bone, so I'm leaving those out.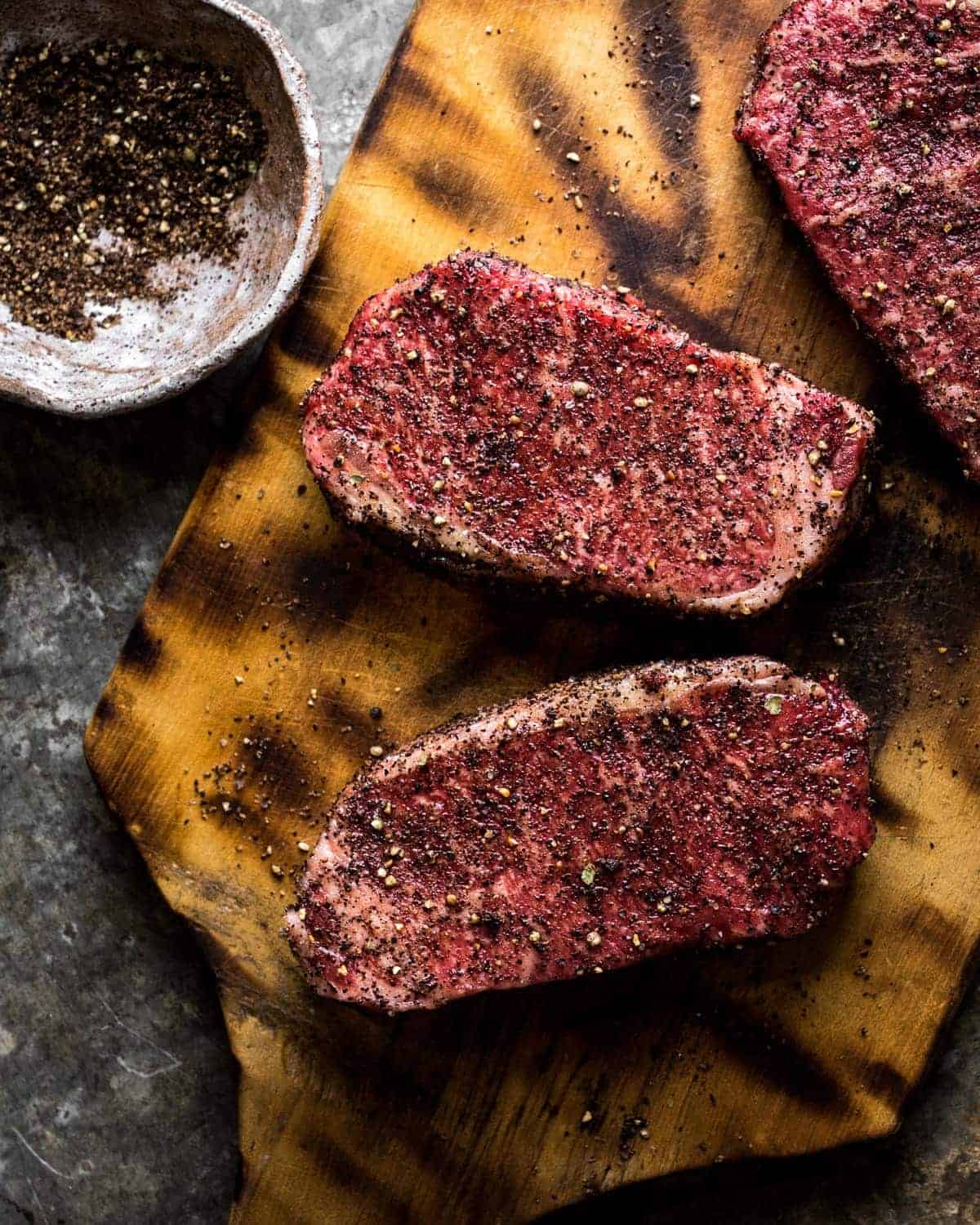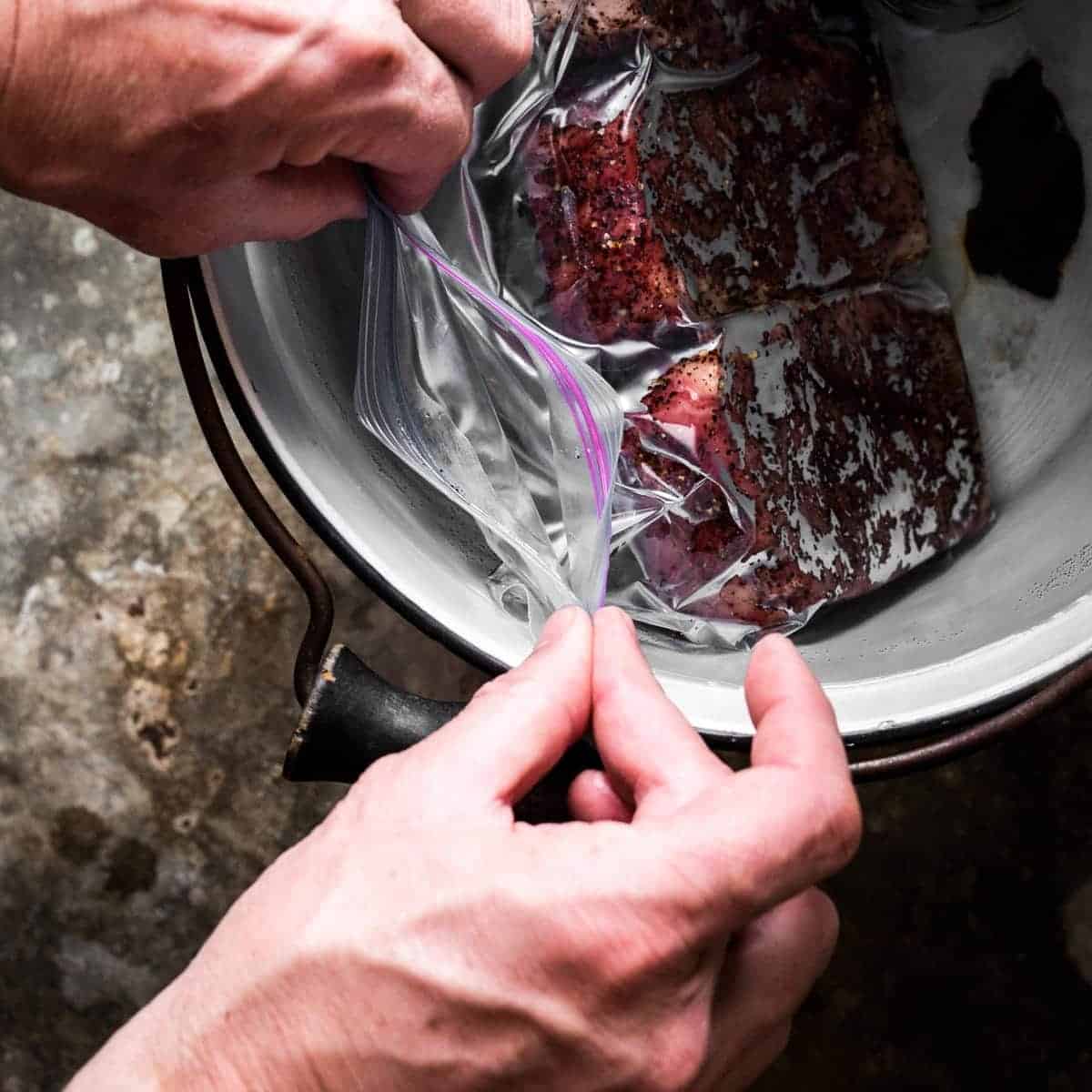 Prime Time
So you're at the best butcher shop in town,  looking at the large case of meat, and you've decided on a strip steak, but there's one sign that says choice strip steak, one that says grass-fed strip steak and one that says prime strip steak. Which one do you choose? You choose the prime strip steak and here's why. Prime strip is the Ferrari of steaks. Only 1.8% of all beef processed in the States is graded as prime.
Prime steaks are so delicious because of the marbling. All steaks have a certain amount of fat in them and fat means flavor, especially when it's marbled into the meat. Tenderloin has the least amount, which makes them very tender, but often means you get less flavor. Prime steaks are extremely well marbled, which means the fat is woven through the lean muscle. When those steaks are grilled, the fat melts, keeping the lean muscle around it juicy and giving it more flavor.
The raw steaks we used are all extremely well marbled prime strip steaks and are all about 1.75″ thick. I think I paid about $24/pound for these babies at a wonderful store called Brennan's Market in Oconomowoc, WI. They carry only prime beef in their store, which is extremely rare, pardon the steak pun.
How does that compare to other steak prices?  Well, take a look at these Kobe beef strip steaks available for overnight delivery on Amazon.  They are $995.00 for 4 / 18 oz. steaks! Sure, the marbling is off the charts, but I'm guessing that you don't want to spend $250 for a steak that you have to cook.
Why not buy the choice steak or the grass fed steak? Choice steaks are below prime. Choice is good, but about 38% of beef is considered choice, so it doesn't compare to prime. As for grass-fed versus corn-fed, remember that cows are fed corn for one reason: it makes for bigger and better beef. Grass-fed steaks will ALWAYS be tougher and you will almost never find grass-fed prime steaks, because they aren't as marbled. Grass-fed may be trendy, but it's not good for high-end steaks. Leave it for flank, skirt, or round steak.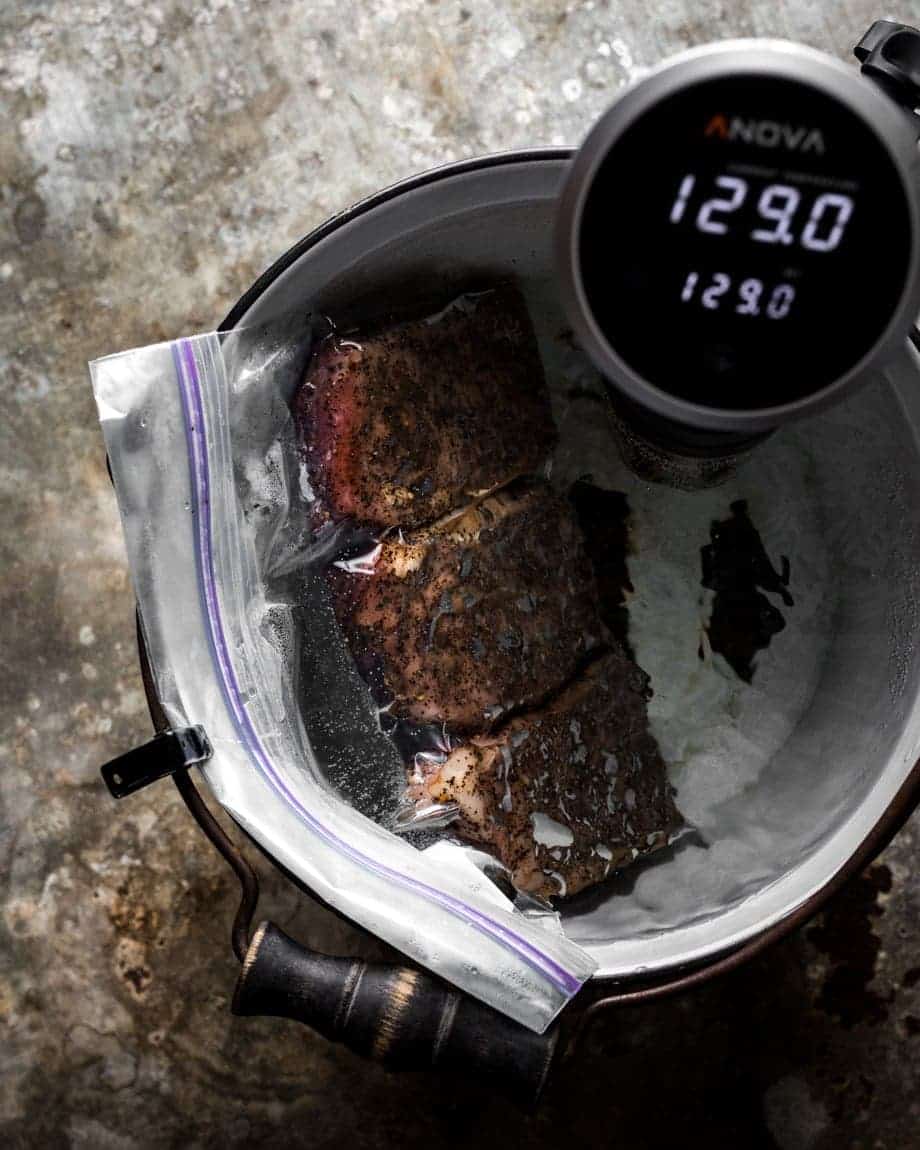 Seasoned to Perky Perfection
Alright, you've confidently walked out of the store with your thick-cut, prime strip steaks, you put them on the counter and now what?
Let's start with seasoning the steaks. My favorite seasoning is a coffee, black pepper, brown sugar, and rosemary blend which tastes wonderful with a great steak. Just rub it all over the steak, then let the steaks sit at room temperature for about 20 minutes. Why let it sit out? Well, cold meat will tighten up when it's subjected to high heat, and we don't want our twenty-five dollar steak to tighten up. We want it relaxed, which brings us to our cooking method.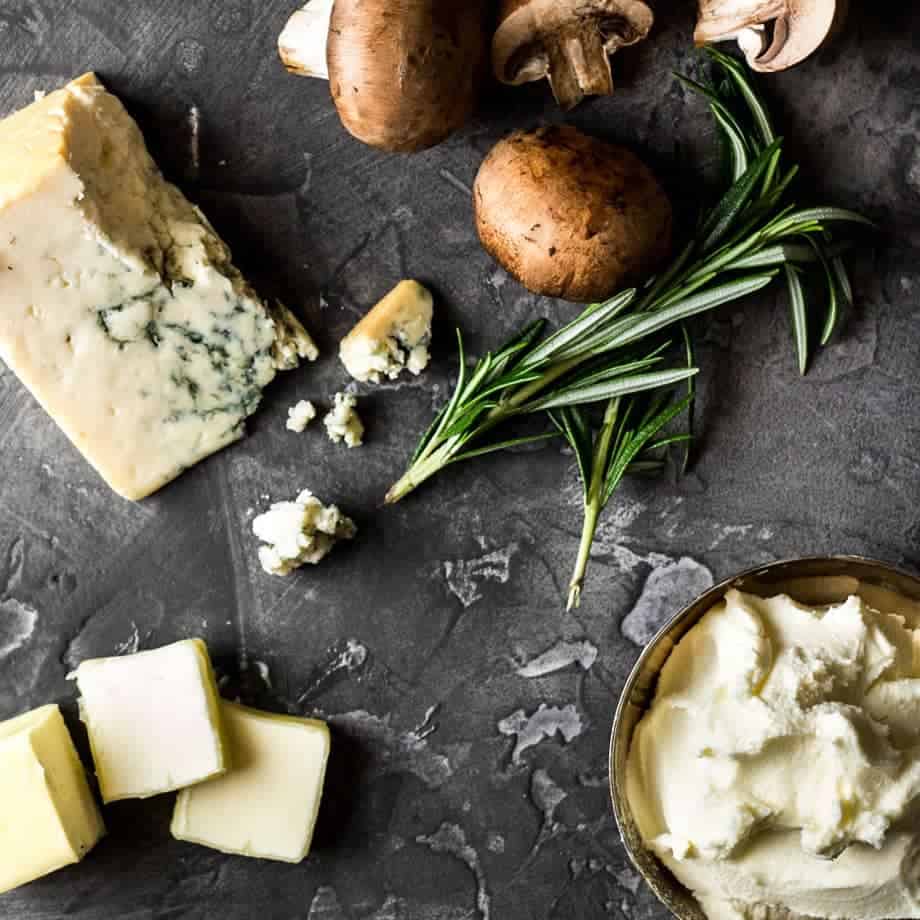 Beyond the Grill
The options for cooking the steaks are grill them or pan sear them and finish them in the oven.
But wait, why not sous vide the steaks? Sous what? Sous vide, which sounds like (sue veed), is trendy in the food world. It is basically placing food in resealable or FoodSaver style bags and removing all of the air. The bag is then submerged in a water bath that is kept at a constant temperature, cooking the food perfectly and keeping it at that temperature for extended periods of time.
It takes about an hour to cook a steak using a sous vide cooker. The best thing about sous vide cookers is that you don't have to watch them. Put the food in the bag, put it in the water, and set the timer. Once done to the temperature you want, a quick sear on a hot grill or in a hot pan for one minute per side will give you a perfectly cooked steak every time.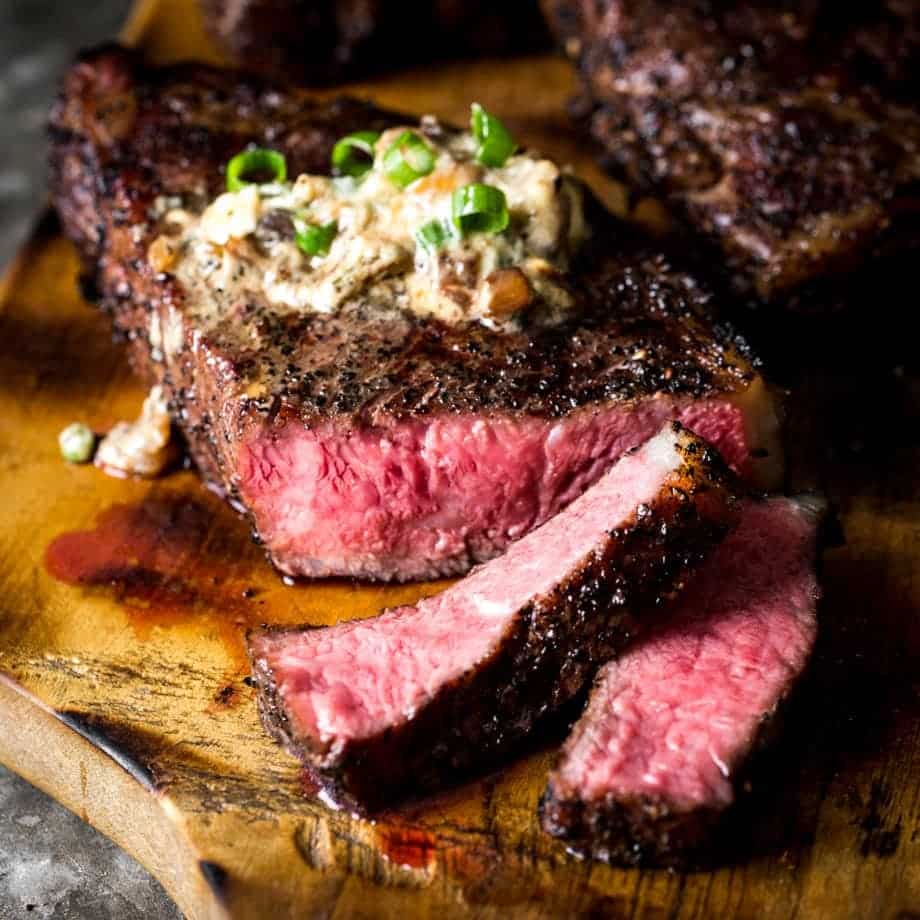 Sous Vide = Scrumptious Steak
I have an Anova Sous Vide Cooker, which I love. There are a few other versions available and the cost is a lot cheaper than that grill you were looking at: about $100 for a basic one. The best part is you place it in the container of your choice. A plastic container, a dutch oven, or even an old cooler can work well. You just put it in the container of water, plug it in and turn it to the temp you want. A simple app provides a list of food and how long and at what temperature they should be cooked.
Sous vide cookers are useful for a lot more than steak too. Seafood, vegetables, chicken, even desserts. Or, infuse your booze with unique flavorings in minutes rather than days or weeks. Trust me, once you've tried one, you'll love it.
For that gourmet steakhouse touch, top the steak with a decadent smokey blue butter made with a Wisconsin smoked blue cheese called Moody Blue by Emi Roth Cheese. Roth is the cheese company that won the world cheese championship last year for their Grand Cru, so they know how to make fabulous cheese. My mouth is watering just thinking about it.
So, hopefully these tips on buying steaks will help take the confusion out of what to get dad this year. If you're not up for buying dad a sous vide cooker, and you don't really want to take a chance on grilling steaks, just put a bow on those prime steaks and hand them to dad. Chances are pretty good he'll have a big smile on his face. Good luck, and Happy Father's Day to all you dad's out there.
Enjoy, and remember to cook with love and live to cook.
Jim & Jena
Coffee Crusted Steak Recipe
This recipe is about as good as it gets when it comes to creating a perfect steak. Thanks to prime steaks, a robust coffee rub and cooking it by sous vide. Of course the smokey blue butter with it just makes it that much better.
Print
Pin
Rate
Add to Collection
Go to Collections
Cook Time:
1
hour
30
minutes
Total Time:
1
hour
45
minutes
Ingredients
1

Tbsp.

Fresh ground coffee

Black pepper

Brown sugar

Rosemary blend
Smokey Blue Butter
Butter

Mushrooms

Onions

Garlic

Bourbon

Salt & pepper

Smoked blue cheese
Instructions
In a small bowl, combine coffee and next 3 ingredients. Rub on all sides of steaks and let steaks sit at room temperature for 30 minutes.

Place steaks in a one gallon re-sealable plastic bag. Fill a large container with about 2 gallons of water.

Submerge bag of steaks in water just below the slide lock. Seal bag, removing as much air as possible.

Transfer bag of steaks to a plate and set aside at room temperature while preparing sous vide cooker.

Follow instructions for cooker and set temperature to 129 degrees.

When water is set, place bag of steaks in the water. Cook for 1 hour.

Remove steaks from bag and pat dry with paper towels. Transfer to a clean plate and set aside while preparing blue cheese butter.

For butter, add butter to a large skillet over medium heat. Add mushrooms, onions and garlic. Cook for 15-20 minutes or until deep golden brown. Add bourbon off heat. Cook until bourbon is almost evaporated. Remove from heat and let cool. Transfer onion mixture to a bowl and refrigerate for 10 minutes.

Add remaining ingredients and blend with a hand mixer until blended.

Season to taste with salt and pepper. Set aside.

To finish steaks, sear steaks on a very hot grill for 1 minute. Turn steaks over and grill and additional 1 minute. Transfer to plates and top with a dollop of blue cheese butter. Serve.
7