Jump to Recipe


Food brings families together. When generations seem light years apart, a familiar dish or dessert can bring us all back to the table.
I bet you're thinking of that recipe in your family. Maybe your grandmother always made pasta from scratch, or dad's chicken and dumplings always makes an appearance in the late winter months when everyone is under the weather.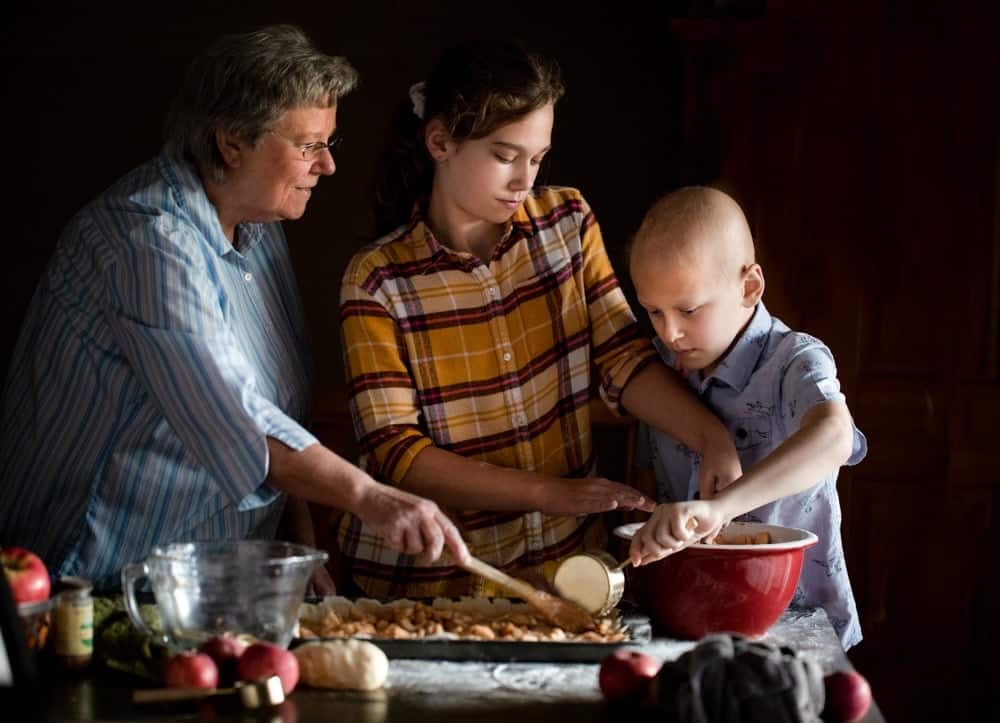 Conner Strong
I dropped in on my friend Amber Olszewski, her mom Barb, and her children Riley and Conner as they made Barb's apple squares. I really wanted to work with this family because over the last year they've been through a lot. Earlier this year they discovered that their youngest, Conner, had a cancerous brain tumor.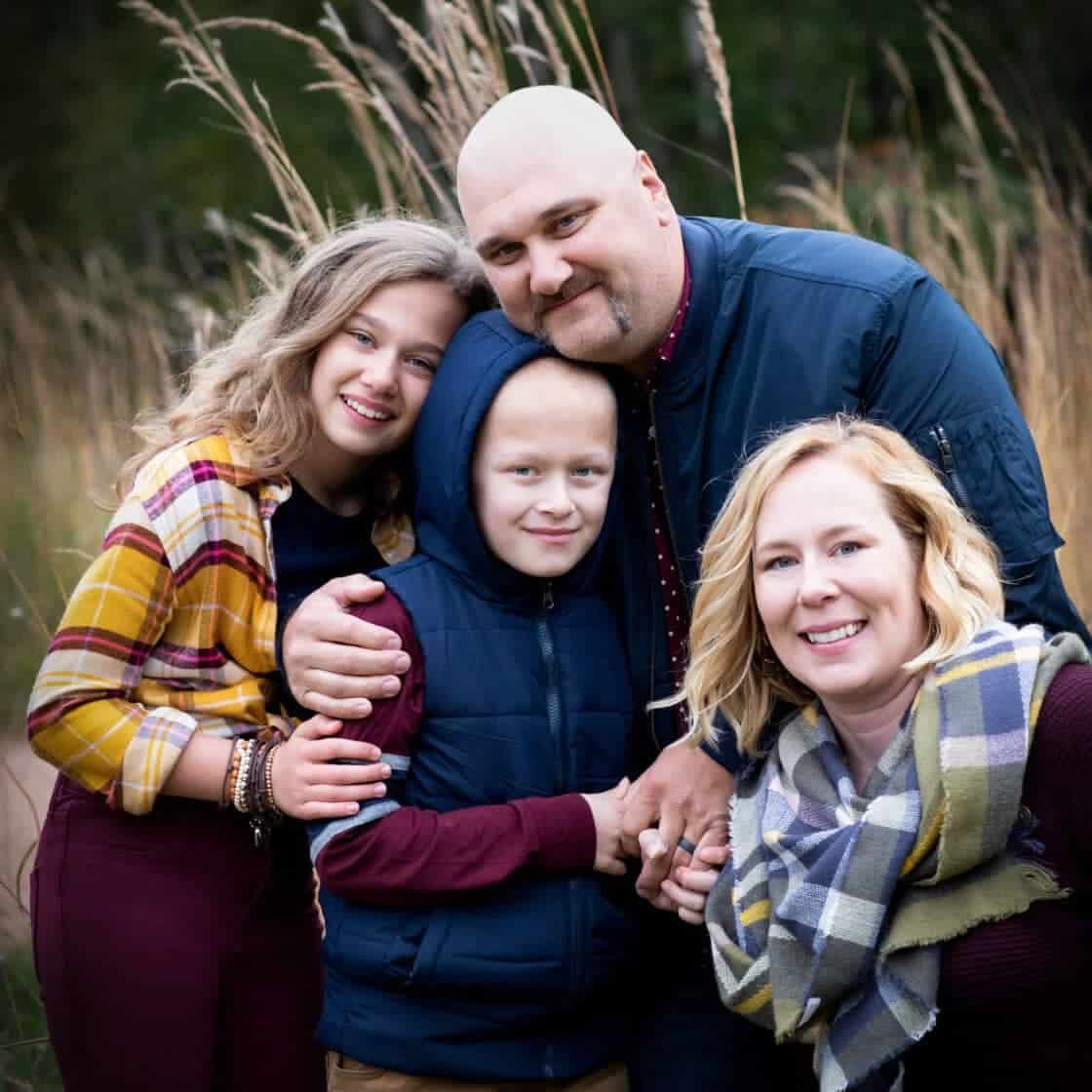 Amber charted out what the last 10 months have been like:
"So much has happened since then. Each of our lives individually and together as a family have been flipped upside-down. Our house has turned into a makeshift hospital room, our weeks filled with appointments, and income down by almost half. Since that cold day in February when we found out Conner has Group 4 Metastatic Medulloblastoma of the brain and spine, he has undergone a 12-hour tumor resection surgery, a 4 1/2 week surgery recovery period where he was in an altered state of mind (brain trauma) and sometimes violent and very vocal about his pain, a transfer from UW's American Family Children's Hospital in Madison, WI to Mayo Clinic in Rochester, MN, 7 weeks of daily chemotherapy and radiation, and currently, 6 months of maintenance chemotherapy in Madison. His little body has been through so much and will continue to be the rest of his life."
The support of family and friends have been critical over the past year as cancer swallows up life's normalcy. They've kept their well-wishers up to date with regular blog posts on their CaringBridge.org page, Conner Strong.
Now more than ever, this family is cherishing their bonds and striving to make lasting memories that can stand out against the backdrop of cancer.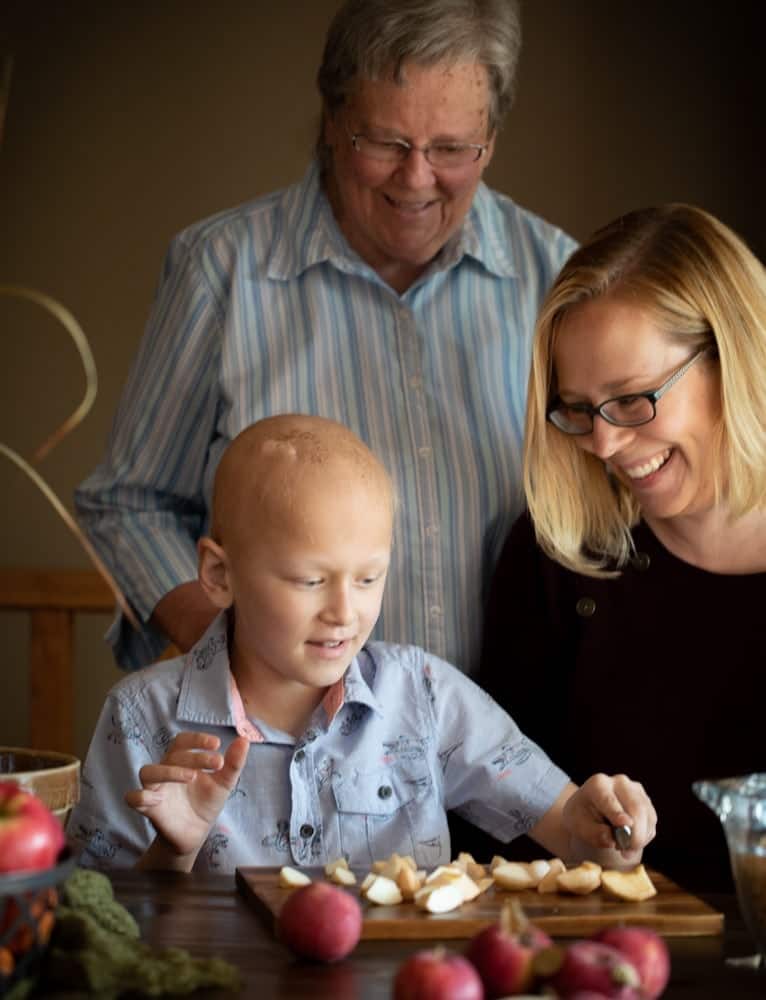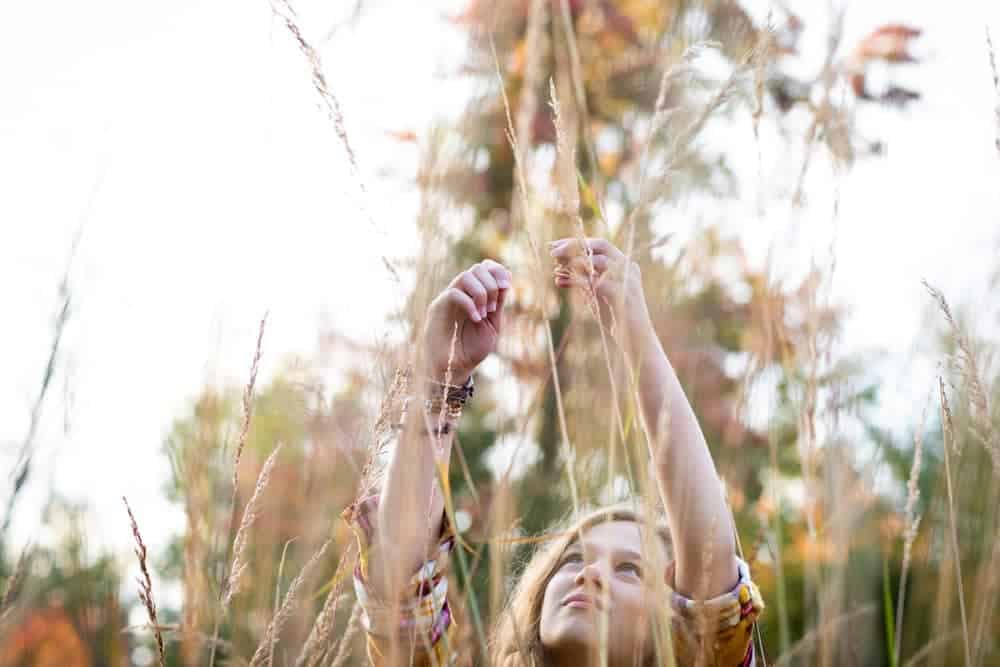 Barb's Famous Apple Squares
The Apple Square recipe the family chose to make together originally came from someone Grandma Barb worked with. "I tweaked it a little bit and tried a few different small things. I loved how different it was from anything I had made before," she recalled.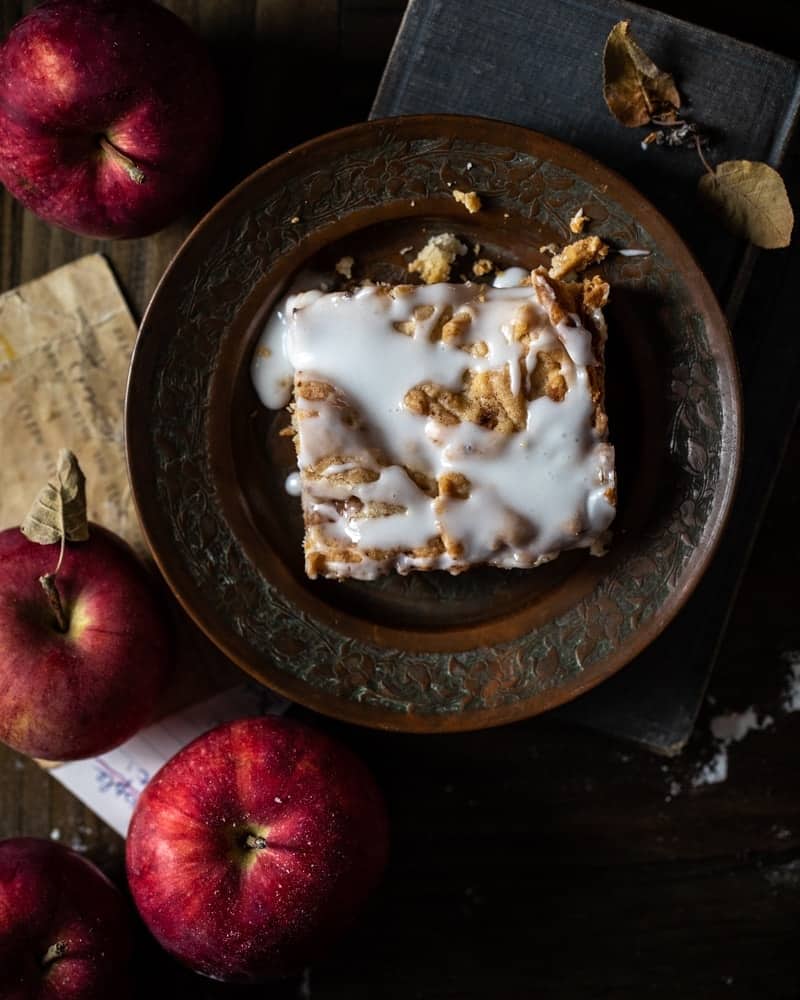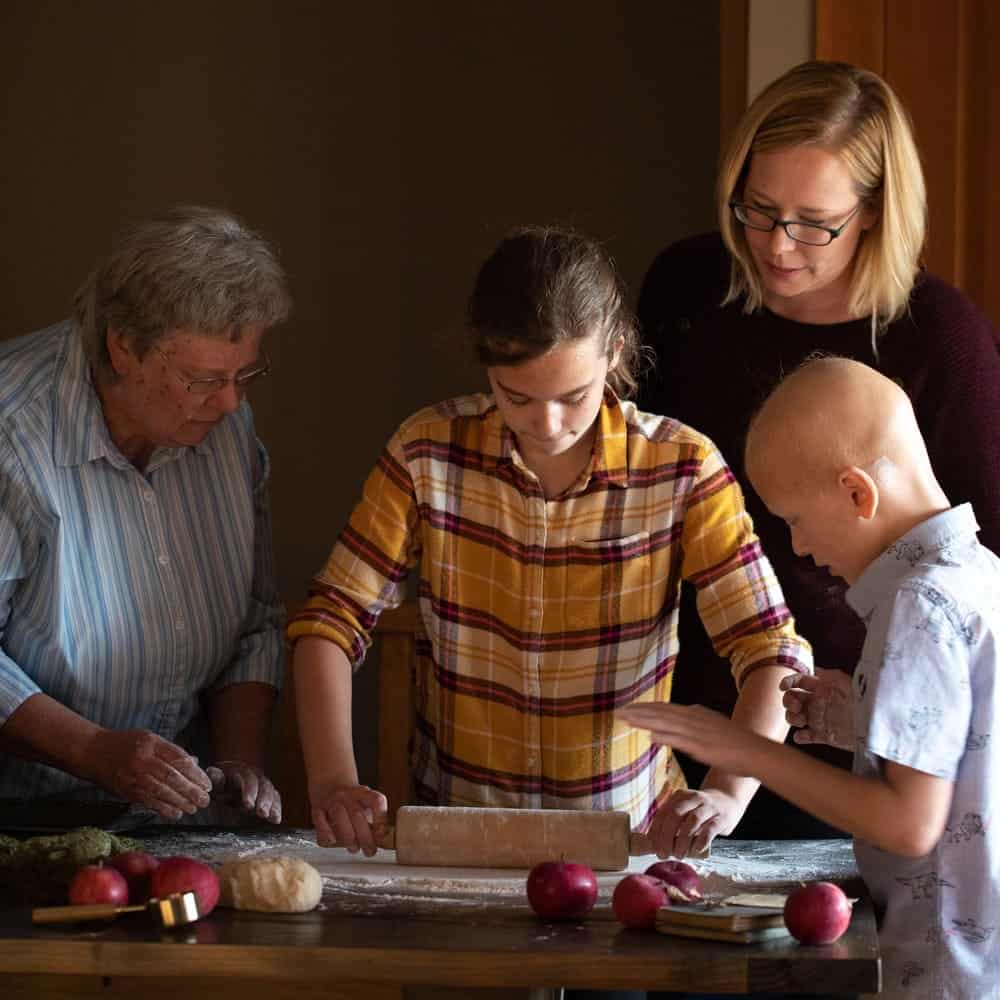 While not originally a "family recipe" apples have certainly played a part in Barb's, Amber's, and now Riley and Conner's cooking story.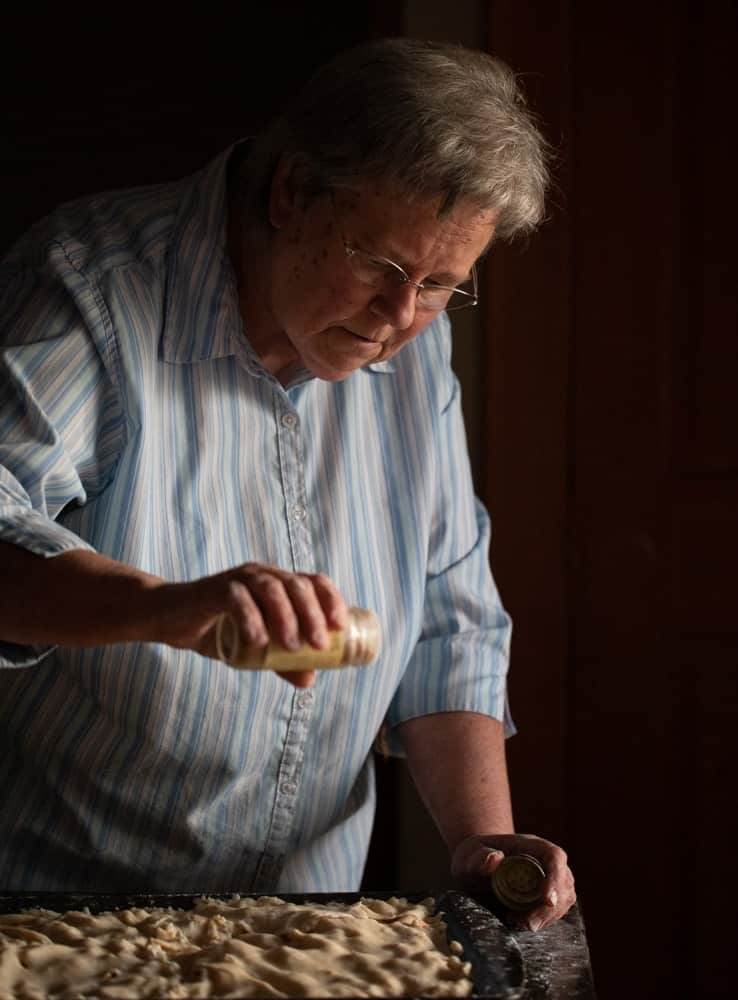 Barb's parents would sit at the table, peeling apples together for canning and baking. "They were enjoying their own company and making pies they could just bake later in winter when they were expecting company like me and all the kids."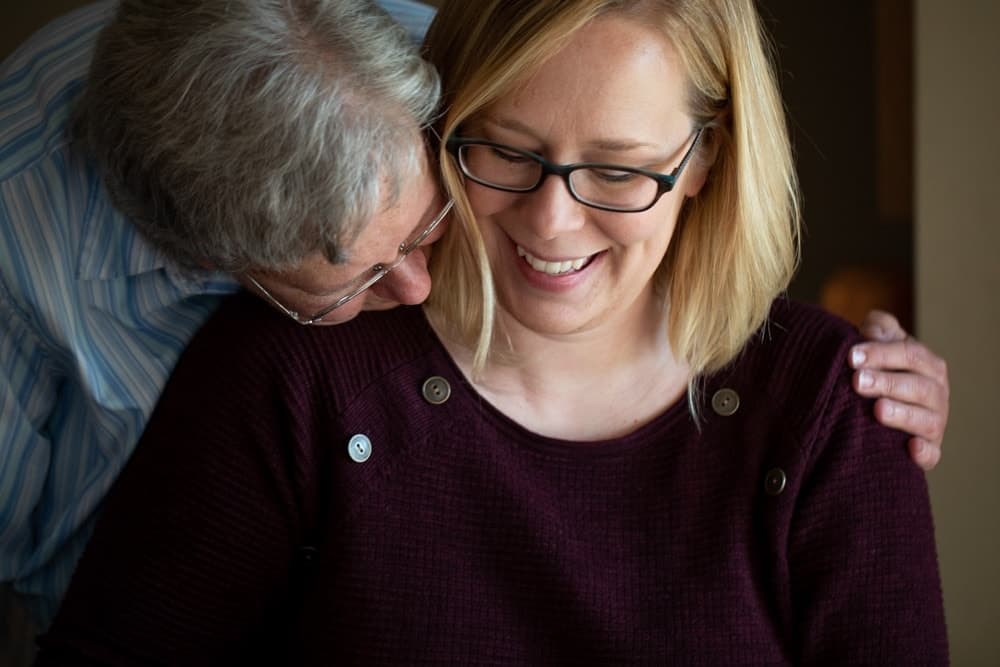 Amber, one of six kids, recalls swiping peeled apples with her siblings when her mom was baking. "She probably had to peel twice as many since we ate so much!"
Passing the tradition down was memorable for Amber. "I loved watching my kids and Mom work together on the apple squares. She's so patient with them. Messes are never a problem when Grandma is baking with the kids—sometimes they are encouraged! Conner's specialty is cutting apples once pealed—we're still working on cutting slowly and holding the apples. Riley LOVES taste-testing and drizzling the frosting. We all had so much fun. It'll be a memory we will hold dear."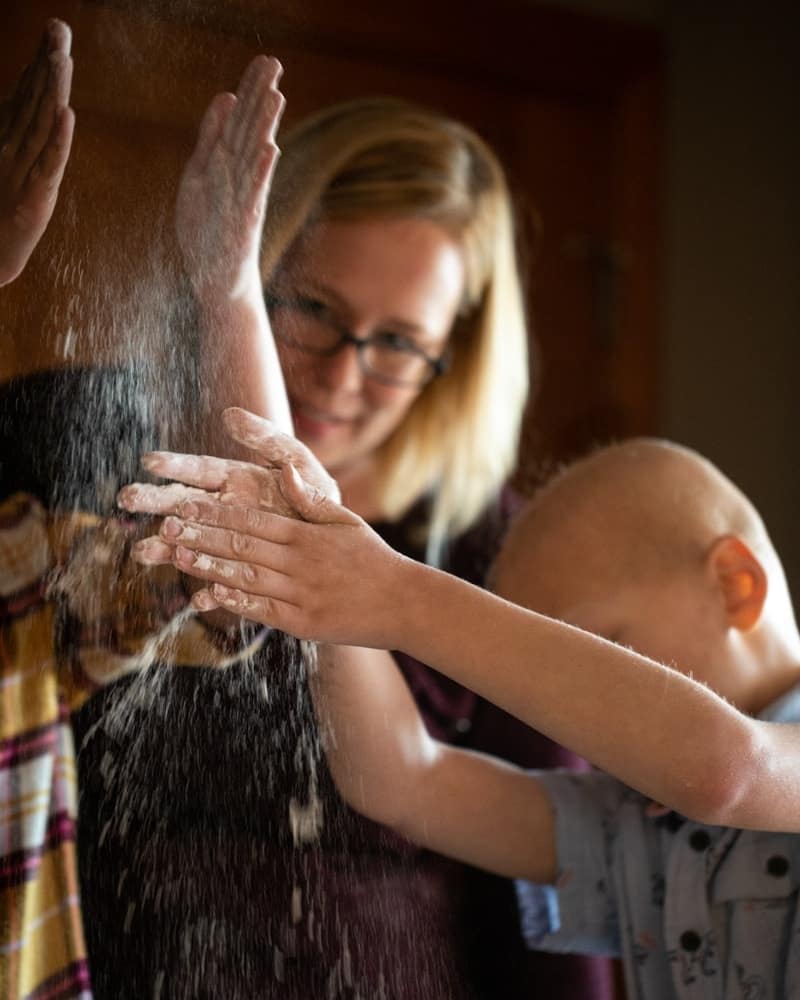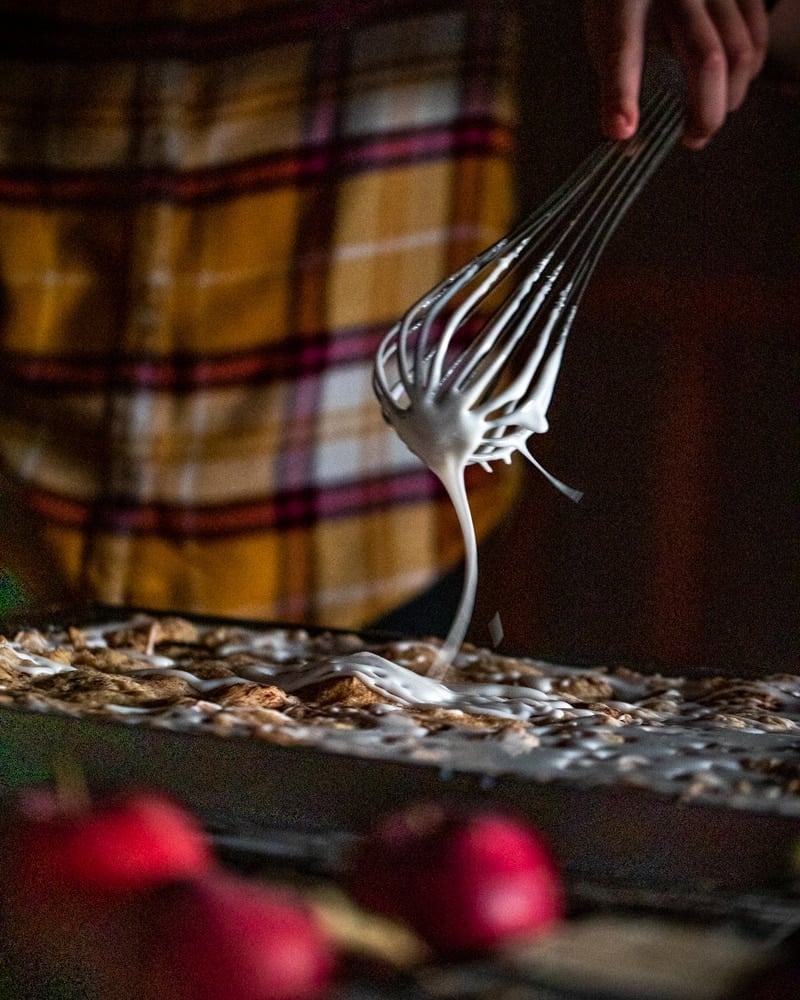 Preserve and Protect
One of the best parts of this experience is preserving these family memories and the recipe they love. So many of us remember Grandma's special cookies or the Christmas lasagna we ate every year as a family, but we're at a loss to recreate those flavors.
Amber remembers working with her grandmother's recipes as a kid. Luckily, Barb made a conscious effort to record her mother's recipes. "Grandma Irene never used recipes so my Mom wrote them down and put "a little of this", "a pinch of that" and "a white cup" into measurements. My Mom still has the "white cup" my Grandma Irene used. She figured that when Grandma Irene said she used a "white cup of flour" it actually equaled 1 1/4 cups."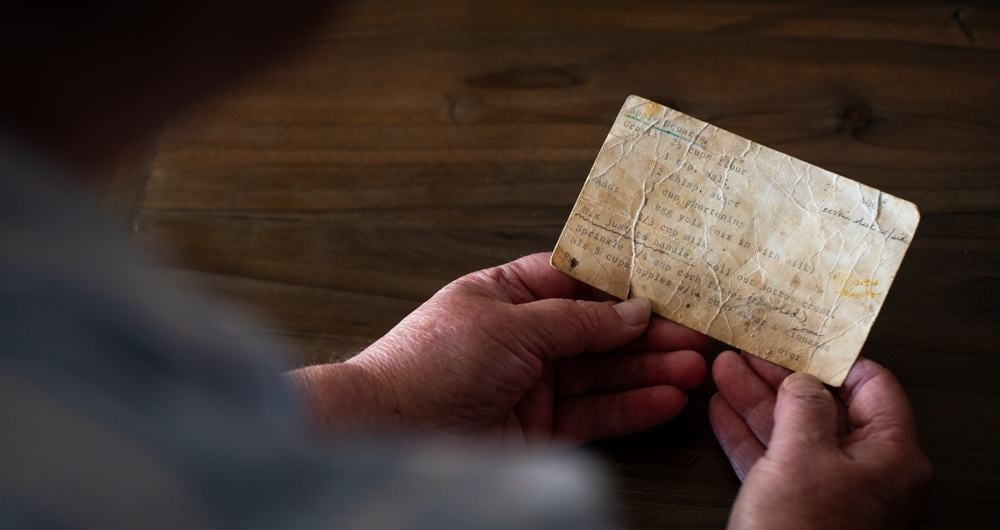 While sometimes we get lucky and find these old recipes, legible and intact, I think it's worth the effort to preserve them and pass them down.
The holidays are a great time to talk to family about these precious memories. This year, make a resolution to find out what's in the gravy and how many dashes of cinnamon make the perfect snicker doodle.
To learn more about Conner and the Olszewski family, visit Conner Strong. If you are moved by this story please let them know by leaving the gift of an encouraging message on their CaringBridge or visit Conner's GoFundMe.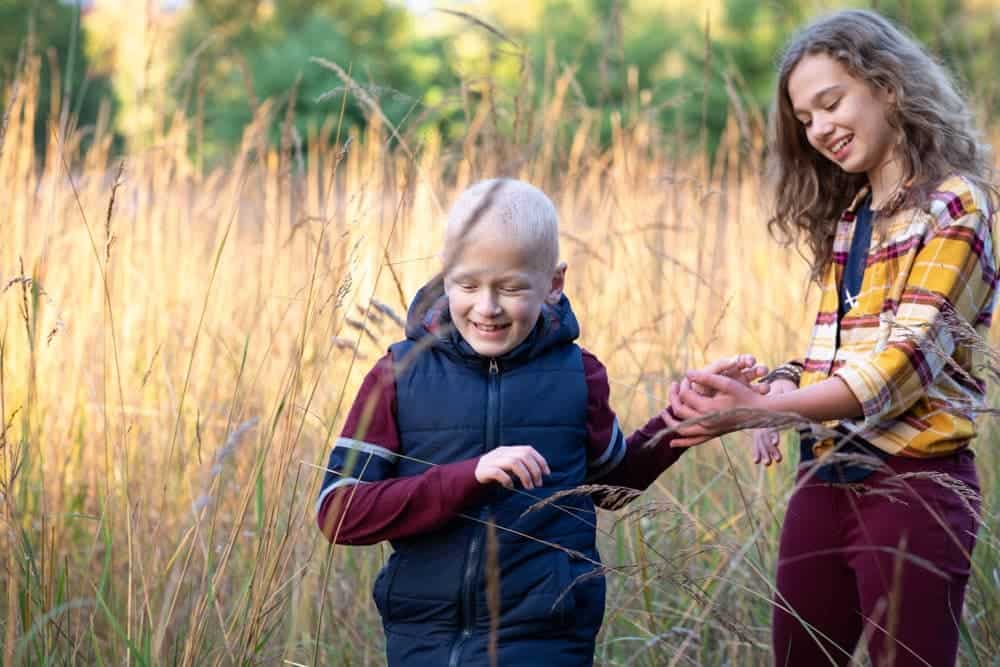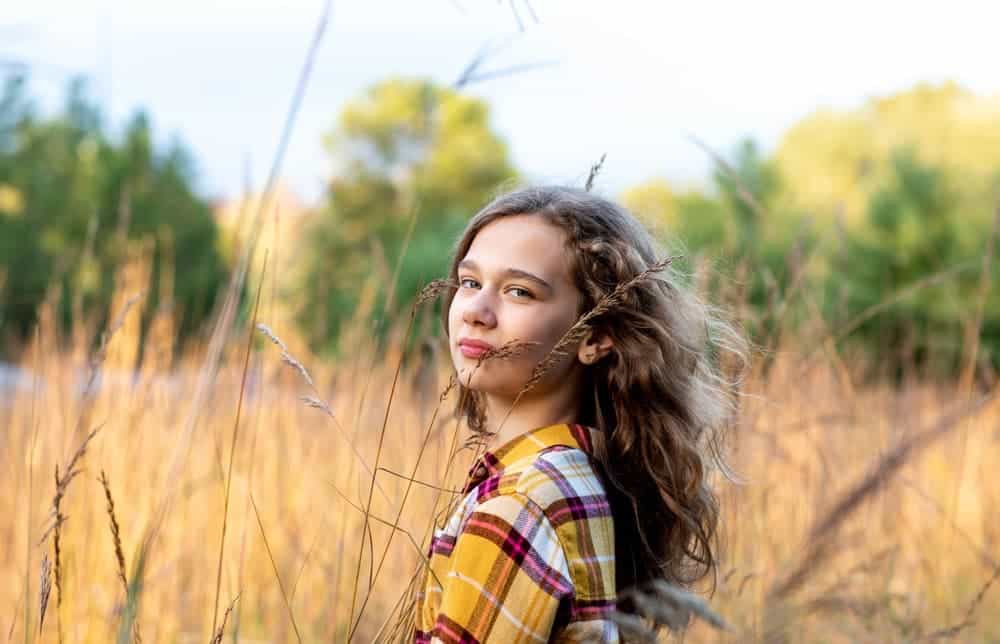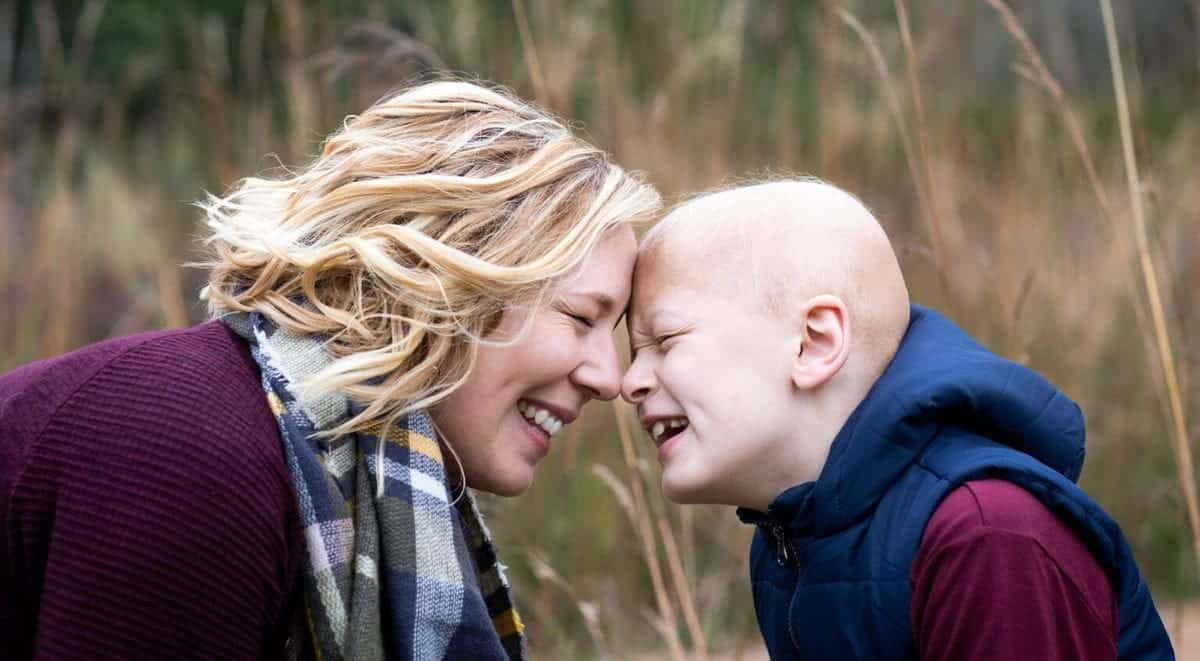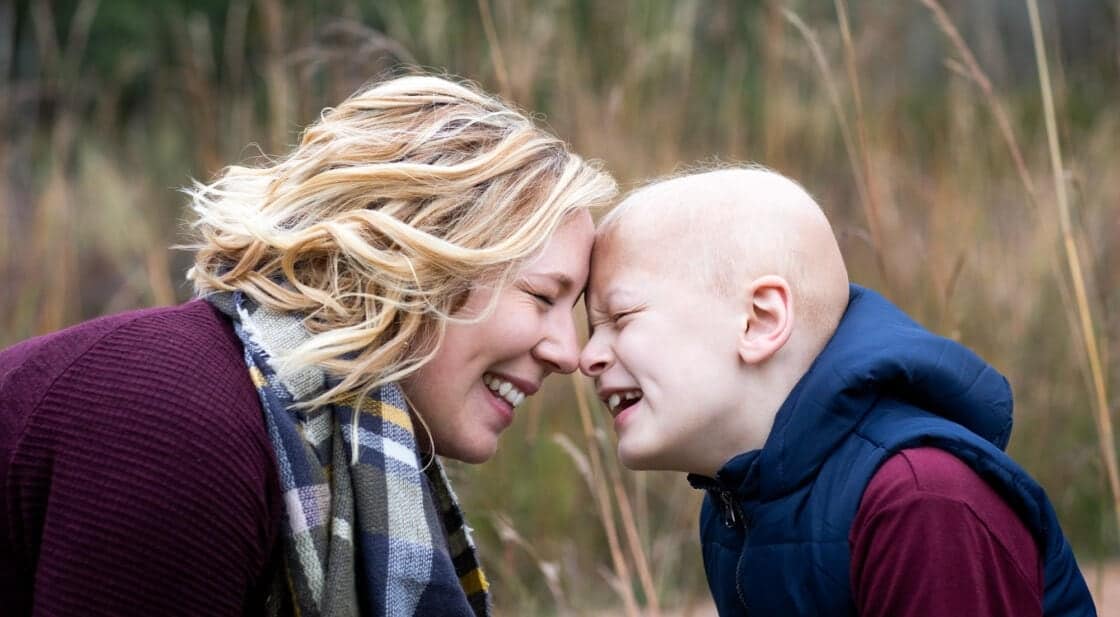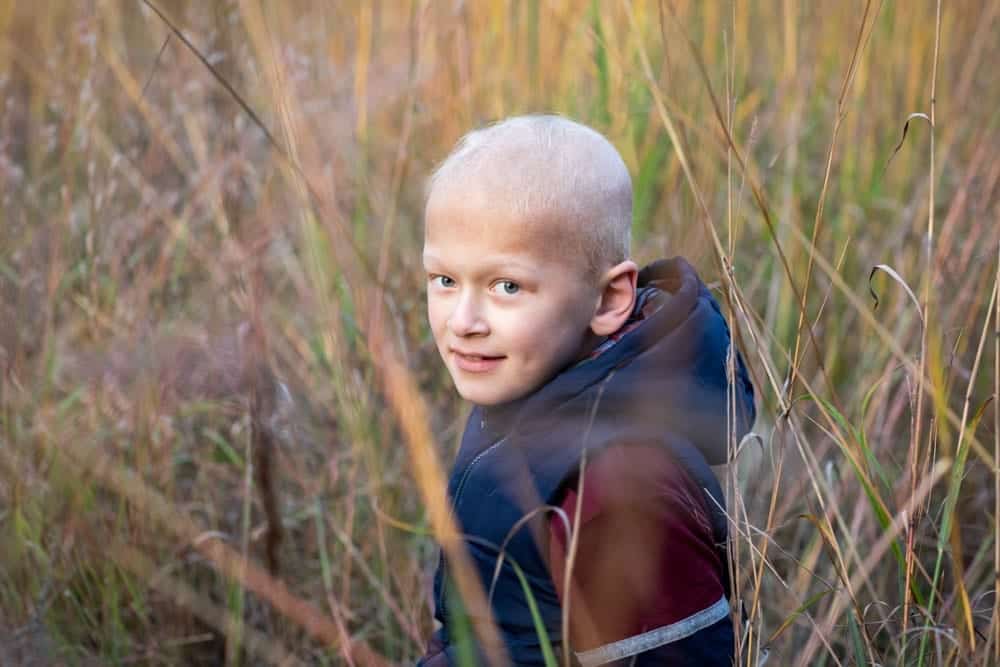 Looking for more recipes like these tasty apple squares? Check out this tasty Best Ever Apple Cake we made!
What recipe runs in your family? Let me know which recipe you would love to get photographed in the comments below or email me at jena@jenacarlinphotography.com!
And remember, don't wait for a special occasion, create one!
-Jena
Print Recipe
Ingredients
Crust
2.5

cups

flour

1

tsp

salt

2

tbsp

sugar

1

c

shorting

1

egg yolk

Save whites to brush on crust

2/3

c

milk

luke-warm
Apple Filling
3/4

c

Corn Flakes

5

c

chopped apples

1.5

c

sugar

1

tsp

cinnamon
Icing
2

c

powdered sugar

1/4

c

milk
Instructions
Mix 2.5 cups flour, 1tsp salt, and 2 tbsps sugar.

Mix egg yolk and 2/3 cups milk then add to the dry flour mixture.

Roll out half of the dough for the bottom of the crust and line the bottom of a large greased sheet pan.

Sprinkle crushed cornflakes.

Mix 5 cups chopped apples, 1.5 cups sugar, and 1 tbsp cinnamon. spread over the cornflakes.

Roll out the 2nd half of the crust dough and cover the top of the apples.

Brush egg whites over the crust, sprinkle a little more cinnamon and bake for 45 min at 350 degrees.

Mix powdered sugar and milk. Drizzle over the top, cut in squares and serve.
Nutrition
Calories:
180
kcal
|
Carbohydrates:
42
g
|
Protein:
2
g
|
Fat:
1
g
|
Saturated Fat:
1
g
|
Cholesterol:
11
mg
|
Sodium:
130
mg
|
Potassium:
33
mg
|
Fiber:
1
g
|
Sugar:
29
g
|
Vitamin A:
50
IU
|
Vitamin C:
1
mg
|
Calcium:
17
mg
|
Iron:
1
mg